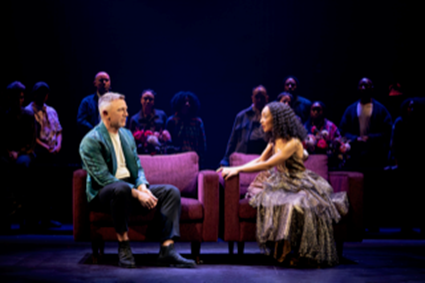 Daniel Craig, Ruth Negga, as Macbeth and Lady Macbeth, in Sam Gold's Macbeth
Photo: Joan Marcus


Macbeth

A Review by Deirdre Donovan

In a stop-and-go season, when so many productions were put on pause for COVID-forced absences, the new staging of Macbeth, helmed by Sam Gold (Fun Home), at the Longacre Theatre holds the brave distinction of closing out the 2021-2022 Broadway season.

First, the good news. Gold's mounting of the Scottish play has two mega-voltage stars, Daniel Craig and Ruth Negga, leading the cast as the diabolical Macbeths. What's more, Craig and Negga have that elusive thing called "good chemistry" from the get-go. Indeed, when Negga's Lady Macbeth leaps into her stage husband's arms and seductively entwines herself around his torso in Act 1, the temperature in the theatre truly ratchets up. And it also gives fresh definition to the late Shakespearean scholar Harold Bloom's characterization of the Macbeths as the "happiest marriage in Shakespeare."

Another boon to this revival is how it investigates the stage superstitions surrounding Macbeth. In a curtain speech, presented by the terrific Michael Patrick Thornton, (he performs Lennox and an assassin in the play proper), we are given a mini-history on Macbeth and how the historical King James I (he first was James VI of Scotland before succeeding Queen Elizabeth in 1603) almost certainly influenced the witch motif in the Scottish Play. The scholarly king was obsessed with witchcraft and wrote a book entitled Daemonologie (1597).

Thornton continued his yarn by sharing that the prolific Shakespeare wrote Macbeth, King Lear, and Antony and Cleopatra, in quarantine, circa 1605, when the public theaters were closed during the plague. Thornton then paused, looked the audience in their collective eye, and pointedly asked what they had done of note since the pandemic arrived in our midst two years ago. The silence that followed was palpable.

Thornton wrapped up his curtain speech by mischievously asking viewers to forget the cultural taboo about Macbeth and to say the play's name silently under their masks to the person sitting next to them. No question this staging of Macbeth is intentionally meant to rattle the stage superstitions haunting this drama.

Witches are writ large in Gold's production. Indeed, even before the play proper begins, we see the witches in modern-dress (costumes by Suttirat Lalarb) cooking up who-knows-what in a kitchen on a mostly bare stage (minimalist set design by Christine Jones). And, in contrast to the more conventional witches in other revivals of Macbeth, these Weird Sisters look like they are having one helluva time creating their brew.

Don't forget to read dramaturgs Michael Sexton and Ayanna Thompson's program note. They persuasively argue that the production's sparse scenery and actors performing multiple parts mirrors the theatrical practices of the early 17th century. Or as they aptly put it: "This production, like the theater of Shakespeare's time, is one of minimal scenery and maximum fluidity and speed. There are no major scene changes, and the actors play multiple roles. This simplicity and flexibility, in which the play's language carries most of the narrative and expressive weight, enables a high level of imaginative participation."

Whether you buy into their argument or not, Sexton and Thompson do provide some fascinating historical information on the stage practices of Shakespeare's time and how Gold's production, more or less, dovetails with it.

Now for the not-so-good news. Gold's innovative touches in his production, as brilliant as they may be, don't make his modern-dress Macbeth all that accessible to many theatergoers. Take his minimalist staging and fluidity of role-playing, which has many actors in his 14-member cast doing double or triple duty in the show. Even those who are familiar with the story of Macbeth might find themselves playing Sherlock Holmes as Maria Dizzia's Witch morphs into Lady Macduff and then a Doctor. Indeed, it is difficult at times to know what character we are looking at in this briskly-paced production.

Of course, there was no problem in identifying the titular character Macbeth, as performed by the James Bond actor Craig, or Lady Macbeth, as impersonated by the exotic-looking Ruth Negga. Asia Kate Dillon, with her purple coif, is quite easily identified as the royal Malcolm and future king. And, in spite of his triple duty as King Duncan, the Porter, and Siward, Paul Lazar somehow manages to delineate his roles with crystal-clear outlines.

Macbeth is the best known of Shakespeare's plays. And it would be tedious to recount its plot details here. But, suffice it to say, that Macbeth is a story of an overly-ambitious Scottish general who gained the world and lost his soul.

Daniel Craig, as the titular character, in Macbeth
Photo: Joan Marcus

Kudos to both Craig and Negga for tackling the plum Shakespearean roles of Macbeth and the Queen with brio. Although Craig doesn't quite capture the vulnerability of the conscience-stricken Macbeth in the first several acts, he has no problem impersonating the Thane as "Bellona's Bridegroom" or Lady Macbeth's torrid lover. Craig, with his muscular physique and steely demeanor surely looks the part of Macbeth. And his performance is at its best when his character is fighting against impossible odds (think of the moving grove that comes to Dunsinane in Act 5).

Ruth Negga, playing opposite him, however, is the real star turn. Her emotional immediacy and natural phrasing of the verse makes one readily understand what she's spoken--and left unspoken. She has acting range too, capable of first projecting herself as the impervious Lady Macbeth, and later on, as the light-obsessed Queen who sleep walks at night, trying to wash her hands clean of Duncan's murder.

Ruth Negga, as Lady Macbeth, in Macbeth
Photo: Joan Marcus

Don't expect to hear the familiar witches chant: "Double, double toil and trouble; Fire burn and cauldron bubble" in this production. In fact, a lot has been jettisoned from Gold's retooled version of Macbeth. It's almost as if Gold is attempting to pare the tragedy down to its bone, in hopes of discovering its essence.

This Macbeth becomes the fourth major Shakespeare production staged by Gold. His Othello with Craig and David Oyelowo
at the New York Theatre Workshop was a hit with the critics and public alike. His irreverent but likable Hamlet at the Public Theatre with Oscar Isaac at the Public Theatre was also a crowd-pleaser. Less popular was his King Lear on Broadway, over-spritzed with Philip Glass' music, though almost redeemed by the great actress Glenda Jackson playing Lear.

Returning to the current production, what does the invented "soup scene" mean at play's end, in which the company gathers on stage for a hearty communal meal of soup? Indeed, the scene is likely to satisfy some, and puzzle others. Although it's impossible to know precisely what Gold is up to here, one can certainly speculate on the scene's meaning, whether taken at its face value (soup is famous for nursing folks back to health) or as symbolism that a stronger community is on the horizon.

But how did Gold come up with a soup motif for his invented epilogue? Is the company acting as a chorus and perhaps pondering Macbeth's haunting words from Act 5, "I have supped full of horrors."? Or are they simply presenting themselves as survivors of the tyrant Macbeth? Or does the scene bleed into real life and make us think of the tyrannous COVID-19 virus that has killed so many of our loved ones in the past two years and severely disrupted our lives?

In any event, Gold is not the first artist to retool a Shakespeare play with a coda. After all, didn't theatrical companies in Shakespeare's time dance a "transitional" jig at play's end, a signal to the actors and audience alike that it was time to leave the fictive world and return to the real world of responsibility?

Okay, Gold leaves the audience with more questions than answers with his Macbeth. But, fortunately, the vastness of Shakespeare allows for many interpretations of the tragedy. Gold, in his new provocative production, might not please all theatergoers. But he surely gives one a fresh point of departure to reconsider the truths at the core of this bloody tragedy of ambition.

Through July 10th.
At the Longacre Theatre
220 W. 48th St., Midtown West
For tickets, phone 212-541-8457.
Running time: 2 hours; 20 minutes with one intermission.