John Noble               photos by Shirin Tinati
                                         by Julia Polinsky
Ensemble for the Romantic Century creates extraordinary staged readings/theatrical multimedia concerts of chamber music, melding multiple art forms into good drama – most of the time. Maestro may be the least successful of the ensemble's excursions into that fusion of arts and artists -- music, scene, projections, costume, performers – that creates a whole greater than its parts. In this case, the parts hang separately, rather than together, which is a pity, considering the fascinating life of Arturo Toscanini (John Noble).
The musician's musician, Toscanini conducted his first opera performance at the age of 19, in 1886. He conducted operas and orchestras all over Europe and the Americas, until he retired in 1957. Relatively early in his career, he supported Mussolini and Fascism, but it was not long before Toscanini rejected Fascism and Fascists. He paid a heavy price for his outspoken opinions, enduring physical attacks, having his phone tapped and his passport confiscated. At the outbreak of WWII, he left Italy, and lived for years in exile in America.
Although married, he had affairs, sometimes with married women, and he wrote them letters. Lots of letters. Very frank letters – some of which provide source material for Maestro.
Ensemble for the Romantic Century uses this material as the basis for its productions. The audience watches as actors read from correspondence, accompanied by music that comments on, clarifies, and wrings every last drop of emotion out of those letters, played by the best small chamber ensemble in NYC. When it works, as in Ensemble for the Romantic Century's magnificent Van Gogh piece, or the show on Emily Dickinson, or the Tchaikovsky: well, when Ensemble for the Romantic Century's formula works, it's terrific.
Maestro, however, comes across disjointed and disconnected, even a little clumsy. It seems as if, in the search for a way to reconcile different parts of Toscanini's life, director Donald T. Sanders sets up two separate spaces for the musicians to perform, one on each side of the stage.
Moving Toscanini and, in particular, the musicians back and forth between these areas divides audience attention, as do the projections. Some visuals command the entire right of the stage, while on the left, captions appear on the sound booth behind the piano. It's much too easy to miss captions on one side or the other, when enraptured by the magnificent music being performed.
(L-R) Mari Lee and Henry Wang on violins, Zhenni Li on piano, Ari Evan on cello and Matthew Cohen. Photo: Shirin Tinati
In Maestro, the ensemble is a string quartet with piano. The musicians -- Mari Lee and Henry Wang, violins; Matthew Cohen, viola; Ari Evan, cello; Zhenni Li, piano; Maximillian Morel, trumpet -- perform beautifully, meaningfully, scintillatingly, in their period costume, which contributes to the overall feeling of the show.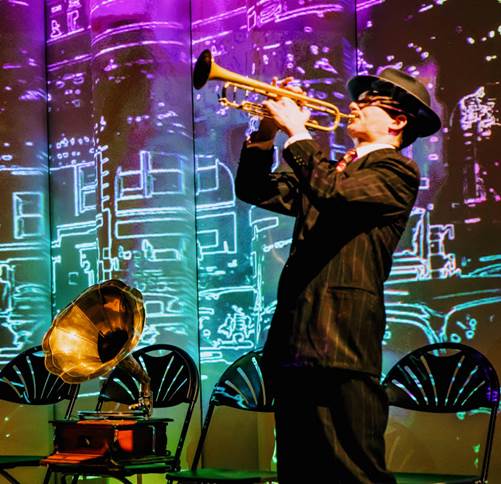 Maximilian Morel
John Noble's performance feels disjointed; sometimes, he "conducts" the audience, and speaks to us as if we were the orchestra, with some of the abuse for which Toscanini was famous. Sometimes, he reads his passionate, beautiful love letters to Ada, and the music chosen to amplify them is passionately, beautifully played. Those moments can bring you to tears. But they are about the music, not Noble's acting, unfortunately.
Maestro makes a strong connection between Toscanini's passion and his politics, with its focus on the anti-Fascist aspects of Toscanini's life story, and its clear parallels to the current political climate. A little heavy-handed, those parallels, and you may wonder if the projected video clips of Mussolini's facial expressions, similar to the ones we see on the President every day, were necessary to make an obvious point even more obvious.
The Ensemble for the Romantic Century's blurb about Maestro says,
 "MAESTRO brings to life the story of legendary conductor Arturo Toscanini and his brave opposition to Fascism. His refusal to perform in Italy and Germany, and his trips to Palestine to conduct an orchestra made up of Jewish refugees made headlines around the world… This moving theatrical experience shows us that even during one of the darkest chapters in human history, an artist's voice can be heard."
There it is: Maestro is political art, in ways that other Ensemble for the Romantic Century events have not been. Go for the music, the beauty, the passion, but be aware that you'll also get politics, with its tendency toward chaos. If that's your cup of tea, Maestro will fill it nicely. If not, wait for Ensemble for the Romantic Century's next production.
Maestro
Presented by Ensemble for the Romantic Century
Through February 9 at The Duke on 42nd Street, Manhattan
Running time: 2 hours; one intermission
229 W. 42nd, Street
Tues-Thurs, 7:30; Fri, 8pm; Wed, Sat, Sun, 2pm
Tickets $56-$156: https://tickets.dukeon42.org/single/PSDetail.aspx?psn=9650