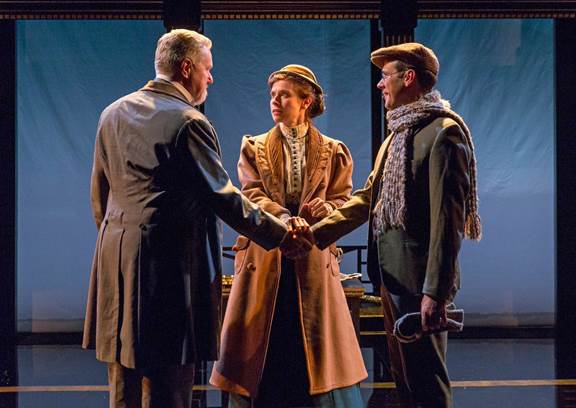 Dan Daily, Hannah Cabell and Richard Gallagher
                                     by Deirdre Donovan
When you see the folks from the Salvation Army ringing their bells this year for donations to the poor, you just might muse upon Shaw's young ambitious heroine Major Barbara, the titular character from George Bernard Shaw's play of the same name.  It is enjoying a new outing at the Pearl Theatre, in collaboration with The Gingold Theatrical Group, with its founding artistic director David Staller at the helm.  Staller, who staged Shaw's You Never Can Tell at the Pearl last season, is in rare form here as he shakes out the master's social satire about faith, capitalism, and more.
Set in and around London, it tells the story of Barbara Undershaft, a well-bred young woman who has left behind all worldly comforts to be a major in the Salvation Army.  She feeds the hungry, clothes the ragged, and saves souls for eternity.  Her "paradise of enthusiasm" fades, however, when her long-absent father Andrew Undershaft, a wealthy munitions manufacturer, shows up and surprisingly makes a large donation to the Salvation Army.  His fiscal gift, coupled with his worldview that "poverty is a crime," disillusions his idealistic daughter who always has believed that poverty can be ennobling and a path to redemption.  She at first hopes to convert her father from his warmongering and capitalistic outlook.   But she soon leaves the Salvation Army, visits her father's weapons factory, and reconsiders her religious convictions.   Sound like Shaw pulling the rug out from religious hypocrites?  You betcha.  The pious Barbara becomes, of all things, more down-to-earth and dares to see the world as it is, complete with war, weapons, and money, money, money.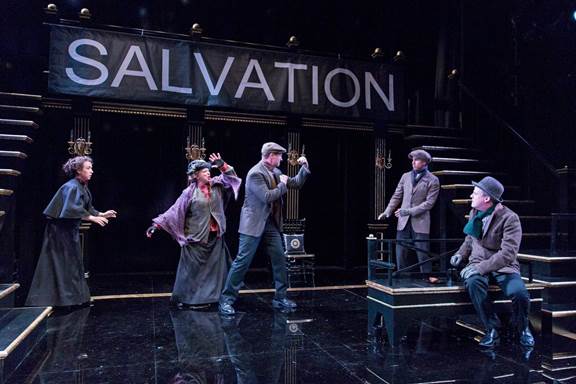 photos by Richard Termine.
This is a star turn for Staller.  Although he did just fine directing last season's You Never Can Tell, this new effort reveals that he, not only can direct, but deftly adapt a notoriously difficult Shavian play.  Shaw himself penned nine drafts of Major Barbara--and never felt satisfied with any of them.  Staller cited that he synthesized Shaw's multiple versions and even drew on the 1941 film adaptation for his source.  Well, the marriage of play scripts and film works like a dream here.
The direction isn't the only thing to applaud in this revamped classic.  The acting ensemble, comprised of Pearl veterans and several guest artists, are in fine fettle.  The ever-reliable (and longtime resident actor) Dan Daily takes on the tycoon Andrew Undershaft.  While I have seen Daily undertake many roles in former Pearl productions, he seems born to play Undershaft.  In fact, according to a recent "TDF Stages" article included in my press materials, he is no stranger to the play and has acted in it several times before — and it shows in his confident stage delivery.  Others who acquit themselves well are Carol Schultz as Lady Britomart/Mrs. Baines, and Hannah Cabell as the nominal character.  There's no miscasting, hogging the stage, or going up on lines either.
A shout out to James Noone's elegant set.  At first blush, it is a study in black and gold: a tall double staircase bridged with a balcony that the ensemble will descend gracefully at the opener.  As the scenes unfold, Noone's design morphs to convey the dramatic moment and reflect the play-at-large, all abetted by Michael Gottlieb's flexible lighting.  Tracey Christensen's period costumes look right as rain and M. Fabian Staab's sound design is equally spot on.
If you have never seen this Shaw play in live performance, and missed the Broadway iteration in 2001, now is your chance to see a novel interpretation of this piece that turns traditional religion inside-out and outside-in.  Some might find the staging too stylized, too morally unsettling (Shaw was no banner-waver for the Salvation Army and other like charities), and too long at two hours plus.  But that said, Staller has really done an outstanding job with this Shavian work that unveils the social machinery behind the religious platitudes.
Through December 14th.
At the Pearl Theatre, 555 West 42nd Street. Manhattan
For tickets, phone (212) 563-9261 or visit online www.pearltheatre.org
Running time:  2 hours; 15 minutes with intermission.