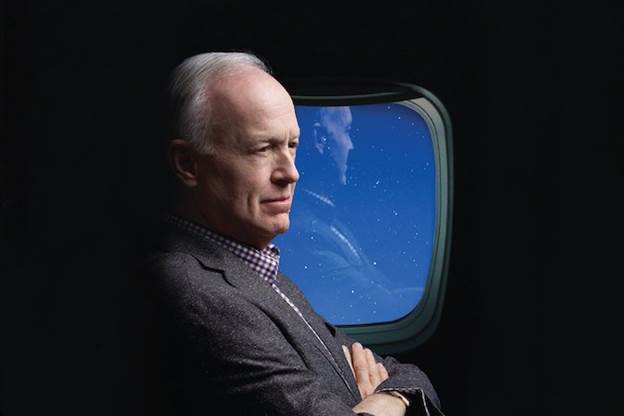 by Deirdre Donovan
Tracy Letts' Man From Nebraska is the opposite of a feel-good theater experience.  But any theatergoer who misses the current mounting of Letts' 2003 play at Second Stage Theatre, deftly directed by David Cromer, will be the poorer.
This play is in the vein of many other Letts' works (think August Osage County) that presents a person undergoing a spiritual and moral crisis and pondering life's big questions.  Dually set in the outskirts of Lincoln, Nebraska, and in London, England, it echoes early on the religious sentiments found in the lines from Robert Browning's poem that note:" God's in His heaven—All's right with the world!"  In fact, we first meet middle-aged Ken Carpenter and his wife Nancy driving to church, exchanging small talk that smacks of the Midwest. 
Annette O'Toole, Reed Birney                          photos by Joan Marcus
This scene immediately seques into the couple worshipping with the congregation at their Baptist church, singing a traditional hymn together and then listening to the Reverend Todd preach a sermon about Christian Growth.  Things get more complicated, however, when the Carpenters later visit Ken's 81year-old mom Carrie, who's suffering from dementia, and lives in a nursing home. Although the veneer of piety and stoicism is still projected by the couple there, once the Carpenters return home and retire to bed, the picture drastically changes.  Ken will suffer insomnia that night and have an emotional breakdown at the bathroom sink, weepily confessing to his wife that he "doesn't believe in God."  Distressed and bewildered by his confession, Nancy desperately reaches out to Reverend Todd, who soon makes a house call. During a heart-to-heart with Ken, the Reverend recommends that he get away to a place that might help him regain his emotional stability and faith. Ken decides on London, where he has a series of adventures that are the reverse of his life in Nebraska.  There's his sexual dalliance with a divorcee who's into sado-masochism, chats with the feisty bartender at the Sheraton Hotel where he's staying, and a foray into the Bohemian art world when he meets the bartender's flat-mate who's a sculptor—and a kind of savior-on-the-spot for Ken when he introduces Ken to the miraculous and healing powers of art.  To tell any more here would be spoiling it for future visitors to the show.  But don't expect that traditional happily-ever-after ending.
If the script is sterling, what makes it soar is the acting.  Reed Birney doesn't disappoint in his depiction of the spiritually-bereft character Ken.  Birney, who walked away with a Tony statuette last season for his portrayal of Erik Blake in The Humans, proves that he is no flash in the pan.  He really peels the onion of his character Ken right down to his Midwestern quirkiness.  In the supporting roles, Annette O'Toole is convincing as his loyal wife Nancy, a modern-day Penelope who must hold her own moral ground even as she ponders Ken's.  Heidi Armbruster, as the divorcee Pat Monday who's into sado-masochistic sex, is rightly wacky as the femme fatale.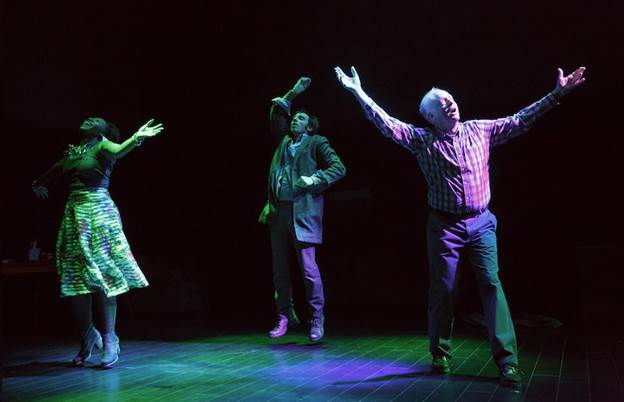 Nana Mensah, Max Gordon Moore, Reed Birney
 
Nana Mensah, as the poetry-loving bartender, projects both toughness and tenderness as the action unfolds.  And William Ragsdale, as the sincere Reverend Todd, manages to keep the idea of faith before us without turning it into a cliché.  No weak links in the rest of the cast either.
What makes this play exceptional is its refusal to supply any facile answers to the protagonist's dilemma.  In fact, Letts allows each character to speak his mind, be challenged by the existing social mores and attitudes, and make serious personal choices that impact upon themselves and others.  Moreover, Letts presents Ken's Dark Night of the Soul in a deeply human context and, with his theatrical alchemy, turns it into a deeply satisfying story that we can identify with. No, you won't get the happily-ever-after ending.  But you may well leave the performance with a different perspective on life, death, and, most importantly, love
On top of this the creative team are able.  Takeshi Kata's no-frills set is spot-on for the Midwest look both indoors and out. But Kata really scores when it comes to the stage's dominant prop, a nearly nude female sculpture that's dramatically undraped at the play's midpoint. Then there's Keith Parham's protean lighting, which ranges from loud flashes of strobe-light to much subtler effects.  Daniel Kluger's original music and sound design is an eclectic sampling of traditional hymns, rock music, and a splash of muzak.  When it comes to fabrics, Sarah Laux's costumes suit the clothing to the character, and vice versa.
A 2004 Pulitzer Prize finalist, Man From Nebraska doesn't deliver any belly laughs.  However, Letts miraculously plucks planetary unitary from one man's spiritual discord.
This play is a good tonic for the soul—and a perfect way to reacquaint yourself with Letts' oeuvre.
Through March 26th.
At Second Stage Theatre (at the Tony Kiser Theatre), 305 West 43rd. Street, Manhattan.
For tickets, phone 212-246-4422 or visit www.2ST.com.
Running Time:  2 hours; 5 minutes, with one intermission.