Debbi Whiting and KT Sullivan          photos by Maryann Lopinto
                                                   by Linda Amiel Burns
On Monday evening, June 23, 2014, a full house of fans of the legendary singer Margaret Whiting gathered together at Weill Recital Hall at Carnegie Hall to celebrate her life in song.
Hosting was Margaret's daughter Debbi Whiting and KT Sullivan, director of The Mabel Mercer Foundation, producer of the event.  The renowned musical director Tex Arnold was at the piano as he was for Margaret for over 27 years with Saadi Zain on the bass.  The cast consisted of some of the best performers in New York cabaret and theater: Carole J. Bufford, Jim Caruso, Eric Comstock, Mary Foster Conklin, Baby Jane Dexter, Natalie Douglas, Barbara Fasano, Lauren Fox, John Fricke, Eric Yves Garcia, Terese Genecco, Wayne Hosford, Heather MacRae, Marilyn Maye, Tanya Moberly, Marissa Mulder, Karen Oberlin, Shaynee Rainbolt, Billy Stritch, Stacy Sullivan, Carol Woods and surprise guest, Rupert Holmes.
Margaret was born on July 22, 1924 and passed away at age 86 in 2011.  Her father, Richard Whiting, was a famous composer with a catalog that included such standards as "Hooray For Hollywood," "Breezing Along With The Breeze", "Till We Meet Again", "On the Good Ship Lollipop," "Too Marvelous" and many, many more. At their home in Beverly Hills the "family friends" were Jerome Kern, Frank Loesser and Johnny Mercer to name a few. When her father died suddenly at age 45 from a heart attack, Margaret was only 13 and Johnny Mercer became a surrogate father of sorts, signing her to a recording contract when he formed Capitol Records in 1942.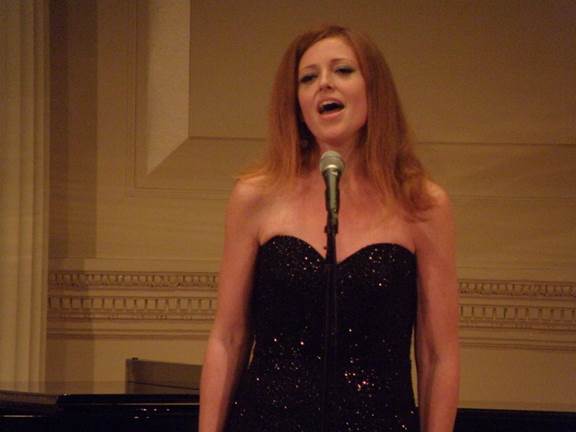 31 Marissa Mulder
Marissa Mulder, in a lovely back sequined gown, opened with "My Ideal" her first hit and the song most associated with Margaret. It was written in 1930 by her dad (music) and Leo Robin (words) for Maurice Chevalier in the 1930 movie Playboy of Paris and recorded by Margaret for Capitol in 1943. 

66 Stacy Sullivan
Stacy Sullivan performed a fine medley of "Old Black Magic" with "Lover." Eric Comstock sat at the keyboards to sing "You Couldn't be Cuter" and performed a duet of "Ain't We Got Fun" with Barbara Fasano who scored with a great rendition of one of Margaret's biggest hits "Moonlight in Vermont."  Wayne Hosford and Mary Foster Conklin recreated one of Margaret's 31 country hits with singer Jimmy Wakefield. Karen Oberlin looking smashing in a gold gown, sang a song from Margaret's Jerome Kern Songbook album "Remind Me."  Jim Caruso and Billy Stritch sang "Far Away Places" combined with great upbeat rendition of "The Gypsy in My Soul."
John Fricke and KT Sullivan sang a medley of Richard Whiting's hits that Margaret often put into her cabaret acts.
Natalie Douglas was given an award by the MM Foundation
and won over the audience with "Can't Help Loving That Man."
Carole J. Bufford performed "Any Place I Hang My Hat is Home" and Heather MacRae, a tender "My Favorite Year."
Composer Rupert Holmes talked about Margaret's influence in his career and Eric Yves Garcia sang his wonderful "The People That You Never Get To Love" and sat down at the piano to sing "You'd Better Love Me While You May" from High Spirits. Terese Genecco and Shaynee Rainbolt did a cute duet of "Baby its Cold Outside" that Margaret recorded with Johnny Mercer.
For many years Margaret toured successfully in "4 Girls 4" with Rosemary Clooney, Helen O'Connell, and Rose Marie (later on Kay Ballard, Kay Starr, Martha Raye and Barbara McNair substituted in).

 Carole J. Bufford
Carole J Bufford, Lauren Fox, Heather MacRae channeled these singers but it was the adorable Debbi Whiting that was the most surprising.  She played the zany Rose Marie (with a signature black bow in her hair) and it was simply terrific and showed that the "apple doesn't fall far from the tree."
Tanya Mobley
Margaret championed new songwriters and when she heard Francesca Blumenthal's "Lies of Handsome Men" she said that it was "the story of my life" and it was well sung by Tanya Moberly.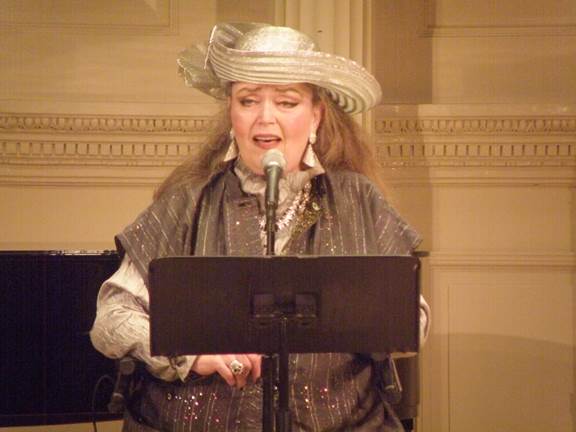 Baby Jane Dexter
Peter Allen's "I'd Rather Leave While I'm in Love" was performed by Baby Jane Dexter and songwriter Johnny Meyer's "I'd Like To Hate Myself in the Morning" was sung by the amazing Carol Woods who also did a bang up job on "Come Rain or Come Shine."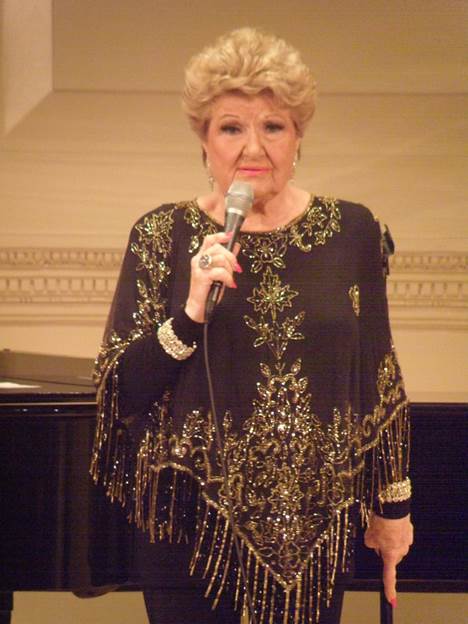 Marilyn Maye
Although there were many terrific performances, no one comes close to the amazing Marilyn Maye.  She performed "Drinking Again," "One For My Baby" and "Blues In The Night" to perfection and practically blew the roof off of the hall! 
At the end of the concert, the cast came on stage to sing "Time After Time", Debbi gave an emotional speech about how her mom persevered after a stroke and how sad her last days were.  For all of us who knew and loved this remarkable woman, she will always be remembered not only as a great talent but a supportive and wonderful friend. I spent many afternoons at Margaret's apartment talking about music, hearing her stories, and listening to songs. The hours stretched into the night and we never knew or cared where the time went. I will always treasure these times and am grateful to have known her. Congratulations to all involved in creating this well deserved and special tribute to a very special and legendary woman.
Monday, June 23, 2014
Weill Recital Hall @ Carnegie Hall
http://www.myidealmusic.net/
www.mabelmercer.org