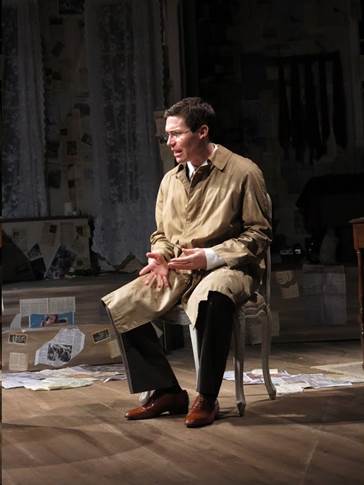 Jimi Stanton as Gabriel.     Photo by Jonathan Slaff
                                       by Julia Polinsky
 A great performance brightens Swedish family psychodrama
Marty's Shadow, by the Swedish playwright Stig Dagerman, dishes up enough family drama and psychological scarring to make a viewer's heart bleed. Don't let that put you off seeing this show; if you miss it, you'll miss one beautifully nuanced, fully realized performance by Jimi Stanton. Picking apart this drama will give you enough to unravel to keep you busy for a while
Director Whitney Gail Aronson took a risk when she cast the handsome Stanton to be Gabriel, who is repeatedly called ugly and a pathetic, repellent loser, with no swanlike future ahead.  He gives a performance that absolutely nails the nerdy/geeky, destroyed, utterly desperate Gabriel. It's worth seeing the show just to watch him embody this poor schnook, and work through his moments of fear, weakness, humiliation, cowardice, integrity, love, and even courage, to the perfect denouement..
Marty's Shadow, in brief: After the war, Mme. Angelica (Jackie Maruschak) lives with her younger son, Gabriel; her elder son, Marty, a hero of the Resistance, died in the war. Marty's former girlfriend, Therese (Ivette Dumeng), visits the mother and son often, to remember Marty, and to listen to Mme. Angelica's reminiscences.
Mme. Angelica, a brutal "monster mother," cannot seem to speak to her surviving son without in some way cutting at him. Gabriel's appearance, his abilities (or lack thereof), his fearfulness, his poor eyesight, his so-so health: all his failings come under review, along with unflattering contrast to Marty, the Fallen Hero son.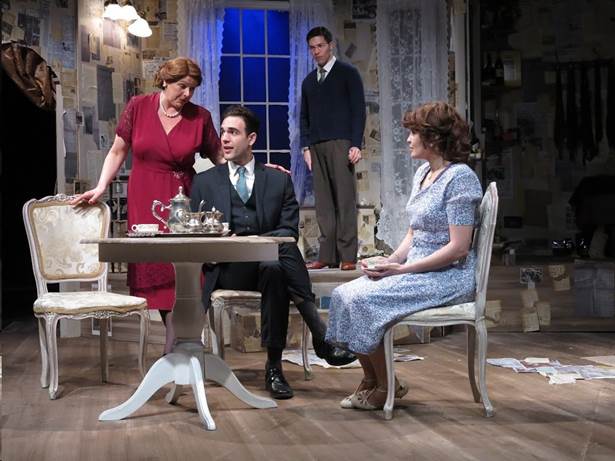 L-R: Jackie Maruschak, James McKinney, Jimi Stanton, Ivette Dumeng. Photo by Jonathan Slaff.
While she spits her venom at Gabriel, Mme. Angelica also conspires to match Therese to Victor (James McKinney), a Resistance fighter who survived the war. Victor is one kind of shadow of Marty: the perfect hero, handsome, confident, brave, and a total contrast to the other shadow: Gabriel. Also, Mme. Angelica knows that Gabriel is in love with Therese to the point of stalking her, and uses Victor to break her son's heart, with dreadful consequences.
Perhaps the most revealing of Marty's shadows: the framed portrait of him his mother has commissioned. In Jen Price Fick's excellent scenic design, that frame is huge, gilded, and empty. Then, in Therese's flat, another gilt frame, over her bed, is equally empty of Marty's photo. So, the audience never sees him, yet we can't get away from Marty's shadow, ourselves. We hear references to Marty, talk about Marty, and we see Marty's bedroom, with its cognac bottles just as he left them, daily dusted with love by Mme. Angelica. We see Marty's ties, Marty's swords, Marty's lascivious pictures, Marty's gun. (Yes, there is actually a gun on the wall in Act 1, and by all the rules of theater, we expect it to be used by the end of act 3).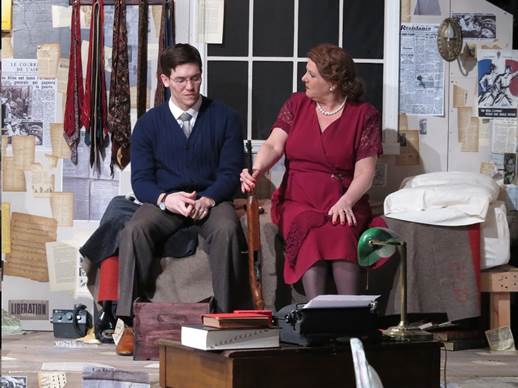 Jimi Stanton and Jackie Maruschak.
Marty's Shadow was inspired by Stig Dagerman's 1947 meeting with Etta Federn, a writer, translator, and assimilated Jew who had a significant literary career in pre-War Germany. She survived WWII, hiding in France, where her elder son was a captain in the Resistance, killed near the end of the war; her younger son survived. 
A few weeks after they met, Dagerman sat down to write this psychological drama inspired by Federn and her sons. Years later, the play was translated into English by Nancy Pick, who is related to Federn, and Lo Dagerman, who is Stig Dagerman's daughter. Unravel that level of family drama. Or don't. But definitely go see Jimi Stanton's terrific performance in Marty's Shadow.
Marty's Shadow
At the Gene Frankel Theatre
24 Bond Street, NY NY
Tickets $20 general admission; seniors and students $15. Student groups $10.
Performances: 3/11 @ 8:00, 3/12 @ 1:00, 3/16 @ 8:00, 3/18 @ 2:00, 3/19 @ 1:00, 3/22 @ 8:00, 3/24 @ 8:00, 3/25 @ 8:00, 3/26 @ 1:00, 3/30 @ 8:00, 4/1 @ 2:00.
SMARTTIX, 2122-868-4444 www.smarttix.com