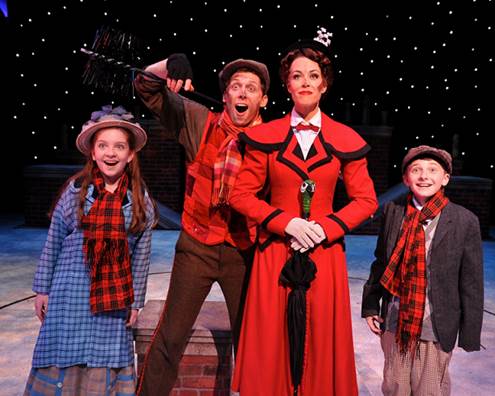 l to r: Michelle Moughan (as Jane Banks), Leo Ash Evens (as Bert), Brandon Singel (as Michael Banks) and Lauren Blackman (as Mary Poppins)        Photos by John Vecchiolla
                                              By Edward Lieberman
Mary Poppins hitched a ride on the East Wind to Elmsford last week, and promised to stay until the wind changed. Which is a good thing because the meteorologists at the Westchester Broadway Theatre, which is celebrating its 40th Anniversary on July 9th, assure us that the wind will not shift until July 27th!
First, a spoiler alert: this is not your parents' Mary Poppins: the immortal 1964 film with Julie Andrews and Dick Van Dyke. As we all learned last year in the film, Saving Mr. Banks, Travers did not want her book made into a musical film, and famously did not want Julie Andrews to play the lead, either (Ms. Andrews went on to win the Academy Award for Best Actress for her portrayal of Ms. Travers' "short, plump lady"). Enraged by what she considered disrespect for her work by Disney, Travers granted rights to develop a stage adaptation of her stories to theatrical producer Cameron MacKintosh on condition that no one from the film production was to be involved with the creation of the stage musical and further that only an English-born writer was to be used on the project. Accordingly, Julian Fellowes (writer of Downton Abbey) was called upon to write the show's book, and although Mackintosh and the Disney company collaborated so that the show could use the songs written by Richard and Robert Sherman for the movie, the Shermans were not permitted to write additional numbers for the show (additional musical numbers were written by George Stiles and Anthony Drewe). The stage version proved to be as successful as the film, running for six years and 2,619 performances, closing just over a year ago to make way for Disney's Aladdin. 
Fellowes' book is closer to Travers' style and sensibilities and focuses on more adult themes than the film, including the relationship and backstories of the parents: father George is a distracted and frustrated bank loan officer who was ignored as a child by his parents and brought up by an abusive nanny. Mother Winifred was an actress forced to give up her career by George when they got married. George recreates his childhood by ignoring his children, Jane and Michael, who misbehave and terrorize a succession of nannies in an effort to attract their parents' attention. When the latest nanny flees,Winifred asks George to let her take over the children, but George will have none of it because, in Victorian England, "the best people" hire nannies. Enter Mary Poppins, flying in on the East wind with umbrella and magical satchel in tow!
But all does not go "spit-spot" initially. When Mary takes the children to the bank (which takes place much earlier here than in the film), her meddling causes George to remember his humanity and to make a risky loan decision that results in his being suspended. This causes Mary to leave, which throws the Banks household into an existential crisis, as George worries about losing not only his job but his house, as well (Travers' book was written at the height of the Depression). Winifred, forbidden to take on the child-rearing herself, scores what she thinks is a coup by finding and hiring George's childhood nanny, Miss Andrew (a/k/a "The Holy Terror"). Miss Andrew counters Mary's "Spoonful of Sugar" with a child-rearing strategy of her own: "Brimstone and Treacle." Only then does Mary return, conquer and banish Miss Andrew, and restore everything to its proper place, including the Banks children and parents.
This is a lot to take in (and takes almost three hours), but the cast, with a considerable assist from inventive and versatile sets and special effects, softens the hard edges of Travers' severe characterizations and, after a draggy first act, lifts the spirits of all in attendance.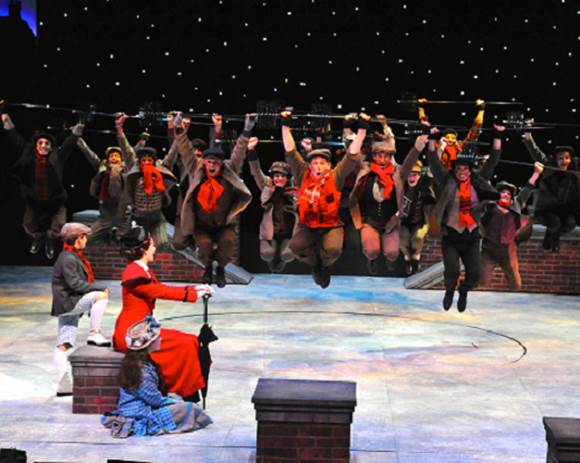 Company performs "Step In Time"
The strength of the production lies in the ensemble cast, which, when called upon to sing and dance en masse, are outstanding. That said, there are, as always, a few standouts. Lauren Blackman, as Mary Poppins, has large shoes to fill, but does so admirably. She bears a strong resemblance to Julie Andrews, both in appearance and voice (though perhaps a bit lower in octave), and handles her flying duties with aplomb. Jan Neuberger, as the villain of the piece, Miss Andrew, steals her scenes, displaying great vocal range and menace. Unlike the movie's parental caricatures, Leisha Mather, as Winifred, and Joe Dellger, as George, plumb the depths of despair and frustration at the societal pressures and constrained roles of men and women in  Edwardian society ("A Man Has Dreams," "Being Mrs. Banks").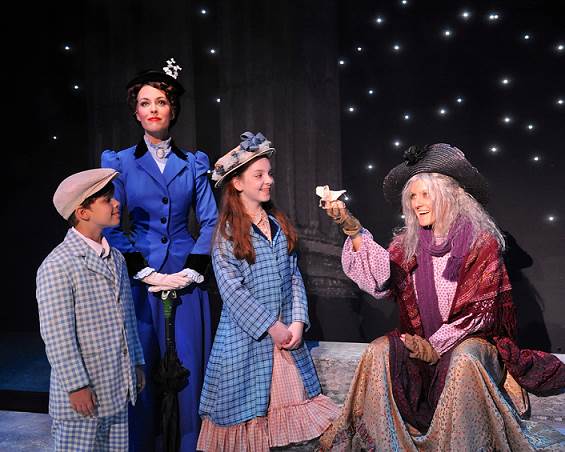 Lauren Blackman (as Mary Poppins) Gabriel Reis and Jane Shearin (as Michael & Jane Banks) and Laura Cable (as Bird Woman) in "Feed the Birds".
Another standout, in a small role, was Laura Cable, who sang the poignant "Feed the Birds" in a duet with Ms. Blackman. Leo Ash Evens, as Bert danced very well and sang serviceably; conversely, Jane Shearin, who played Jane in the performance this reviewer attended (played in alternate performances by Michelle Moughan) and Brandon Singel as Michael (played in alternate performances by Gabriel Reis), sang well and enunciated clearly, but failed to show the wonder and surprise that the magic of Mary Poppins should have elicited from them.
What saves the show from the darker themes described above and makes this show soar (literally) are the inventive sets, designed by Steve Loftus, which transport the audience from the Banks' home to the bank at which George works, to the children's bedroom, a park, the rooftops of London, and even a carousel and shop that rise from the floor, and the special effects, which include Mary's bottomless satchel, a kitchen that cleans itself at a flick of Mary's fingers, and, of course, the flying to and fro by Mary, Bert, and even Miss Andrew. The choreography, by Director/Choreographer  Richard Stafford and his Associate in both roles, Jonathan Stahl, shone especially in the ensemble numbers "Step in Time," "Supercalifragilisticexpialidocious,"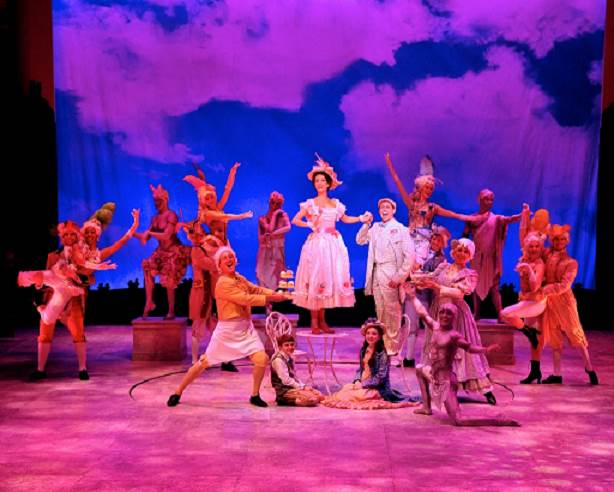 The cast of Mary Poppins performs Jolly Holiday
and "Jolly Holiday," which features statues that come to life. Costumes, by Derek Lockwood, were likewise outstanding, with multiple changes for each character, and attention to color and dress appropriate to the period. And the special effects would not have been as effective without the lighting design by Andrew Gmoser. The one jarring note to this reviewer was the orchestra, under the direction of Leo Carusone, which seemed out of tune at times.
Mary Poppins is a great first show for children old enough to handle the two hours, forty-five minutes (including a 30 minute intermission) running time. It starts slowly, but patience will be rewarded with the obligatory Happy Ending, and there is enough adult material, new to the stage version, to hold parents' attention, as well.
Where: Westchester Broadway Theatre, 1 Broadway Plaza, Elmsford, NY 10523
When: Through July 27th:
Performance times:
Matinees: 1:00 pm: Wednesdays (through June), Thursdays, Fridays and Saturdays;
1:30 pm: Sundays
Evenings: 8:00 pm: Thursdays, Fridays and Saturdays;
               7:00 pm: Sundays
Meals served 90 minutes before curtain.  
Tickets: $54 to $80, plus tax (includes meal and show)
Box Office:   914-592-2222; www.BroadwayTheatre.com