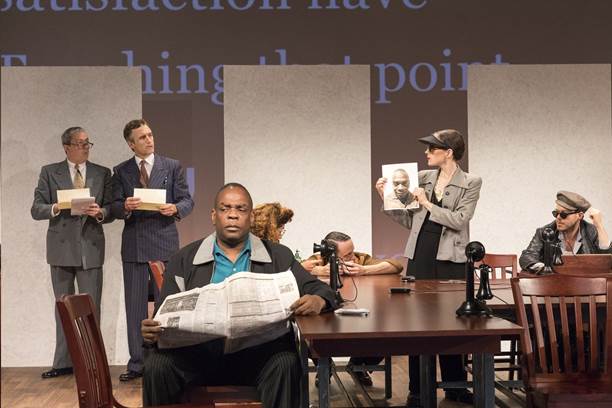 Greig Sargeant (center) and the company of Elevator Repair Service's MEASURE FOR MEASURE, created by Elevator Repair Service and directed by John Collins, running at The Public Theater. Photo credit: Richard Termine
                                      By Ron Cohen
With the backing of The Public Theater, Elevator Repair Service, one of New York's most audacious theater companies – if not the most audacious – takes on William Shakespeare for the first time with a wild and woolly – and totally fearless -- rendition of Measure for Measure.
The company has made its name with such productions as Gatz, its word-for-word reading, by various cast members, of F. Scott Fitzgerald's novel The Great Gatsby, lasting nearly seven hours. Measure for Measure runs for a little over two hours with no intermission, but it is known as one of Shakespeare's "problem plays," because of its close intermingling of dark subject matter and traditional comic material. Its rendezvous with Elevator Repair seems almost predestined. As John Collins, the company's artistic director and director of the production, says in the program: "I'm especially glad to be staging one of Shakespeare's notorious 'problem plays.' Theatrical problems are ERS's bread-and-butter."
Collins' delight in staging this work is palpable and infectious, even though you may not understand every word or get every Elizabethan gag (who does in a Shakespeare play?) or at times even what's supposed to be going on.
The set, with a couple of actors lolling on it before the play starts, is a hint of the non-predictable stuff that's to happen. Jim Findlay's design features a cluster of chairs and tables, the tables covered with a number of old-fashioned candlestick telephones. Add some typewriters, and you could well think you're going to view a production of that classic, frantic farce The Front Page.
Shakespeare's plot, however, quickly moves into gear, as the Duke of Vienna (a sprightly Scott Shepherd) reveals his plan to take a leave of absence. His domain has been overcome by licentiousness and other bad stuff, and he wants to see what's going on incognito. To take his place, he appoints the very morally upright Angelo.

Mike Iveson, Susie Sokol, Lindsay Hockaday, and Scott Shepherd in Elevator Repair Service's MEASURE FOR MEASURE, created by Elevator Repair Service and directed by John Collins, running at The Public Theater. Photo credit: Richard Termine
One of Angelo's first acts is to sentence a young fellow named Claudio to death for having sex out of wedlock, even though Claudio's girlfriend, the now pregnant Julia, is his fiancé. Claudio convinces his sister, Isabella, a novice nun, to go to Angelo to plead for his life, and suddenly, Shakespeare's 400-year-old play seems like it's being ripped from today's headlines. Entranced by Isabelle, Angelo offers to save Claudio's life if she will have sex with him. For the devout Isabelle, this is a no-deal. That she values her chastity over her brother's life may well be, in the view of some critics, one of the elements that has made Measure for Measure a "problem play."
However, one of the highpoints of this production is the scene where Isabelle explains her position to Claudio. As performed with enthralling conviction by Rinne Groff, this Isabelle is consumed with affecting waves of unhappiness, regret and even love as she lets him know in measured – very measured, as befits the play's title – and painful cadences why she is letting him die. The anguish of Greig Sargeant's Claudio adds to the full-throttle emotionality of the scene.
But this is a comedy after all, and with the intervention of the Duke, disguised as a do-gooder friar, along with assorted other characters, a lot of them frantically comic, everything gets resolved in a 100 percent happy ending. Or not quite 100 percent. Smitten with Isabelle, the Duke asks for her hand in marriage. But Shakespeare ends the play before Isabelle, obviously in deep quandary here, gives her answer.
Collins fills out the text with pratfalls, meta theatrics and lots of other ingenious stuff. Pete Simpson's Angelo demonstrates the unbridled lust that lurks behind his uptight demeanor by breaking frequently into a cascade of jaw-dropping spastic movement. When revelations come at the end, assorted cast members flop instantaneously to the floor in laugh-getting synchronized fashion; portions of the text in picturesque fonts are projected onto the set as the actors speak the lines, and actors slap a tabletop, as if pushing a control button, to start and end dramatic music to underscore a monologue or key bit of business, along with appropriate shifts in lighting. (The lighting designers are Mark Barton and Ryan Seelig, and the sound is designed by Gavin Price.)
Kate Voyce's smart hodge-podge of costumes adds to the eye-grabbing optics. The Duke and his cohorts are in exaggeratedly trim business suits, and Isabelle is wardrobed in a prim black outfit but it's oddly punctuated by the hat precariously balanced on her head. Many of the other dramatis personae look as though they might have come from a ragtag circus. 
Reflecting a growing trend, the casting is gender-fluid. Susie Sokol zestfully embodies the blowsy whorehouse madam Mistress Overdone, the peculiar constable Elbow and the mustachioed executioner Abhorson, ever ready with axe in hand.
Shakespeare purists might bristle at a lot of Collins' work, especially the robotic delivery that the actors occasionally affect in getting through long stretches of text. But they certainly should admire the inventiveness of his staging and interpretation as well as the responsiveness of his cast and creative team, as they make their company's first venture boldly into Shakespeare territory.  
Off-Broadway play
Playing at The Public Theater
425 Lafayette Street
212 967 7555
Playing until November 12