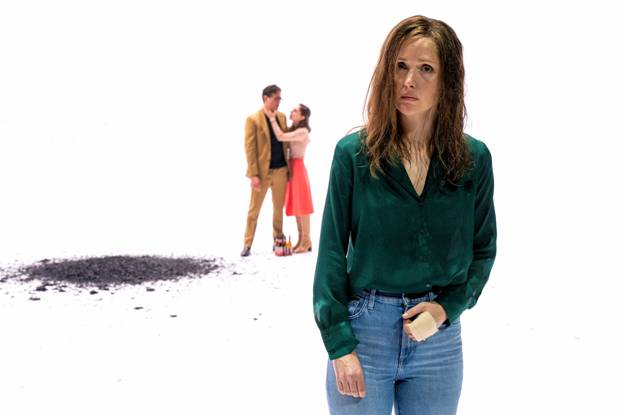 photos, credit Richard Termine
Medea
By David Schultz
This ancient tragedy by Greek playwright Euripides was written in 431 BCE, and is his most well-known play. This shocking story of Mother Love mingled with demonic revenge has been given a shaky modern reboot for current millennials to ponder. Upon entering the cavernous hulking semi decaying decor of the Harvey Theater in Brooklyn patrons are greeted by a brilliant blazing white canvas that curves around the open stage. Most theatergoers already have an inkling of the play and its history and know what lies in store. The tension of what will soon transpire and how that white playing space may perhaps be drenched in crimson at the finale, only adds to the low-level dread even before the actors come on stage.
Written and directed by Simon Stone this reboot is striking in its conception, but in the final analysis, tip toes oh-so gently around the immense horror of the work and its almost musical poetic language. Actress Rose Byrne assumes the Medea role, here re-named Ann, who works as a research scientist.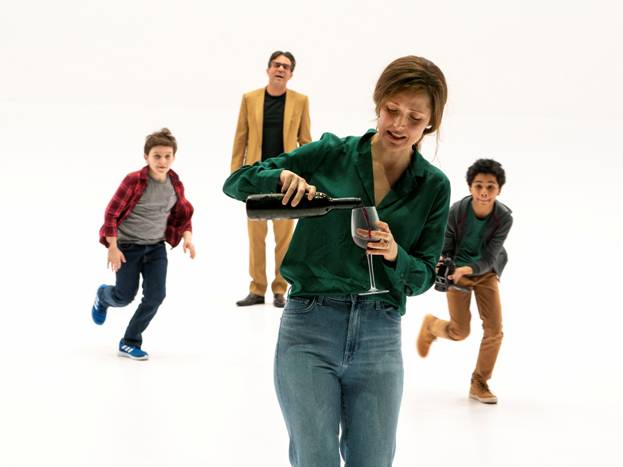 She has just been released from a mental facility, (suffering a nervous breakdown in her marriage after finding texts from her husband to a female rival and maniacally lacing poisonous liquids given to him). Her real-life husband Bobby Cannavale here named Lucas is also a scientist who had worked tirelessly with his wife, before she had her breakdown. The couple has two sons Edgar (Gabriel Amoroso) and Gus (Emeka Guindo). This version gives them names and dialogue, the original text gave them no lines to speak, and nameless to boot, giving them more humanity with their interpersonal relationships and the modern addition of a video camera to drag around and film their parents in all manor of inappropriate awkward situations.
This theatrical device adds an unusual visual aspect to the evening. Set designer Bob Cousins blows up the visuals as they are displayed in the upper portion of the all-white set. This gives a surreal, overtly intimate cinematic view as the audience ping-bongs from the human and film juxtaposition at hand. Savvy downtown theatergoers will recognize this conceptual concept from Belgian director Ivo van Hove who has plied this overused visual device for decades.
The younger woman that Lucas is having an affair with, and will eventually leave Medea to marry Clara (Madeline Weinstein, who looks like a Starbucks barista.) in hopes of making the transition from girlfriend to wife as seamless as possible, but our dear demented Anna of course sees things a bit differently.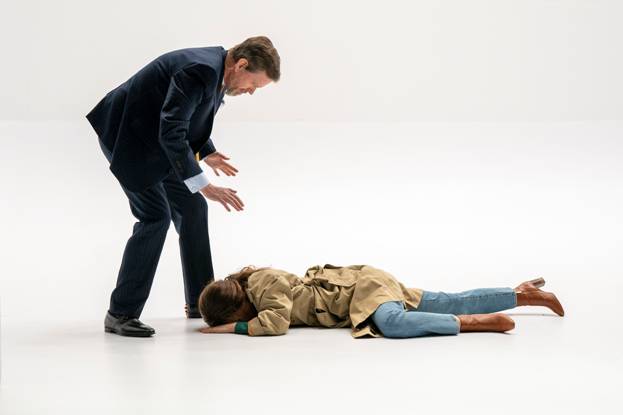 Adding to the emotional distress, Clara's father Christopher (Dylan Baker) is the omnipotent boss of the research facility that employs both Anna and Lucas. Upon Anna's release from the mental institution, she is let go from her beloved workplace, by Christopher. The return of Anna to her fractured home life is tenuous at best. She appears not only unhinged but slowly going down even deeper into a monstrous revenge filled rabbit hole.
The modern detached variation of this centuries old tragedy is on chilly emotional ground. Sympathy or at least some sort of resonance as to the psychological dimensions that will drive this heroine to her dastardly bloody deeds are not readily apparent in this clinical treatise. This eventually detracts from the incredible breathtaking finale that is oddly presented as dreamlike. Midway through the play from high above the stage snowflake-like particles gently undulate and fall to the stage below. Incrementally filling a large swath of the white ground below. Eventually the color of the snow seems a bit grayer than previously thought…. the "snow" as it builds in height and hue is upon closer inspection grey ash. The horrific denouement appears imminent. But as the moment finally arrives the emotional horrific catharsis is strangely muted.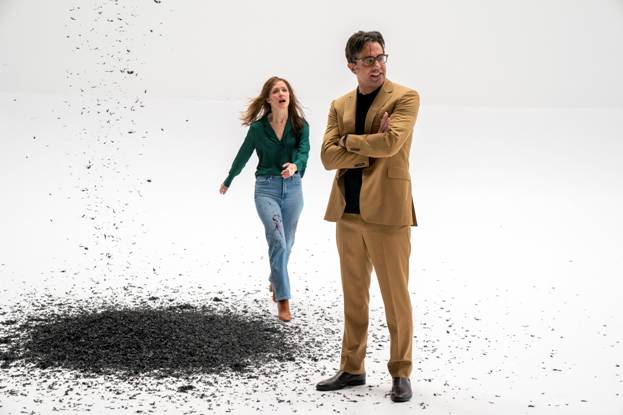 It is visually breathtaking as husband Lucas comes upon the wrath that Anna has wrought. The madness and revenge that is rendered by this modern Medea is wrapped in a softness and tenderness that is not what the original author had in mind. But this play in any and all permutations will always morph in unexpected ways, and is open to a plethora of interpretations. A sold out hit with an extension, it is bold in performance and conception. With all reservations in check, it is still a worthwhile addition to Euripides's masterpiece.
Playing at BAM. Harvey Theater, 651 Fulton Street, Brooklyn NYC
$35-$165.
Runs through March 8th