Jack DiFalco, Zane Pais                                    photo credit Monique Carboni
                       By David Schultz
Reprehensible, creepy, intriguing, extremely poorly acted, unintelligible at times, oddly paced, and stomach churning.  This newly revised play written by Philip Ridley does have some interesting ideas buried deep within its bowels. But the sheer unpleasantness of sitting through this miasma of pointlessness eludes all sensitivities.
The setting is an abandoned decrepit house. Well designed by Derek McLane, it looks so dirty and flea infested you feel like you need a shower after attending the show. Timeframe: Post-apocalyptic. Some horrific End of the World War has broken out…. vaguely mentioned, but not clearly delineated. Thugs and gangs run rampant in the streets. Hallucinogenic butterflies are the drug of choice in this new world of psychos and mental degenerates. A pervading sense of doom, despair, and the world imploding are imminent. Brothers Elliot (Zane Paris) and Darren (Jack DiFalco) are drug runners that also for a hefty fee throw demented parties for the wealthy to sate their bloodlust. Sort of a snuff-porn soirée. A neighbor in the blighted building finds a makeshift home with these two brothers.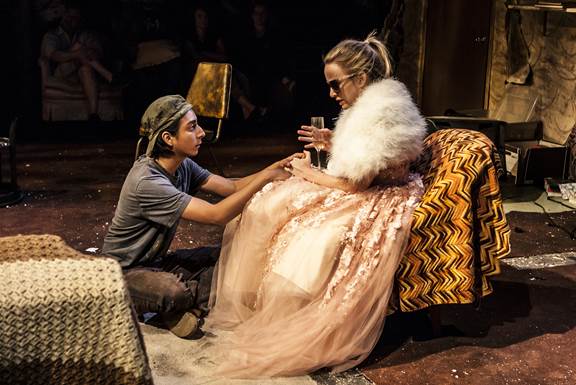 Tony Revolori & Emily Cass McDonnell.
Naz (Tony Revolori) eagerly helps the two get the place in shape for the latest party. Spinx (Sea McHale), the leader of the Organization brings along his blind lady companion Duchess (Emily Cass McDonnell) along for the ride.  Lola (Paul Iacona) a transvestite finds and brings along the intended victim for this sickening roundelay, a twelve-year-old boy named Party Piece (Bradley Fong). The man who is paying for this pleasurable violence is Party Guest (Peter Mark Kendall), decked out in full army fatigue regalia.   
This is the basic setup for this two-hour sadomasochist treatise on brutality, torture, and madness. Director Scott Elliott attempts to ramp up the intensity with having most of the actors screaming and yelling at the top of their lungs during the first half of the production…. a godsend in retrospect come to think of it, since I couldn't understand the dialogue. When the tonal volume lowers a bit, we get to actually hear playwright Ridley's poetic verbal perambulations. The old adage that the dialogue would make a sailor's ears blush has never been more true in this case. The intense, raw pornographic language is so ghastly; you just sit there with your mouth agape.. Shock value needs to be earned. The urgent need in this play to shock and repulse seems forced and tedious simultaneously.
The proceedings move inexorably toward its bloody conclusion. A few plot twists add to the creepy anticipation of death, physical torture, and blood. The play's dystopian world-view is cruel and heartless. The last scene, with the two brothers, face-to-face, finds a glimmer of potential love that was always present. That precious human emotion is heavily coated with a mixture of moralist angst and cynicism. The freeze-frame visual dénouement is a powerful conclusion. If you enjoy root-canal surgery without any anesthesia, this bone-crunching play will sate your hunger. All others need to avoid at all costs. 
Mercury Fur
Playing At The Pershing Square Signature Center,
480 West 42nd Street
THENEWGROUP.ORG
Ticketcentral.com   212-279-4200
$25.00 -$97.00
Playing through September 27th