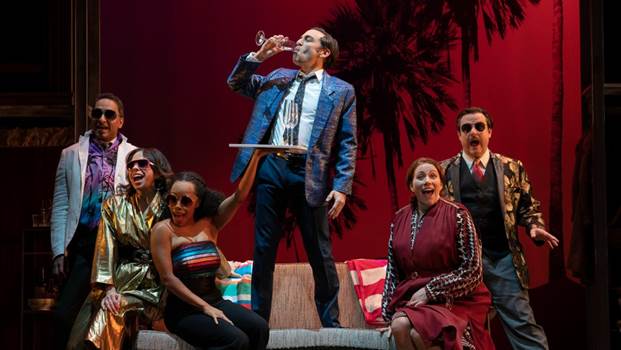 Manu Narayan, Emily Young, Brittany Bradford, and Ben Steinfeld             photos by Joan Marcus
Merrily We Roll Along
                  By David Schultz
Both loved and reviled in equal measure, this problematic musical is once again attempting the impossible. The original production (as every theater aficionado knows) shuttered in 1981, after a mere 16 performances and 44 previews. The scathing reviews from the critics gave the show a shockingly brief life. The plot, told backward in time over 23 years, was hard to follow for the unsophisticated audience at the time. Way too convoluted for many it seemed. The original cast consisted of 16 to 25 -year old's playing all the parts. The musical, at least on paper should have been an unqualified hit…. Stephen Sondheim & Hal Prince directing…. of course, it would be a smash. Coming off a magnificent plethora of hits in the 1970's, this brand spanking new musical should have potentially been another feather in their respective hats. This debacle actually ended the relationship of the two artists.
In the ensuing years and decades the musical achieved an almost mystical aura, no doubt caused by its early death, so few theatergoers had actually attended the musical… as well as its highly coveted original score that was cherished by Sondheim fanatics. Adding to the consternation of fans, the score was lush, and dare I say it, one of Sondheim's more melodic scores. In the ensuing years this musical has been revived fitfully and with very mixed results including concert, amateur and regional productions. Merrily became the ultimate "fixer upper" musical. With each incarnation it proved to stymie and challenge whatever company mounted it.
Which brings us to the latest version at hand. Fiasco Theater, beloved for it's Into The Woods revival of a few years ago, also mounted at the Roundabout, attempts to bring new life and insight into this famous "flop". With hope everlasting this new incarnation misses the mark on many levels, yet, briefly at times, soars with achingly moving moments. The truncated version at hand has now become a One Act. Set designer Derek McLane's daunting set (dressing room, storage room, excess ephemera) creates a large space filled floor to ceiling with store props, costumes, lamps, signs, clocks, every possible item that one has accrued over a lifetime, then doubled and tripled to give an effect of a person's lifetime of collecting. Its an impressive set design, yet distracting simultaneously. Lighting designer Christopher Akerlind shifts the lighting expertly to highlight the action at hand, but the single set for the entire productive works against itself. The actors cheerfully announce each year 1980! 1967! 1962! 1957! to give an audience context for the timeframe at hand. The costumes cheekily rendered by Paloma Young and Ashley Rose Horton perfectly capture the years in reverse. 
The creators of this latest version have incorporated additional material from the George S. Kaufman and Moss Hart 1934 play on which this Sondheim musical is based. One can only imagine what an audience made of this time-warping tale back in the 1930's! It's doubtful that the convoluted complexities of plot were any easier to digest.
writer Mary (Jessie Austrian), (Ben Steinfeld), lyricist Charley (Manu Narayan)  
The relationship of three artistic friends forms the emotional core of the story. In brisk rapid time we meet composer Frank (Ben Steinfeld), lyricist Charley (Manu Narayan) and writer Mary (Jessie Austrian). The opening scene takes place in Frank's mansion in Bel Air, circa 1979. Singing a manic song "Rich and Happy" they are obviously one of the two. Frank is now a wildly successful producer of Hollywood films for the masses, Charley a winner of the coveted Pulitzer Prize for Drama, and Mary, a failed book writer, now a cynical critic with a serious drinking problem. The musical moves backward in time, in fits and starts, back to their spirited youthful dreams of "trying to change the world", back to ancient 1957 when they all met on that fateful night on a rooftop. Failed marriages, liaisons, resentments, artistic differences and fights are all dutifully remarked and shown in brisk set pieces. The performers are decent, with varying vocal qualities. The limited eight-piece band, off stage conducted by Alexander Gemignani brings out some new and inventive orchestrations and new arrangements that will please the obsessive fanbase. The amusing choreography by Lorin Latarro plays with time and space, sometimes moving her performers in slow-mo reverse action. In one throwaway almost too brief to catch the cast sings a snippet of song in reverse.
The maddening thing is that this musical is brilliant, melodic, one of Sondheim's most exquisite, highly underrated scores. But the dam thing still doesn't work. It chugs, lurches from one scene to the next in a fragmentary manner. This production cannily casts the actors in age appropriate e.g. older states, so as they age, they appear somewhat more youthful with optimism ending the show. Original Book writer George Furth had his hands tied from the get-go…. it's doubtful anyone could wrangle this problem child into a coherent whole. Adding to the current revival, a chilly emotional dissonance pervades the production as a whole. This could be director Noah Brody's way of bringing the show up to the present zeitgeist of our age of anxiety, but one thing is certain. With magnificent songs at hand "Not a Day Goes By", "Good Thing Going", "Our Time", quibbling about the problematic book and structure, is beside the point. This mind-blowing problem child is still and will always be a magnificent musical trapped inside something impenetrable and perhaps never fully realized. That is the pain and glory of this time warp tuner. Hope springs eternal and down the road, who knows….it might actually work, but for now, revel in the gorgeous melody of Merrily.  
Playing at The Harold and Miriam Steinberg Center for Theatre / Laura Pels Theatre
111 West 46th Street.
212 719 1300.   Roundabouttheatre.org.
Running thru April 7th