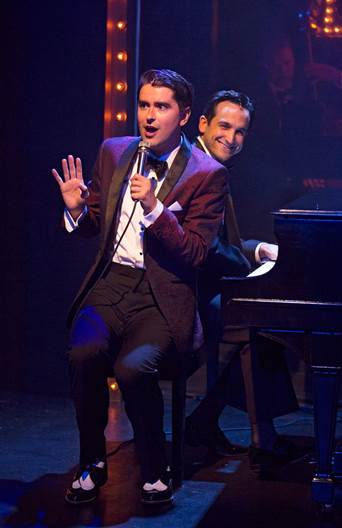 Sam Bolen, Jeremy Cohen Photo Credit: Carol Rosegg.
Midnight at the Never Get
by Deirdre Donovan
Mark Sonnenblick's new musical Midnight at the Never Get arrived at the York Theatre in early October with great expectations. It had attracted attention with successful runs at Don't Tell Mama, the 2016 New York Music Festival, and Provincetown. But the ballyhooed musical seems to have lost its charm in its lasts iteration at the York Theatre. Directed by Max Friedman, with book, music, and lyrics by Mark Sonnenblick (and co-conceived by Sam Bolen), the piece fails to levitate, weighed down by mostly mediocre songs and unsympathetic characters.
The musical starts out well enough. Set in 1965, it tells the story of singer Trevor Copewell and pianist-songwriter Arthur Brightman, both in their twenties, who meet at an illegal Greenwich Village gay bar and cook up a show together called Midnight. Their nightclub act takes off—and so does a romance between them. Arthur writes the love songs, and Trevor sings them with emotive power. Things are going oh-so-well for the young couple. Their nightclub act, in fact, has attracted such a following that Columbia Records are eyeing them for a contract. Things get sticky, however, when Columbia asks Arthur to change the pronouns in his songs so that they can attract a wider audience. Arthur flatly refuses--or so it seems. But what at first seems like a dead end with the prestigious record company, turns into a big career opportunity for Arthur. Columbia ask him to come to California and write songs for their artists. He does—and Trevor is left behind in New York with only the memories of their brief romance and showbiz partnership. There's more to the story, of course, but why tell all when you can go see the show yourself.
The show proceeds much like a concert, with Trevor directly addressing the audience as if we are the regulars at the downtown boite. "Ladies and Gentlemen: welcome to Midnight at The Never Get, a performance of rare taste and exquisite arrangement, a story of desperate intention, a song outside of time." And there's the rub. What we see and listen to is a story of the past, a relationship that somehow went wrong and an artistic collaboration that soured too soon.
That said, Trevor opens with the torchy "The Mercy of Love" that emphasizes the blindness of love and its terrible power of turning any lover into a fool. It describes Trevor and Arthur's relationship to a "T," which will be re-enacted, more or less, in the following scenes.
Without going into tedious detail, the trajectory of Trevor and Arthur's relationship is told through a mixture of patter and songs, with the songs propelling the action forward. The 13 musical numbers are a mix of comic ditties, feel-good ballads, and torch songs. Although supposedly inspired by the American Songbook, only a couple are worth listening to a second or third time.
In the first half of the show, we listen to such numbers as "Toaster in the Sky," which is in the vein of a Cole Porter tune. Following on its heels is "Wallace Falls," a song that describes Trevor's hometown as dullsville and poison to any person with a creative imagination. Nearing the midpoint of the performance is "The Bells are Ringing," which becomes Arthur's declaration of love for Trevor.
The songs in the second half are a medley of bright and dark songs, mostly reflecting the ups and downs of the principals' personal and artistic lives. But let's not forget the more political "My Boy in Blue," a song about the police who regularly would raid the illegal gay bars in New York in the 60s and arrest any customers they found within the walls. Consider the following lines from the song as a sampling of the whole: "His Pontiac/Is green and black./The trouble is I always hafta sit in back. . ./But I love him, I really do--/My boy in Blue." Even though the rhymes are predictable and the tone light, the song still gets across what the LGBTQ community had to deal with daily and nightly if they were caught in one of the illegal gay nightclubs in New York in the 60s.
The show began to lose its dramatic momentum after this political number. While the song "Dance with Me," where Trevor and Arthur dance together is intended to be the epitome of romance, it was more puzzling than romantic. Not only does the boundary between the present and the past get blurred here, but we learn of a death out of the blue during this musical number. Their friend, Sister Etcetera (Jon J. Peterson) was beaten and her body found floating in the Hudson River. Okay, one can simply throw up one's hands and call it a surreal musical. But it would be nice to have a few more clues presented along the way if something of significance takes place--and presented in a less disjointed manner.
What is clear is that Arthur left Trevor when his star was in its ascendancy. Arthur, we learn, makes it big as a songwriter in Los Angeles. And Trevor is left behind. He becomes just another boy who went to New York in hopes of becoming a big shot, and impressing the folks back home, but never getting a break.
Now about the "never get" in the title. True, it can be interpreted many, many ways. But two come immediately to mind: First, it's obvious that Trevor will never get Arthur's love for keeps. Second, Trevor will suffer the common lot of hard-working but unlucky artists in New York. That is, he will work and work and work as an artist but never get the respect he so desperately seeks. And he will inevitably fade into the woodwork of the nightclubs where he sings.
If the characters are unsympathetic, the actors who play them aren't—and turn in fine performances. Sam Bolen's Trevor has sturdy musical chops and shows them off to advantage here. Jeremy Cohen's Arthur tickles the ivories with flair and exudes the air of an artist on the rise. And Jon J. Peterson, as older Trevor and Sister Etcetera, has the versatility to play both the older-and-wiser Trevor and the nonconventional Sister.
The creative team are mostly in synch. Christopher Swader and Justin Swader's simple but elegant set evokes a chic nightclub in New York. Jamie Roderick's neon lighting glows like a fleet of fireflies on the wing. Vanessa Leuck's costumes are smart looking and crisp. Less effective is Andrew Palermo's choreography, which is hardly original or eye-catching.
A special shout out to the musicians. Josh Bailey (drums), Nick Grinder (trombone), Brian Krock (alto sax/clarinet/flute), David Neves (trumpet), and Robert Pawlings (bass) truly perform as an ensemble and deliver the goods in this concert-like musical.
As directed by Max Friedman, Midnight at the Never Get has some good moments and can remind us of that time on the cusp of the Gay Rights movement. But it never gets that electricity that turns a musical into a hit.
Through November 4th.
At the York Theatre at St. Peter's, 619 Lexington Avenue (enter on 54th Street), Manhattan.
For tickets, phone (212 935-5820) or visit online www.yorktheatre.org
Running time: 90 minutes with no intermission.