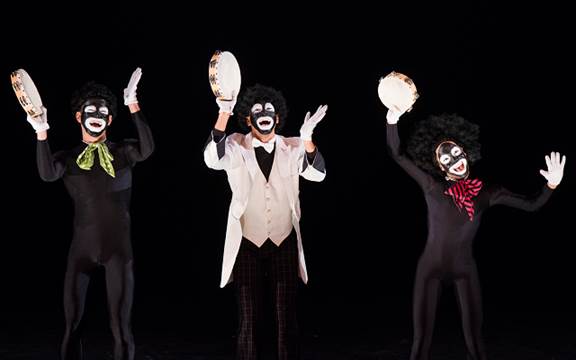 R. Pikser
Since 1982 Donald Byrd has headed Spectrum Dance Theater in Seattle, Washington, and the work of the dancers in this company meets the standards of his previous companies, no mean feat.  Mr. Byrd has long been a socially engaged choreographer, and this evening length piece, a revisiting of a 1991 work is a continuation of his engagement. 
In this piece, the performers appear in black body suits, curly, unruly black wigs, black faces with enormous white eyes, enormous white mouths, gloves, and spats.  They appear to be some sort of strange toys, not human at all.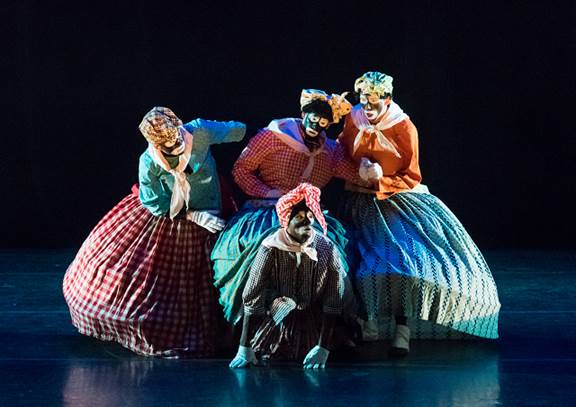 Sometimes a skirt, or high heels, are added for the women, or a cute little bow, or tie around the neck for both men and women.  Again, the details add to the idea of some sort of strange doll, certainly not a human being. Their dancing is that of floppy dollies.  The different performers are not identifiable, which becomes unsettling and is part of the point Mr. Byrd is making.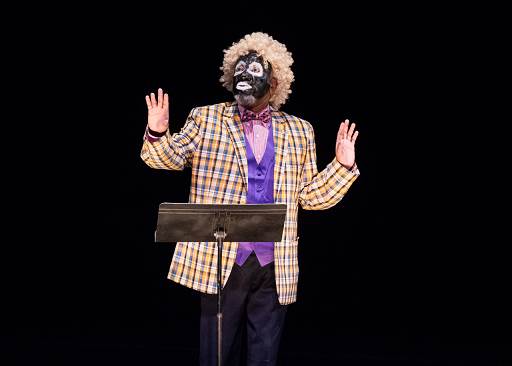 The one exception to the lack of identifiability is the master of ceremonies, who manages, or is allowed, to let emotion come through his blackface and who also uses his body to comment on what is happening on stage. 
The dancing was quite similar from section to section, although various musical styles from the 19th century were used.  There were many high kicks, and much doll-like flopping, belied by the many difficult lifts and leaps, seeming to come out of nowhere and executed just as effortlessly as everything else.  Mr. Byrd has never suffered his dancers to be slouches.  Again, the master of ceremonies was allowed to be an individual, playing with different accents - upper class, lower class, Black, white, and he could consistently be heard and understood.  There was a very long lecture, done by a Mammy-figure, on Mother Hubbard, showing how illiterate the performer was.  Presumably we were to consider why this monolog was once thought to be funny. 
To further bring the topic home, there was audience participation.  Audience members were invited onto the stage to tell the most recent racist joke they had heard.  Mr. Byrd himself served as the interlocutor and he rehearsed these people in how to address him, as Mr. Jooohnson, before they told their jokes.  He then asked the audience members who had not come up onto the stage to note down, during intermission, a racist joke, some of which he read from the stage as the dancers were taking off their makeup later on in the show.  Mr. Byrd passed no judgment and made no comment, letting the jokes stand for themselves, and a poor job they did: Only one or two were even vaguely funny from any point of view, and most were simply mean and mean-spirited.  Did they make people uncomfortable?  One hopes so.
Mr. Byrd has obviously given great thought to this piece.  Pre-concert presentations were hosted by various academics, speaking on stereotypes and blackface minstrelsy.  In addition to his appearances throughout the concert, there was a post-concert conversation with Mr. Byrd each evening.
For this reviewer, the most powerful part of the piece was the reading, by two of the dancers, police transcripts:   first, of the police radio operator speaking to George Zimmerman, telling him not to follow Trayvon Martin, second of a police interrogator trying to get a straight story out of (or perhaps helping) officer Darren Wilson after he had murdered Michael Brown.  The two readers were placed downstage in harsh white light.  Upstage, the other performers were seated in a semicircle, with less illumination, and with the master of ceremonies, still in his blackface, at their center.  All had tambourines, with which they added punctuation to the words, or sometimes acted out movements from the stories.  It was totally theatrical and totally thrilling.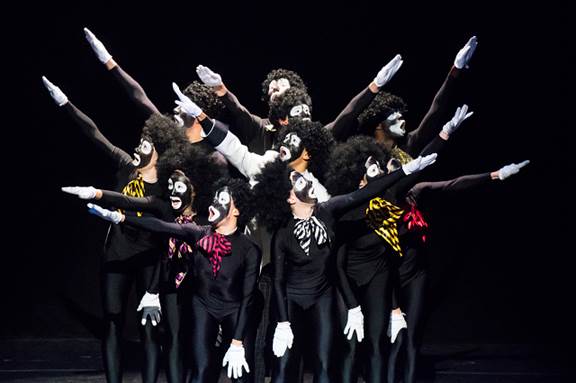 Obviously, all that had come before was prologue, so that this minimalist section had the power of the buildup of the rest of the evening.  Still, the performance was long:  two and a half hours plus intermission.  It could have been cut, the points made more succinctly, rather than extended.  Still, to see theater that makes us think and that makes us uncomfortable with our prejudices is always a pleasure. 
A note on the casting:  It, too, challenged our stereotypes: Except for one African American dancer, everyone was white.  The point could have been made with more dancers of color and to have had at least one African American female dancer would have been welcome. 
Donald Byrd/Spectrum Dance Theater
The Minstrel Show Revisited
October 28th, 29th, 30th 2015
Skirball Center for the Performing Arts
566 LaGuardia Place at Washington Square South
New York, NY 10012.
Tickets $30 – $55 and may be purchased
Online at www.nyuskirball.org,
Phone:  212.998.4941, or
At the NYU Skirball Center Box Office: Tuesday-Saturday, 12:00–6:00 pm.