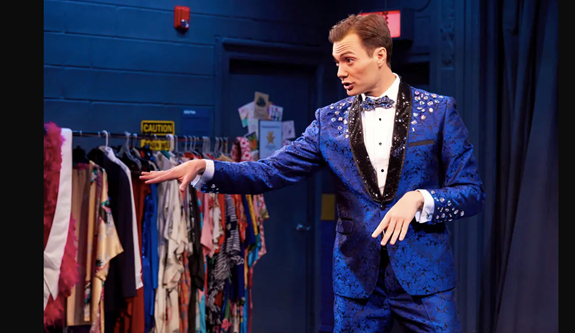 Neil D'Astolfo writes and stars in Mister Miss America, his one-man show. (Jeremy Daniel)
Mister Miss America
By Fern Siegel
Sometimes, an entertaining show can be a mixed bag.
That's the case with Mister Miss America, the one-man show now at the Rattlestick Theater.  
Twenty-something Derek Tyler Taylor (Neil D'Astolfo) is handsome, sweet, funny and cuts quite a figure in a sequined tux. An assistant manager at the local Petco, he's also desperate for validation.
But he's looking for love in all the wrong places.
Derek sees his dream as aspirational. Currently Mister Miss Smithsville, he is the first male entrant in the 86th annual Miss Southwestern Virginia Pageant.
A beauty pageant — which is problematic for women — is his idea of personal validation? Feminists have long had issues with a contest that judges women on men's conventional standards of beauty and deportment. The Q&A section in Mister Miss America is mocked — and historically, most questions, whatever the topic, were answered, as the film "Miss Congeniality" noted, with two words: "world peace."
Many have blasted pageants as shallow, so why is Derek hell-bent on winning one? And why does he think a man can outshine women in a traditionally female context? Still, the show sets him up as someone deserving of a win. Derek has lots of good qualities, but his vision is myopic.
And that's where his story, laughter through tears, veers into melodrama.
He's a lonely, bullied gay boy in a small Southern town — and no one, not his teachers, classmates or mother, understands him. That's an awful place to be — and we root for him because he is likable, engaging and witty. When we learn of the arch nemesis he longs to dethrone, he further engenders our sympathy and support.
Plus, he gets props for his appreciation of Patti LuPone. When the kids at school wore a WWJD (What Would Jesus Do?) bracelet, he crafted his own: WWPD (What Would Patti Do?) He nails some of her more recognizable qualities — and his lip-synching performance recalls the joy of watching Lypsinka (drag artist John Epperson).
But as good as Derek Tyler Taylor's performance is — and kudos for finding such a lyrical name — his reasoning is flawed. Someday, a little boy will see someone as fabulous as Derek and his inner unicorn will break free. But is that the only way a gay man can express his specialness? After all, he believes a beauty pageant is just a dog show for people. This one is "tops-to-bottoms full of bitches."
Clearly, Derek can sling zingers with abandon, and "hand to Gaga," as he would say, he's fun to spend time with.
Tony Speciale directs, moving the action from out front to backstage, where Derek confides his troubles. Travis McHale is responsible for the cheap-effects lighting that captures the cheesier aspects of local pageants, while Hunter Kaczorowski costumes have just the right sparkle. 
Developed through the AFO Solo Collective and presented by special arrangement with Rattlestick Playwrights Theater, Mister Miss America delivers a bucket of Southern sass. D'Astolfo's writing is crisp and his performance tight and well modulated.
But behind the laughs is one sad unicorn that should dream bigger.
Mister Miss America, Rattlestick Theater, 224 Waverly Place
Running time: 75 minutes, no intermission, through August 7
Tickets: ci.ovationtix.com/34239/production/1123764