(L-R) Edie Falco, Marin Ireland and Blair Brown. (Matthew Murphy)
Morning Sun
By Fern Siegel
The play's title is taken from Edward Hopper's 1952 painting "Morning Sun." Set during a New York summer, a woman stares outside her window. Like the characters in Simon Stephens' moving chamber piece Morning Sun, Hopper lived in Greenwich Village and experienced, much as play's central character Charley (Edie Falco) does, domestic unhappiness.
The comparisons end there, save for the isolated figures that were a Hopper specialty and permeate this quiet drama.
Blair Brown, Edie Falco and Marin Ireland, a stellar trio, play characters simply slugged 1, 2 and 3. The women inhabit various roles with ease — and the understated performances highlight actresses at the top of their game.
The story is set on West 11th Street in the West Village. But these aren't hipsters; they are a working-class family that lives in a fifth-floor walk-up with the bathtub in the kitchen. Their expectations are not grand. In short, they will not be stunned by possibility, only the accidents of circumstance.
Brown and Ireland join Falco to tell Charley's life story. Other characters pop up; all are part of the tabula rasa of an uneventful, often sad life. And yet in that solitude of restraint is moving truths about what T.S. Eliot called "lives of quiet desperation."
Charley, born to Depression Era parents circa 1950, talks often about the Village and the shops and people that made up her universe: Hudson and Perry Streets. She attends P.S. 3, where he dad works as a janitor. Her mom (Brown) is a tough nut, at once steely-eyed — "Kites don't work in New York" — and caring. She knows her daughter, unlike her granddaughter (one of Ireland's incarnations) isn't a big achiever and her options are limited.
What Charley does is work as a receptionist at St. Vincent's at the height of the AIDS epidemic, which must have been a daunting environment. In fact, her humanity in this realm may be the most impressive thing about her. She is not good at choosing men, and her own dreams seem muted by the daily grind of existence. Yet, she loves her only child, who, no surprise, has talents and issues all her own.
Stephens, who also wrote The Curious Incident of the Dog in the Night-Time, is adept at finding the subtle dramas in every day life. He uncovers the bits and pieces of exultation or wonder that give us, however fleetingly, a sense of peace and purpose. And director Lila Neugebauer, who helmed Kenneth Lonergan's The Waverly Gallery, starring an incomparable Elaine May, neatly stages inner turmoil.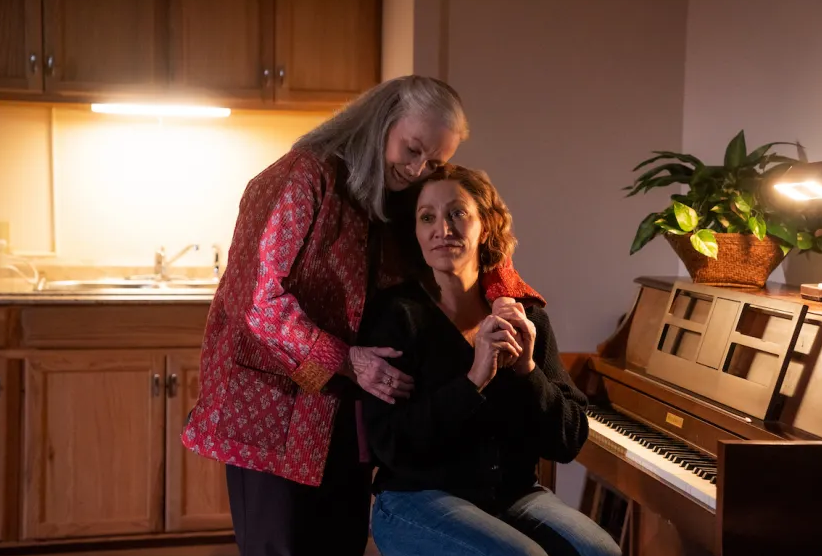 (L-R) Blair Brown and Edie Falco. (Matthew Murphy)
These three women are a nod, in part, to Edward Albee's unnamed characters, A, B, and C, in his Three Tall Women. They are not nearly as tony or upper class. And there are no moments, save a few minutes at the end, of revelation.
During the 90-minute drama, the New York of the 1950s onward comes alive. Jane Jacobs, Joni Mitchell in Washington Square Park, major baseball moments, the destruction of the first incarnation of Penn Station and 9/11 are all remembered.
Still, Morning Sun isn't an easy play to watch. The despair is palpable, and both Falco and Ireland inhabit worlds of searing pain. Falco's face tells all, while Ireland can modulate her voice to capture those seconds of incalculable despair. Brown has a practical demeanor that acts as a counterpoint to the two younger women. She sees what could be, but almost always realizes what is.
What is more confusing is the bare set by dots, which bares no resemblance to an apartment of the era in question. That makes it a distraction, rather than augmenting the story. Ultimately, Morning Sun is more of a musing on an uneventful, even tragic life, than it is a dramatic arc. Yet it underscores a bottom-line truth: Many people aren't dealt a great hand. And the women, who have limited options given their time frame and financial restrictions, often make due.
But Stephens' larger point may be what Arthur Miller said of Willie Loman. Whatever the limitations, "attention must be paid."
Morning Sun, City Center Stage 1, 131 W. 55 St.
Running Time: 1 hour, 40 minutes, no intermission