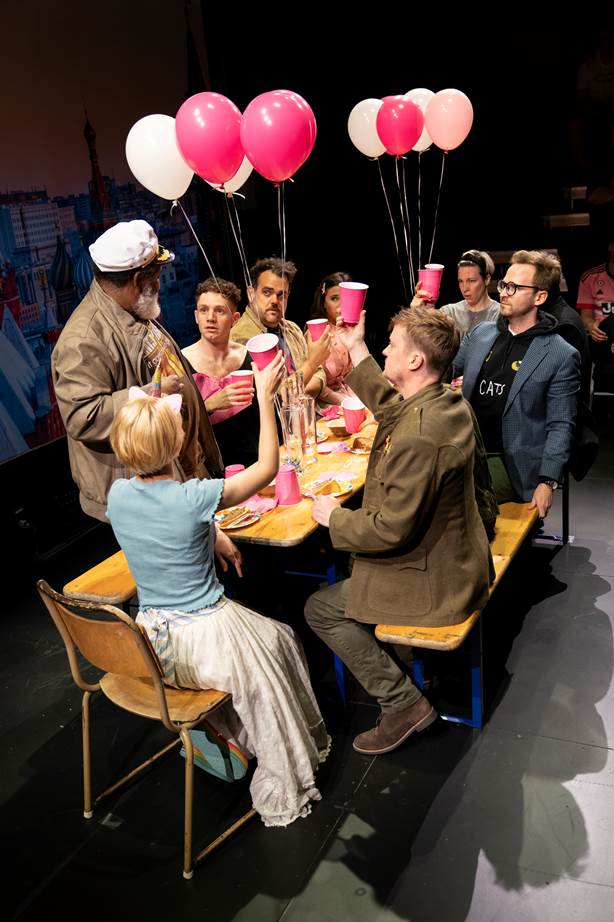 Moscow Moscow Moscow Moscow Moscow Moscow
                                 By Ron Cohen
The Prozorov sisters like to say "shit" and "fuck" a lot. Yes, they're the same Prozorov women who inhabit Anton Chekhov's Three Sisters. But this time around they're cutting up in Halley Feiffer's adaptation of Chekhov's masterpiece. It's entitled Moscow Moscow Moscow Moscow Moscow Moscow.
 If you're not into counting, that's six Moscows, apparently two for each of the sisters. It reflects their longing to return to the Russian capital they left eleven years earlier when their father, an Army officer, was transferred to the backwater town where they now live.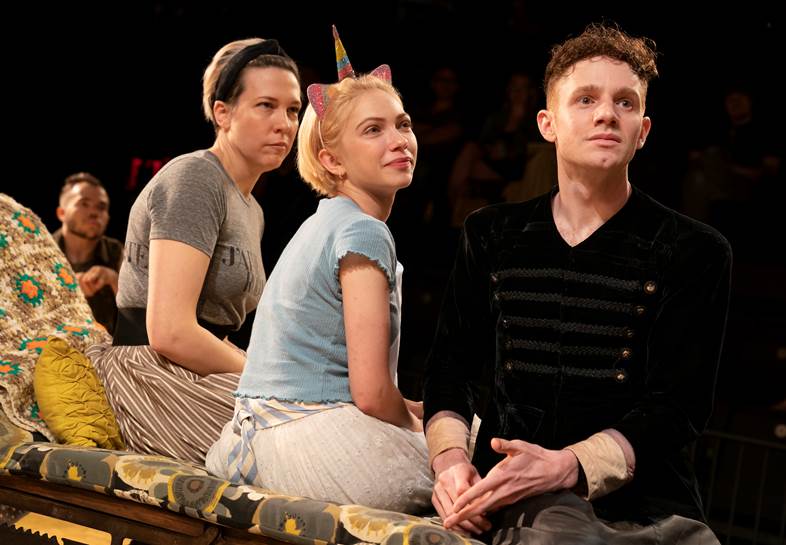 Matthew Jeffers Rebecca Henderson Tavi Gevinson and Chris Perfetti                            photos by Joan Marcus
With both parents now dead, the sisters' existence seems bleaker than ever, despite the comings and goings through their doors of the town's various soldiers.
Playwright Feiffer's aims to give the story a more relevant kick, a greater urgency, with the characters expressing themselves more like 21st Century folk, or at least exaggerated versions of the way they – or we -- talk. Expletives abound, especially in the first act, setting a tone, along with emotional hyperbole, even as Feiffer keeps the play's time frame circa 1900.
And the language together with the stylized direction of Trip Cullman together with the eclectic costumes of Paloma Young, the fanciful set by Mark Wendland and lighting by Ben Stanton, plus the sometimes-frantic sound design of Darron L. West, often give the production the air of an absurdist comedy. There's also some non-traditional and gender-fluid casting, with one of the sisters played by a male actor.
The fact that the visceral pull of Chekhov's narrative still registers is a tribute to his genius in putting life on stage in a universal context and Feiffer's respect for her source material.
A lot of credit is also due an excellent company of actors, responsive to Cullman's directorial embellishments while also instilling their roles with a relatable humanity. 
The storytelling is slimmed down, but still follows Chekhov's plot line pretty much incident by incident. Chekhov's elegiac ending about finding happiness, however, is notably shortened and capped with a jokey bit about finally going – or not going – to Moscow.
What's also missing perhaps is the prescient tone throughout Chekhov's works that his people may well be living in a civilization hurtling toward a catastrophic close. In any event, the drama wraps up in about 90 brisk minutes.
With the exclusion of a few extraneous soldiers, all the Chekhov characters are there. Olga (Rebecca Henderson) is the oldest sister, heading into her old-maid years with a teaching job that gives her headaches.
The middle sister, Masha (played in admirably straightforward fashion – in a gown while still obviously a guy -- by Chris Perfetti), is caught up in a dismal marriage with a determinedly cheerful school teacher of Latin, Kulygin (Ryan Spahn). She finds the love of her life with a new arrival in town, the Lieutenant-Colonel Vershinin (Alfredo Narciso), but as he frequently says, when he's not busy philosophizing, he has a wife and two daughters.
Irina (Tavi Gevinson) is the youngest sister, still hopeful of finding love and fulfilling work at the play's start, but her relationship with the Idealistic Tuzenbach (Steven Boyer) ends tragically.
In addition to dealing with themselves, the sisters have an emotional brother Andrey (Greg Hildreth), an artist manqué suffering through a city hall job and a marriage to the increasingly domineering Natasha (Sas Goldberg), who eventually takes over the Prozorov household.
Two other characters loom large, the paternalistic military doctor Chebutykin (Ray Anthony Thomas), who lives under the Prozorov roof, and Captain Solyony (Matthew Jeffers), who harbors a malevolent streak and a thing for Irina.
Completing the cast are Anfisa (Ako), the sisters' former nanny now a maid, and Ferapont (Gene Jones), the city council's ancient go-fer and doorkeeper.
The big question may be whether Chekhov needs such loose adaptations. There are certainly plenty of translations of his works, some of them well shaped with contemporary syntax, perhaps most notably the work of Paul Schmidt.
Nevertheless, Chekhov continues to attract and inspire oncoming generations of playwrights, wanting to take a turn at bringing his people, his understanding of them, into their own milieu. And if it increases audiences' appreciation, then so be it.
And on its own terms, Moscow Moscow Moscow Moscow Moscow Moscow, despite its repetitious moniker, does have its share of theatrical verve.
Off-Broadway play
Playing at the Susan & Ronald Frankel Theater at The Robert W. Wilson MCC Theater Space
511 West 52nd Street
Playing until August 17