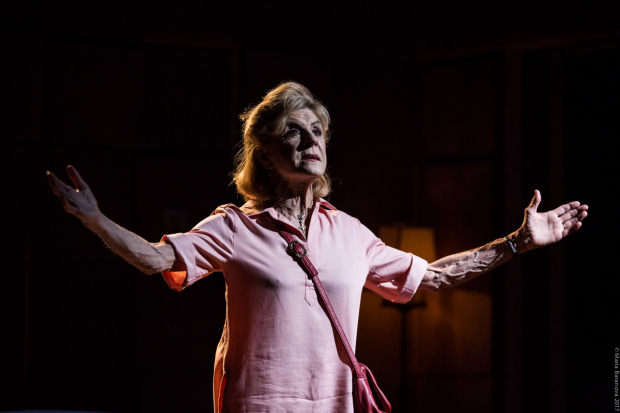 Concetta Tomei                                                                           (© Maria Baranova)
The Mother of Invention
                                                                     By Ron Cohen
Playwright James Lecesne has had considerable success with his screenplay for Trevor, which in 1995 won the Academy Award for best live action short and also inspired the founding of The Trevor Project, a suicide prevention and crisis intervention help line for LGBT youth. In 2015, his solo show, The Absolute Brightness of Leonard Pelkey – which he adapted from his own young adult novel and in which he performed – was an acclaimed Off-Broadway offering. It dealt with the bullying and brutal demise of a gay teenager.
Lecesne is obviously an activist and artist to reckon with. However, his talents seem to wander seriously off-track with his play, The Mother of Invention, now being staged by Abingdon Theatre Company. It's a family comedy with serious intent, but it touches on so many subjects in such scattered fashion, it makes it difficult to get involved with what's going on. Among the topics and plot points the script blithely skips around on: Alzheimer's disease; euthanasia; matricide; plain old accidental murder, and the destruction of nature and endangered species.
Two siblings, David (James Davis), a writer whose relationship with his partner Clayton is falling apart, and Leanne (Angela Reed), whose marriage has become somewhat stagnant, have gathered in the Florida home of their mother, Dottie (Concetta Tomei), to pack up her things and make further provisions for her. They are doing this while Dottie, who is suffering from Alzheimer's, is far away, staying with another daughter in Tucson. Or is she?
One of the initially confusing aspects of Lecesne's script is that Dottie is there on stage, seemingly conversing with David and Leanne and commenting on their various observations. It may take a while to realize that this is a dramatic conceit, illustrating as Dottie eventually says: "Even when you're not around you can still exert influence on your friends and family." It's not the most original thought, but it's conceivable that by the time some in the audience figure out what's going on, they could well have lost interest in the whole thing.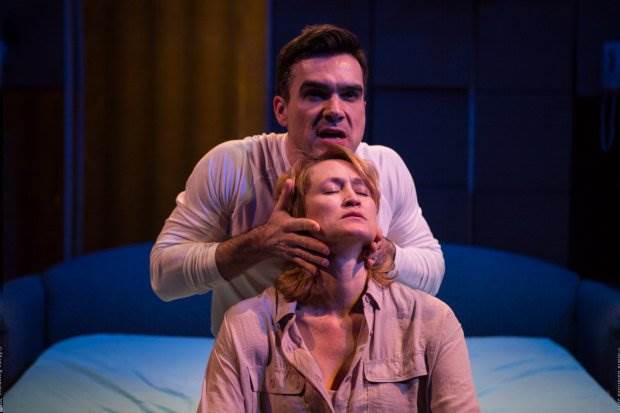 Angela Reed (left) looks on as James Davis (center) has a peculiar introduction to
Dom Domingues and Angela Reed
As the plot churns on, various family secrets, as they frequently do, come to the fore. One of the biggest is the importance in Dottie's life of a South American hunk, named Frankie Rey (Don Domingues), whom she met at a shopping mall during a moment of disorientation. He claims to be the emissary of a group of women known as the Mama's, who are not only the leaders of an indigenous tribe known as the Kogi living in the Sierra Nevada mountains but also the creators of mankind. Dottie has been writing out substantial checks to Frankie for the benefit of the Mama's. There's also a journal with more secrets and Leanne's precocious 13-year-old daughter, Ryder (Isabella Russo) has her own big secret to spill. In between the revelations, Dottie has several monologs telling us about how cleverly she is handling her loss of memory, but they do little to clear up the muddle of the story that is being spun around her.
Director Tony Speciale has lavished a fairly solid production on the play's meanderings, although it may try too hard to add further meaning or symbolism to the proceedings. Jo Winiarski's handsome set design depicts a living room whose walls are made up of packing boxes. As the play goes on, cast members partially disassemble it, carrying away various of the boxes. Is this to underscore the way pieces of Dottie's mind are falling away? Whatever, it adds up to only more distraction in a show that seems determined to keep distracting us from whatever point it's trying to make.
Angela Reed, James Davis, Dale Soules
Among the cast members, Tomei brings an occasionally touching sense of human vulnerability to Dottie's predicament, and Davis and Reed sometimes demonstrate convincingly the loving friction that can color sister-brother relations. Domingues lightens Frankie's overbearing sexiness with flashes of humor. But the proceedings rarely rise above the demeanor of labored situation comedy, while the writing never approaches the absurdist level it may aspire to.
Through his maze of plot, Lecesne may well be wanting to tell us about the familial responsibilities we owe to each other as well as to the course of our own lives. Ironically, though, perhaps the script's most engaging figure is simply that stock character from stock situation comedy, the all-too-helpful neighbor, Jane, played with uninhibited laugh-getting aplomb by Dale Soules.
Off-Broadway play
Playing at Abingdon Theatre Company's June Havoc Theatre
312 West 36th Street
212-352-3101
Abingdontheatre.org
Playing until February 26