A Review by Deirdre Donovan
Teaser:  Kecia Lewis resurrects Brecht's iconic character with gutsiness and daring at the Classic Stage Company. 
"Still tough as nails, I see; but that's what I like about you."
 The Cook's words to Mother Courage in a late scene in Bertolt Brecht's Mother Courage and Her Children might well apply to Kecia Lewis.  Lewis assumed the role of the titular character in Classic Stage Company's new production when the slated actress bowed out late in rehearsals due to artistic differences with the director, Brian Kulick.
Lewis, who was still on script in certain scenes at the performance I attended, had been rehearsing her part for only 14 days and performing before a live audience for the fourth time.  But Lewis, with the wherewithal of Hercules completing a Labor, succeeded in nailing the role that many consider the equivalent of King Lear.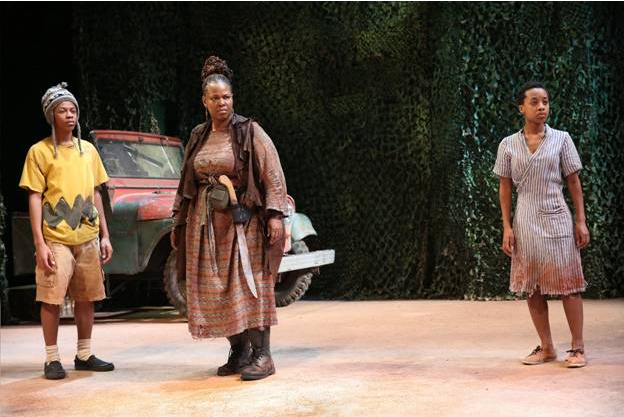 Deandre Savon, Kecia Lewis, Mirirai Sithole. Photos by Joan Marcus.jpg
There's no question that Mother Courage is on the darker side of the classical repertory.  It revolves around the indomitable canteen woman Anna Fierling, and her three illegitimate children.  Aptly dubbed Mother Courage, she makes her living off the war by selling liquor and sundry goods to the soldiers.  Mother Courage travels with her canteen wagon for long years through war-ravaged lands, and eventually loses everything she has in the world:  her children and her business.  Rather than falling into despair, however, she resiliently continues her journey.
Kevin Mambo and Kecia Lewis
Kulick has updated Brecht's play but kept its narrative arc intact.  Instead of setting it in 17th century Europe during the Thirty Years' War, he has transplanted it to the Congo in an attempt to make it more pertinent to our political times.  Other contemporary touches are Duncan Sheik's (Spring Awakening) original music, which infuses new rhythms into the play's songs, and John Willett's down-to-earth translation of Brecht's text.  Indeed, there's nothing stale about this Mother Courage.  You'll recognize the warhorse but be surprised at how fresh it sounds and plays out on the Classic Stage Company's intimate stage.
It's worth mentioning that Brecht wrote his Mother Courage whole cloth between September 21 to November 7 of 1939 when he was exile in Sweden.  It was a remarkable feat for this German playwright who typically would write, and rewrite, his plays over a stretch of years.  Now considered a masterpiece of world theater, it is a modern-day morality play that points up the horrors of war and how nobody ultimately profits from it. 
Returning to the current production, Lewis is the real ace in the cast.  She has a powerhouse voice and barks out her lines and songs with full-bodied conviction.  Lewis inhabits the old, salty peasant woman without a whiff of sentimentality.  Her Mother Courage looks the war right in the eye and calls a spade a spade.  Other actors to watch?  Kevin Mambo (Fela!), as the Cook, has the chops for his part and turns in a very strong performance.  And Mirirai Sithole, as Mother Courage's mute daughter Kattrin, proves that good acting is more than merely speaking lines of dialogue.  Relying on mime and unintelligible grunting, Sithole inhabits her good-hearted character with much feeling and pathos.
The creative team are all on their toes here.  The aforementioned Sheik brings his distinctive music to the play, heightening pivotal scenes and giving the old songs a new tropical twist.  Tony Straiges minimalist set evokes the war-scarred terrain of the Congo and reimagines Mother Courage's wagon as a truck.  Lighting designer Justin Townsend, true to Brecht's epic theater style, illuminates the stage in bright light.  And fight director J. David Brimmer does an impressive job at making the fighting scenes look realistic.
Although the acting ensemble and creatives surely deserve recognition, it is Lewis' performance in the nominal role that is the real reason to visit this production.  Even with script in hand, Lewis credibly insinuates herself into the gritty role of Mother Courage.  She makes you see the greatness of the iconic character who never whines over what the war has taken from her.  There have been other fine productions of Mother Courage in New York in recent years, but Lewis' performance is by far the gutsiest and most daring.
With Kulick at the helm, this Mother Courage surely will be remembered for its on stage—and off-stage--drama.  If you miss it, you miss something extraordinary.
Through January 24th.
At Classic Stage Company, 136 East 13th Street, Manhattan
For more information, visit www.classicstage.org or phone (212) 677-4210.
Running time:  2 hours; 15 minutes with intermission.