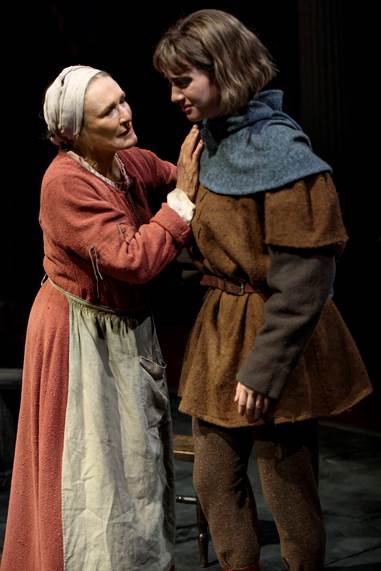 Glenn Close and Grace Van Patten       photos by Joan Marcus
                                      By Ron Cohen
The story of Joan of Arc has been told many times, many ways, but playwright Jane Anderson and Glenn Close bring a new and vital dimension as well as sublime emotional depth to the tale in the drama Mother of the Maid.
Seeing the saint through the eyes of her mother, Isabelle Arc, the hagiography takes on an achingly beautiful humanity, and Close explores every nuance, every color of the role masterfully and without pretension. It certainly must rank as one of this formidable actress's most formidable performances. When she speaks to us at the start, telling us about Isabelle in the third person but in character, the audience is immediately pulled into the story and into the humble Arc home, where the floor is packed dirt and the furnishings to put it kindly are basic.
"Isabelle Arc is a god-fearing woman," she tells us. "She can neither read nor write and her skirts smell ripe as cheese. But she can do all sorts of handy things such as gutting a lamb, lancing a boil and hiding the family valuables during a raid. And she's never blamed God for a blessed thing."
And the strength implied in that speech climbs to towering heights, as Isabelle's and Joan's story is unfurled in a series of skillfully written scenes.  Anderson trims the details, but underscores tellingly the relevancies in the conjunctions of politics, religion, and celebrity prevalent in Joan's rise to a national hero and her downfall, reviled as a witch and executed by fire as a heretic. And finally at the close, when Isabelle tells us how years after her daughter's death, she went to Rome, "faced a tribunal of clergy, three rows of them in robes black as crows," and cleared her daughter's name, you may want to stand up and cheer, once you've wiped away the tears.
With dialogue that is somehow both contemporary and timeless, we see how Isabelle is at first understanding but disbelieving as Joan reveals her visions (in Anderson's telling, it's only St. Catherine who appears to Joan). When Joan also reveals that she has already taken her case to army officials – that she is destined to lead France to victory against the occupying English – and her story accepted, Isabelle too is accepting but fearful and defends the move against the disbelief of her husband Jacques.
When Joan is taken to the castle of the Dauphin – the uncrowned kind of France – we're told how Isabelle treks 300 miles to see her. And when she encounters her daughter, now glowingly dressed in a silken robe for consultation with St. Catherine, standing at the top of a flight of golden stairs, Isabelle is overcome with awe for her own daughter.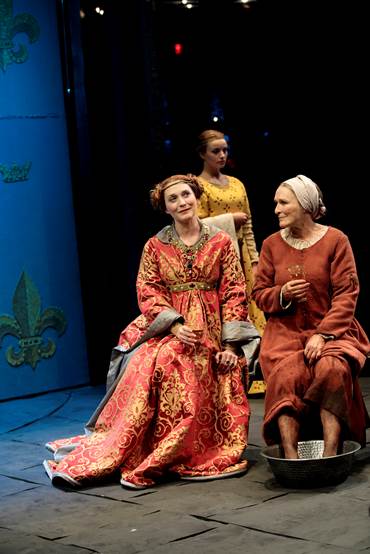 Kate Jennings Grant, Olivia Gilliatt, and Glenn Close
One of the play's most pungent scenes comes when Isabelle converses with a lady of the court, Nicole, about their respective daughters. Nicole is supercilious but well-meaning and impressed with Joan's celebrity.  Her three daughters, she tells Isabelle, are "not like your Joan, they're all a bit spoiled, I'm afraid…But we're titled and the world is theirs in a sense. It's hard to tell them otherwise."
"I'll tell you what, Nicole," Isabelle finally responds, "you take Joan and send your three daughters to me. I'll put them to work picking dung balls out of sheep's asses."
Joan's career as a soldier climaxes with the coronation of the Dauphin, with Isabelle and the family present. "You should see the room they put us in – oh, it's grand," coos Isabelle to her son Pierre, who has accompanied his sister into battle. But it isn't much later, as certainly all you Joan of Arc fans know, that Joan is captured by the English, brought before a church tribunal, found to be a heretic and burned at the stake.
It's then that Close takes the play bravely to its tragic peak. In a dank, dark cell, Isabelle cleans her daughter lovingly and as unemotionally as possible, removing the foulness of her imprisonment. But once the guard takes Joan away to her death, Isabelle is overcome with a howling of grief that may well tell your heart out of its chest. It's a wail of anguished motherly love, helpless and bottomless in its despair.
The Public Theater has surrounded Close's tour de force with a splendid production, with actors deeply matching Close's commitment to the material and Matthew Penn's spot-on direction, keeping the history clear within Anderson's excitingly propulsive storytelling. Grace Van Patten imbues Joan with an endearing teen-age innocence – almost a sweetness -- that can give way instantly to a fierce willfulness when her word, or more accurately, her visions are doubted. As her father Jacques, Dermot Crowley affectingly plumbs the depths of feeling churning within this disgruntled but loving man.
Dermot Crowley and Glenn Close
Andrew Hovelson brings a disarming but still appropriately callow charm to Pierre, Joan's older brother, and Daniel Pearce effectively captures the expedient piety of the family priest. (Pearce also takes on other roles, such as the court scribe, and if there's any hitch in this production, it's that he remains too recognizable, causing a bit of momentary confusion as to who he's playing.)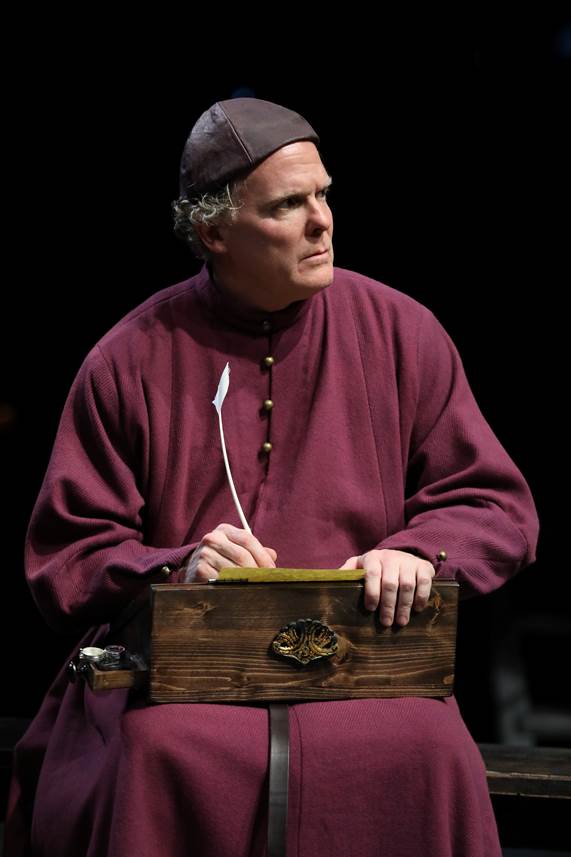 Daniel Pearce
The role of Nicole, the lady of the Court, has only just been taken over by Kelly Curran, replacing Kate Jennings Grant, and Curran limns both the solicitousness and the heart of the lady perfectly.
John Lee Beatty's easily shifting sets and Jane Greenwood's costumes deliver both the roughness of Joan's home and the sumptuousness of the court, while the lighting by Lap Chi Chu; the sound design by Alexander Sovronsky and Joanna Lynne Staub, and Sovronsky's original music add immeasurably to the drama.
Mother of the Maid is a searing exploration of parenthood in the face of the exceptional child caught up in exceptional and finally dire circumstances. And it's wrapped in meaningful and gripping storytelling. It's another notch in the already well-notched belts of both Glenn Close and the Public Theater.  
Review posted October 2018
Off-Broadway play
Playing at the Public Theater
425 Lafayette Street
212 967 7555
Playing until December 23.