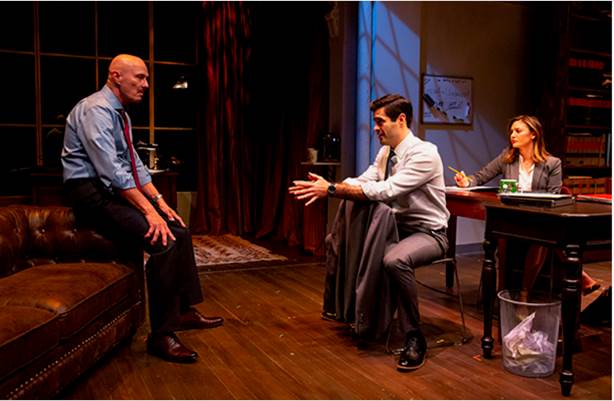 Dep Kirkland, Alan Trinca, Christine Evangelista
Photos by Jeremy Daniel
MsTRIAL
                                                            by Julia Polinsky
Dep Kirkland's MsTRIAL deals with men, women, power, and rape. Have we become so jaded that this terrible subject has become a mildly annoying yawn? Or is it just this play that made rape tedious? I'm betting on the play.
MsTRIAL deals with the three lawyers in a small-town law office that wins a big verdict in an important case. Dan (a fine performance by Alan Trinca), the gay newbie associate who is also the boss's nephew, has to be bullied into getting with the program. Karen (Christine Evangelista), acquits herself well as a stereotypical beautiful bitch "female trial attorney." John (played by the author) tears up the stage as the uber-alpha male trial lawyer boss.
In the drunken haze of a party after the big win, John rapes Karen. End of first act, all forty minutes of it; the audience was so puzzled at the short act, there was no applause. When your audience doesn't know what's going on, that's a bad sign. It doesn't help that Act 1, filled with exposition, could have been tightened considerably and had twice the impact.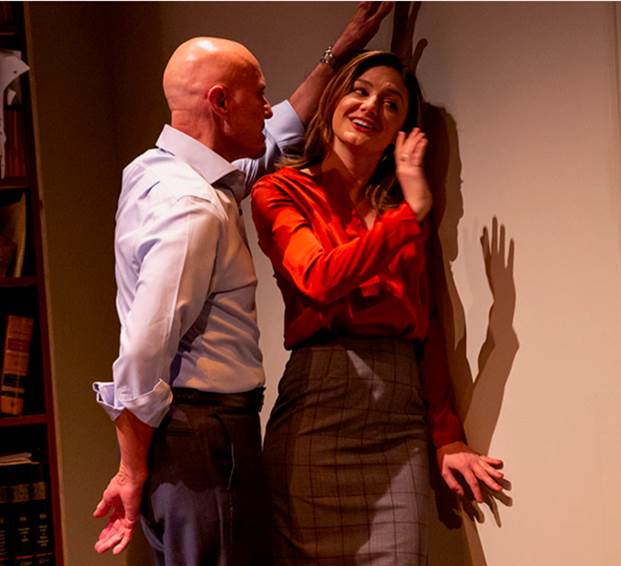 Dep Kirkland, Christine Evangelista
Act 2 of MsTRIAL deals with the aftermath of the rape, when Karen has pressed charges, starting in John's law office, where Karen comes to clear out her desk and gets the unpleasant news that Dan has been hired to represent his accused uncle, and  moving to an interview room at the District Attorney, where, predictably, John denies the rape, and blames the victim. Somewhat defying belief: the newbie nephew
has magically become a pit-bull defense lawyer, literally overnight. Yet more hard-to-believe: John produces a video of Karen's behavior at the drunken party before the "alleged rape," and the female DA (Janie Brookshire) seems to be ready to accept that this video weakens Karen's case.
Karen treats the DA to a fine lecture on doing her job instead of accepting the strategy of blaming the victim. In the emotional aftermath, the court reporter (Gayle Samuels) offers the only moment of warmth and compassion in the play, helping Karen cope.

Christine Evangelista, Janie Brookshire, Alan Trinca, Dep Kirkland
In the third scene, back at the law office, John shows his nephew another, different recording, which he produces out of nowhere -- with audio, not video, of the rape. A smoking gun, indeed: what will happen to John now that he's played the recording for his lawyer, and nodded what may be a confession? We'll never know; the show ends. 
Kirkland could have taken the opportunity to make MsTRIAL compelling. Himself a former district attorney, he should know a trick or two about keeping an audience from getting bored. Somehow, he seems to have forgotten how to pace his storytelling, or how to tease reaction out of his listeners, or how to make a huge impact. Instead, we get something like a first draft of an episode of "Law and Order: SVU", complete with credibility errors and not much new. 
Casting himself as John, the lead, may not have been Kirkland's wisest decision. Although the part offers opportunities to overact like crazy, he belongs to the "Robert Duvall Lite" school of acting, imitating Duvall's macho pacing, vocal tics, and body language, but not his absolute commitment to the role.
Bill Clarke's set mostly works; the transition between law office and DA's office is perhaps the most interesting moment in MsTRIAL. Mimi Maxmen's adequate costumes telegraph just enough about the characters to be useful.  Rick Andosca's direction holds MsTRIAL together, but there's only so much a director can do with a script that needs so much work that its plot holes have plot holes.
Here's the thing: it could be good. Strip the clichés, make the characters real, tighten it into the one-act it really is, and MsTRIAL could be compelling theater. 
MsTrial
Written by Dep Kirkland
At New World Stages, Theater 5
340 W. 50th St., NY NY
Through December30
Monday/Wednesday/Thursday 7pm;
Friday, 8pm; Saturday, 2pm and 8pm; Sunday, 3pm and 7pm
Tickets $49-79