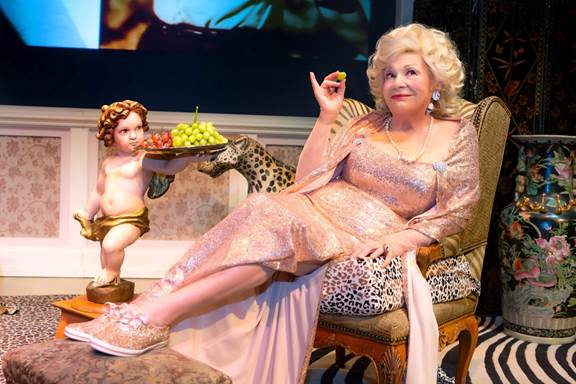 By David Schultz
Actress Renee Taylor has brought back her one-woman show to her hometown. My Life on a Diet is based on her 1986 memoir about her endless trek through all manner of strange, quirky diet fads. Intermingled with her diet tips, an entire lifetime of struggling with her weight issues, her reminiscences of early childhood, her demanding mother, shiftless father, her beginnings as an early student of Lee Strasberg at The Actors Studio, and her countless tales of working with many actors on their way up unfold in hysterical fashion. The bio-play bounces all over the place, and Ms. Taylor perfectly captures the era with her impeccable timing and Borscht Belt humor.
Originally written years ago by her late husband Joseph Bologna, he both directed and co-wrote the play with Ms. Taylor. The postage-sized stage is ornately furnished with a few pieces of furniture strewn about, with an overabundance of animal print motifs running rampant... reminds one of Norma Desmond's sitting rooms from Sunset Boulevard. Ms. Taylor enters smiling, wearing a ball gown designed by Pol' Atteu, further giving the aura of a faded film star. Faded she is not; she greets the audience forthrightly, smiles as she glides to a desk and sits upon the chair behind it. On the desk is a copy of the memoir we are about to hear. With an occasional glance at the copy in front of her, we are off onto a gleeful, gracious and humor-filled 90 minutes with our storyteller.
She starts the evening off describing herself as a "food tramp; someone who eats around". Her life-long issues with self esteem, comingled with her off and on attempts to loose weight are brought vividly to life. She regales the audience with innumerable diet fads…The Scarsdale Diet, South Hampton Diet, Marilyn Monroe's grape diet, the East Village bohemian diet, the Lou Costello diet…. and on and on. But don't fret, interspersed with this plethora of food horror tales, Ms. Taylor gives a beautiful evocation of her early years growing up and dealing with her parents. Her mother, Frieda was strong willed and her father Charlie, an occasional Hollywood extra, and trucker with a gambling problem set the stage for young Renee. She was a plump, zaftig girl growing up, so dieting was a given from the outset.
Ms. Taylor proceeds with her life story, giving a non-linear framework to her tale. She gives a poignant description of wanting desperately to hit it big time in the world of showbiz. A large screen above Ms. Taylor frequently showcases photos and occasional videos that correspond to her rise to fame, with many pit stops along the way. She auditions for Jack Paar and is frequently spotlighted with various comic bits. In her acting class she shares her amusing and intimate friendship with Marilyn Monroe, chats it up with Marlon Brando in class. Her up and coming unknown singer friend Barbra Streisand share a dressing room down in the village; she was the comic opening act. Ms. Taylor bumped and brushed against all manor of the rich and up and coming famous folk. But her longest and most fruitful collaboration both emotional and artistic was her courtship and marriage to actor Joseph Bologna, with whom her worked consistently until his death last August. Their stage play Lovers and Other Strangers turned into a hit 1968.
Film was just the start. They earned an Academy Award nomination for best screenplay. This was quickly followed up with a classic film Made for Each Other that traced the couple's courtship and emotional struggles to find each other in heart and soul, with emotional baggage in tow. Both actors wrote and starred in this very amusing autobiographical comic gem. This artistic partnership lasted an astounding 53 years. 
The ensuing years were fruitful, with many plays, frequently putting themselves into their own works. In later years, Ms. Taylor gained her most popular fame in the sitcom "The Nanny", her nasal patois perfectly matched by Fran Dresher. This modest Jewish girl from the Bronx knew deep in her heart the world of show biz would be in her grasp. The getting there, the ups and downs, the triumphs, failures, pit stops along the way are brought to vivid life by this overwhelmingly raucous and amusing performer. Her candor and pithy comic asides hit the target throughout the evening. This, plus enumerable tips on food and dieting…. how can you go wrong? A recording of Ms. Taylor at the outset of the show sets the tone for the evening, an early recording of her singing…"Don't want pork chops and bacon…. That won't awaken…. My appetite inside".  If you crave a joyful, funny peek into a life well lived, this bon-bon will most definitely sate your appetite.
My Life On A Diet
Playing at the Theater at St. Clement's, Manhattan
212 239-6200
Playing through August 19th
Running Time 1 hour 30 minutes    No Intermission