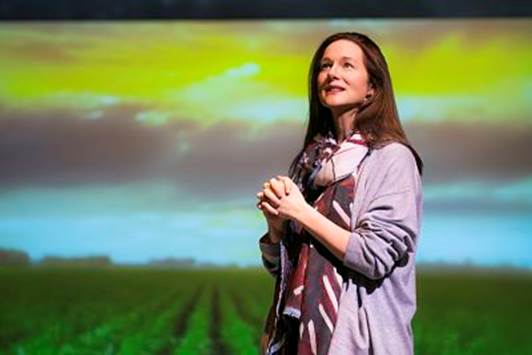 Laura Linney   Photo by: Matthew Murphy
My Name Is Lucy Barton
By Fern Siegel
Tony-nominated actress Laura Linney (The Little Foxes, Time Stands Still) can probably count on another nomination for her exquisite performance in My Name Is Lucy Barton, a solo play based on the Elizabeth Strout novel.
As Lucy Brown recounts her nine-week stay in a Manhattan hospital after a life-threatening illness, she takes the audience on a haunting journey of love and loss. This is a story of the emotionally and economically impoverished — and the pathology of pathos that inevitably haunts successive generations.
Smoothly adapted by Rona Munro and deftly directed by Richard Eyre, the riveting drama is a meditation on the ties that bind. The tissue that connects parents and children, particularly in poverty, is explored with a sensitive, but unflinching eye. There is no sentimentality in endurance or restraint.
Lucy, a writer and the mother of two daughters, is married to the son of a German POW. Lucy's father, tortured by his WWII memories, is an interesting counterpoint. He is never seen, but his presence looms large. Similarly, Lucy's husband never visits; he is unnerved by hospitals. So he enlists her mother, a stoic woman estranged from Lucy, to provide solace.
That visit is telling. Her mother has come from a farm community in Amgash, Illinois. On a plane for the only time in her life, she sits in her daughter's hospital room for days on end, sharing stories of other people. Linney perfectly captures her mother's voice and gestures. It may be a solo play, but thanks to her strong performance, there are always two people on stage.
And there is a lot to unpack.
To begin, Lucy's recitation of her childhood is harrowing. She and her two siblings grew up in an isolated farmhouse, with the barest of amenities. Money is scare, but so is any real connection with the outside world, save for school, which proves Lucy's salvation. This is a family of the dispossessed, eking out a lonely existence where love, sensitivity or support does not exist. This is the America of the rural underclass: Suffering is embedded in their DNA.
The irony is that even when her mother regales her with stories of neighbors or pseudo-friends, they have an elegiac quality. No one can secure any real happiness. To Lucy's credit, she finds a way out of poverty, but not fear, anxiety or regret. So primal is her quest for connection, that even as her mother discourages an alliance, Lucy longs to claim one.
As Tennyson once wrote: "I am a part of all that I have met." Strout would endorse that sentiment, but notes in Lucy Barton that awareness does not equate with healing. We can mourn what we never had, but we never stop seeking that primal attachment with our past, however conflicted the relationship. 
But trauma is also what Lucy understands. As she gently explains the circumstances of her illness, life and marriage, we see Luke Halls' landscapes — rural and urban — flash behind her. From lush green fields to the impressive Chrysler Building, Lucy is defined by the architecture of time and place. Both have a hold on her heart. So does her passion for writing. When a fellow writer encourages her to be "ruthless," she comes to understand that literature is her anchor in an ever-changing world.
Linney beautifully calibrates her performance; her riveting recitation of Lucy's journey commands our attention and respect. It underscores the myriad ways people react to each other, and the deep wellspring of youthful pain that can remain for a lifetime. Patterns repeat, desires are realized, thwarted and begun anew. Lucy Barton is a quiet, contemplative piece on the nature of existence — and therein lays its power.
My Name Is Lucy Barton, Samuel J. Friedman Theatre, 261 W. 47 St.
Running time: 90 minutes, no intermission. Through Feb. 29.
Tickets: www.telecharge.com