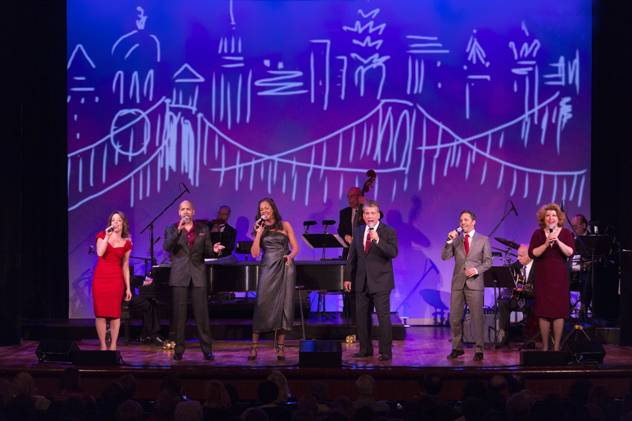 L to R: Leslie Kritzer, Darius de Haas, La Tanya Hall, Billy Stritch, Jeffrey Schecter, Klea  Blackhurst
Photo credit: Richard Termine
by Linda Amiel Burns
There are so many great songs written about New York and the 92nd Street Y Lyrics & Lyricist Series latest program on March 21-23, 2015 was a love letter to the Big Apple called "New York: Songs of the City." It featured a stellar cast consisting of Klea Blackhurst, Darius De Haas, LaTanya Hall, Leslie Kritzer, Jeffrey Schecter and Billy Stritch. This is Deborah Grace Winer's 7th season as Artistic Director, and for this show, she served as a charming and erudite host. Deborah is a native New Yorker and says "despite myriad voices and points of view, there is no discernible difference in passion for the city between those who were born or mutate into that identity of being a New Yorker." The band was led by the remarkable pianist, arranger John Oddo, with Aaron Heick on reeds, Jack Cavari on guitar, Jay Leonhart on bass, James Saporito on drums and smoothly directed by Mark Waldrop.
 
L to R: La Tanya Hall, Billy Stritch, Jeffrey Schecter, Klea Blackhurst, Leslie Kritzer, Darius de Haas
Photo credit: Richard Termine
The show opened with LaTanya and the cast singing "Call of the City" (Oscar Brown, Jr – 1966) and quotes of famous New Yorkers were voiced and their names appeared on the backdrop.
Many well known New York songs were included such as "Manhattan" (Rodgers & Hart) performed by Billy, a sensational version of Kander & Ebb's "New York, New York" sung by Darius, Cole Porter's "I Happen To Like New York" as a trio by the men, Vernon Duke's "Autumn In New York" and Billy Joel's iconic "New York State of Mind" with Billy and the cast.
However, some more obscure songs hit the mark like "Times Like This" (Ahrens & Flaherty) soulfully sung by Leslie and Sondheim's "What More Do I Need?" that Jeffrey sang with great conviction. Other highlights were the terrific duets of LaTanya and Darius's "Take The A Train" (Strayhorn & Sherrill), Leslie and Jeffrey singing "Will You Still Be Mine?" (Dennis & Adair) and Billy & Klea singing Dave Frishberg's "Do You Miss New York?"
Everyone in the cast hit home runs and the production caught the mood, frustrations and love that we all have for our city. Deborah said that her goal for this show "was to conjure all that passion to celebrate the kaleidoscopic, breathtaking, soul-sucking, absurdist, exhausting, always fascinating ride that is life in this city." This was certainly accomplished by this entertaining show and thanks for taking us on this "fascinating ride!"
Coming:
May 2-4 All Dancing! All Singing! Irving Berlin in Hollywood
Visit 92Y.org/lyrics or phone 212 415-550 for tickets.