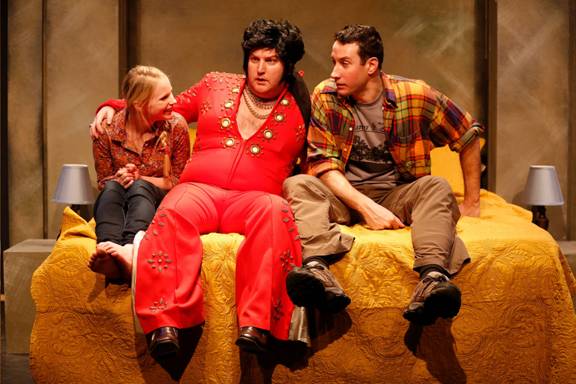 Photos by Carol Rosegg
By Julia Polinsky
Directors Milton Zoth and John Pierson, of the St. Louis Actorsí Studio, have done what they can to rise above two of the toughest challenges facing much regional theater: actors who do too much, and budget/space constraints that force them to do everything with nothing.
As presented here, overall, the Neil LaBute New Theater Festival at 59E59 fills this two hours in the theater with uneven production values, in some OK plays and one damn good one. Some plays are bizarre. Some are funny, some frightening. The same can be said of the performances: some OK, and one damn good one; some bizarre, some funny, some scary.
Most of these pretty good one-acts demand more of the actors than they have to give, and two take place in Places Other Than America. For pityís sake, if you canít do English or Irish accents reasonably well, then just donít. Appalling fake English or Irish accents will destroy verisimilitude much faster than using normal American voices.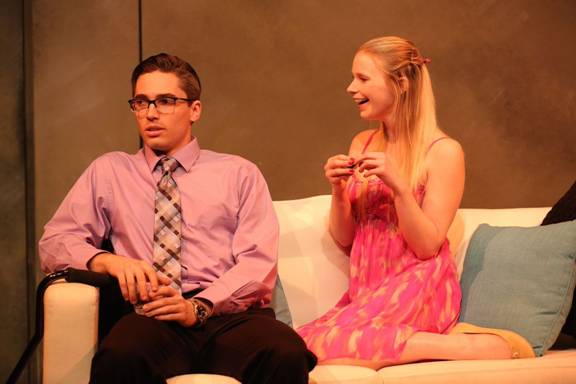 L-R: Mark Ryan Anderson and Alicia Smith in STAND UP FOR ONESELF by Lexi Wolfe
Although youíve probably seen variations of these one-acts before Ė for example, Meet-Cute with Wounded Person (Stand Up For Oneself);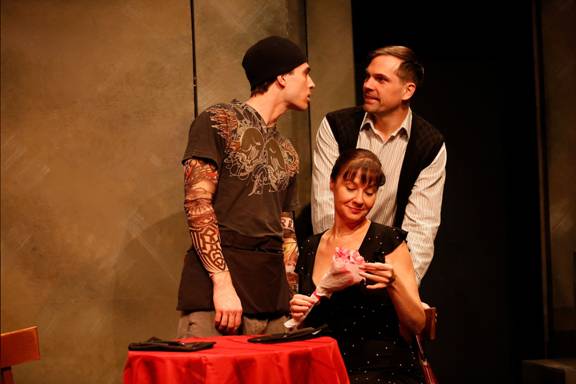 L-R: Mark Ryan Anderson, Jenny Smith and Justin Ivan Brown in COFFEE HOUSE,
GREENWICH VILLAGE by John Doble
Meet-Cute with Psycho (Coffee Shop, Greenwich Village), -- a few of the plays here are far better then the productions they receive.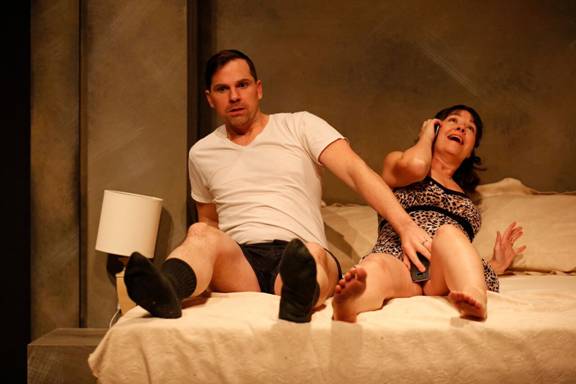 L-R: Justin Ivan Brown and Jenny Smith in PRESENT TENSE by Nancy Bell and Peter
Grandbois
Interesting concepts show up Ė particularly Present Tense, a play on words, both literally and figuratively, that speaks to how remote from one another we have become, even though we love. The play: interesting. The actors, Jenny Smith and Justin Ivan Brown: not as interesting.
L-R: Michael Hogan and Alicia Smith in THE COMEBACK SPECIAL by JJ Strong
Similar for The Comeback Special: an interesting concept, hidden within an absurd story, tasking its actors (the excellent Michael Hogan, with an unsatisfactory Alicia Smith and over-the-top Neil Magnuson) with making the incredible, barely believable.
Patrick Huberís set design works wonderfully well, for the most part, with one exception: the two parts of Two Irishmen Are Digging A Ditch are divided by the set, rather than united by it. Huber hasnít solved the problem of how to make a set that morphs in quick succession into: a room in a flat in London; a hotel room somewhere in America; a room in an Irish prison, and then the countryside in Northern Ireland; Elvisís bedroom at Graceland; a coffee house in Greenwich Village; and an interrogation room near an American military base. Yes, we accept that there will be some long pauses while the sets change. Pity one pause came in the middle of one play. It broke the concentration.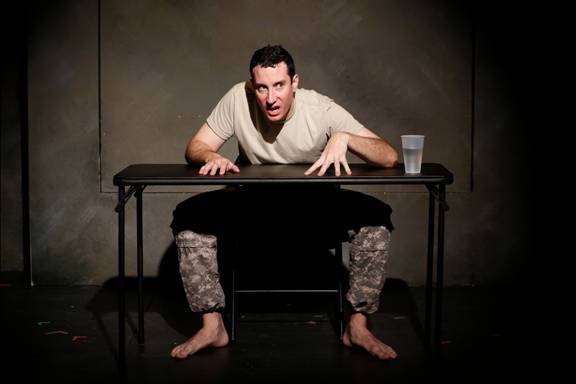 Michael Hogan in KANDAHAR by Neil LaBute
The one damn good play, with damn good actor, is LaButeís own Kandahar, a devastating monologue, delivered by Michael Hogan with such authenticity that it was possible to have an emotional response that bounced between sympathy and horror. A fine line to walk, and Hogan did it well.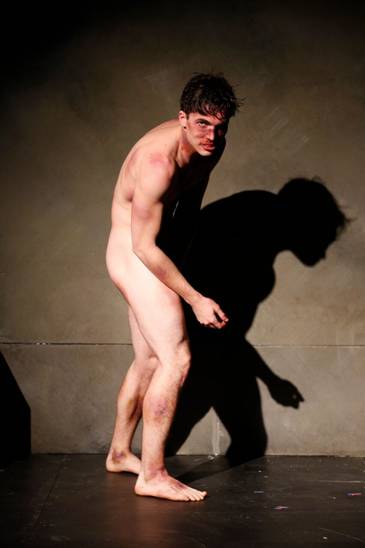 Mark Ryan Anderson in TWO IRISHMEN ARE DIGGING A DITCH by G.D. Kimble
Itís an interesting contrast to the other monologue of the evening, in the first scene of Two Irishmen Are Digging A Ditch. In that play, the horribly tortured, naked Doyle, (Mark Ryan Anderson) vents his rage against his captors in a rambling speech that ends in his violent death. His performance here: all surface fire and fury, in contrast to Kandaharís careful exposition of layers of anger and revenge.
Although St. Louis Actorsí Studio has done an earnest job, the plays and performances in this festival of one-acts need more than earnestness to make them work.
Neil LaBute New Theater Festival
At 59E59 Theater C,
59 E 59th St, between Madison and Park
Performances through February 7
Tickets $30; members, $21
Phone: (212) 753-5959