Anna Uzele and the company of New York, New York. (Photo: Emilio Madrid)
New York, New York
By Marc Miller


This will be a love letter to John Kander.

There's plenty wrong with New York, New York at the St. James, though most of it can be found in the casually assembled book, by David Thompson and Sharon Washington. But among many assets, the big new musical has one that towers above the others: Mr. Kander's enormously ingratiating score, staged within an inch of its life by Susan Stroman and showing off an extraordinarily accomplished young troupe of triple-threat singers, dancers, and actors.
Forget the 1977 film of the same name, evidently intended by Martin Scorsese as an homage to 1940s film musicals but curdled into a rant by Scorsese's misanthropic worldview. About all of it that remains are the leading characters, Jimmy Doyle (Robert De Niro, now Colton Ryan) and Francine Evans (Liza Minnelli transformed into Anna Uzele). And even they are quite different. Jimmy, a surly antihero in the original, is now…well, still a surly antihero, an argumentative and alcoholic pianist who wants in on the big-band scene, but undergoing more of an emotional journey as his marriage to Francine transforms him into a better, if still erratic, man. Francine is still the ambitious singer storming the nightclubs and radio stations in postwar Manhattan. Only her color has changed.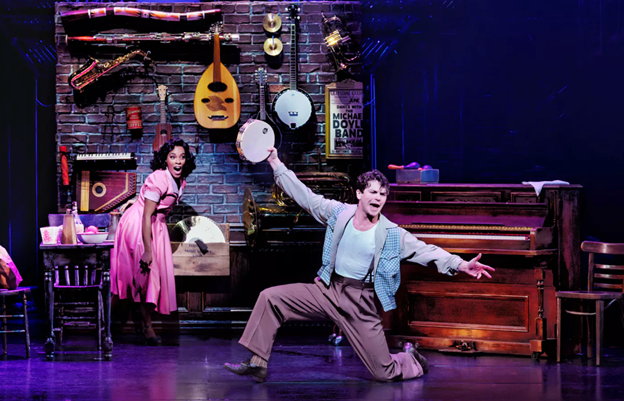 Anna Uzele and Colton Ryan. (Photo Paul Kolnik)

A word about that. Interracial marriage, while it does encounter prejudices and conflicts in Thompson's and Washington's rendering, was a lot tougher to pull off in 1940s New York than portrayed here. As with other recent musicals, notably Some Like It Hot, America's racist past is paid lip service but presented in a more benevolent light, as if offering a cleansed view of a shameful history purged us of it. It's dishonest, and it makes it harder for us to believe anything else the writers have embroidered onto Earl Mac Rauch's and Mardik Martin's old screenplay.

Which is a lot. There's now a whole complicated cast of supporting characters, each striving to grab a piece of the bustling postwar economy and confident that "If I can make it there, I'll make it anywhere." Jimmy's construction-worker pal Tommy (Clyde Alves, splendid) exists to bounce inconsequential dialogue off of and leap into casually provoked production numbers. Madame Veltri (Emily Skinner, also splendid), a renowned music teacher waiting for her son to return from the war, is confronted by Alex (usually Oliver Prose, Mike Cefalo last night), a meek Polish refugee who has to, just has to, convince her to instruct him in the violin. Jesse (John Clay III) plays a mean trumpet and rightfully resents being relegated to KP in restaurants after liberating Europe. Mateo (Angel Sigala), a would-be drummer eager to promote the Latin beat, adores his lively mom (Janet Diacal) and is intimidated by his macho dad. And Francine is wooed by Gordon (Ben Davis), an oily, powerful producer and benefactor we just know is up to no good.

So many plotlines vying for attention, and they achieve it through only the broadest of strokes: conflicts quickly set up and tidily resolved, and the various ethnicities dwelling among one another without so much as a whisper of bigotry, except for the cartoon-villainous Gordon. But no matter! Another John Kander melody is about to begin: suave, tuneful, harmonically beguiling, embracing a tasty smorgasbord of mid-century rhythms, and bolstered by Fred Ebb's expert lyrics (as well as some additional lyrics by no less than Lin-Manuel Miranda; they're solid and unexciting). Kander, who's 96, even concocted some new music for New York, New York, though the score is mostly a fricassee of delectable leftovers, from The Rink, Woman of the Year, Funny Lady, the unproduced Golden Gate, and other places. Whatever the source, it's a score that sounds like a score, with old-timey Broadway tunefulness and zip, and dressed up in Sam Davis's and Daryl Waters' period-authentic orchestrations. It's a cast album you'll want the moment it's available, and you'll probably skip right to Uzele's sumptuous "But the World Goes 'Round," or Ryan's contempative, partly a cappella "Quiet Thing."
The production? Lavish and gorgeous. Beowulf Boritt's expensive set boasts life-size tenements, massive neon signs, water towers, fire escapes, and colorful backdrops for Donna Zakowska's equally impressive '40s costumes. A Central Park snowfall, a Manhattan downpour, the girders of a rising skyscraper (the site of a marvelous waltz-tap, a little less marvelous for not having anything to do with anything), there's a lot on that stage. Ken Billington's lighting is unusually eloquent for a musical, including a sunset down the middle of a Manhattan thoroughfare, inspiring Kander's sweet melody for "Light" (lifted from The Happy Time's "Walking Among My Yesterdays"). Alvin Hough, Jr. conducts with spirit, and there's a surprise, a wonderful one, involving the 20-piece orchestra near the end. In a large cast, Clay, Skinner, and Alves make especially strong impressions, but there's not a weak link on stage.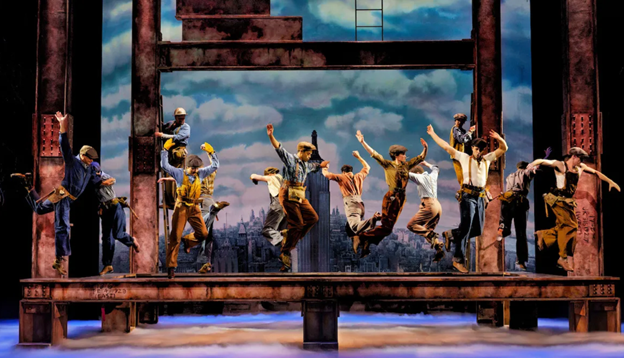 The company of New York, New York. (Photo: Paul Kolnik)
Stroman usually stages with razzle-dazzle; she certainly does here, maybe more than necessary at times. The opening, a busy-New-Yorkers montage, wants to be Guys and Dolls's "Runyonland" or On the Town's Act 1 finale and isn't; and, in a staging rife with chorus people crossing the stage to illustrate midtown hustle-bustle, she'll never have a character just saunter off when a pirouette will do. The idea is, celebrate New York, or the collective memory of old-time New York; indeed, Thompson and Washington's script, with the approximate frequency of the Q train, has some character exhorting civic-pride pronouncements, such as "Don't bet against New York!", or, in a current-sounding declaration of local exuberance, "This isn't Texas, this is New York!"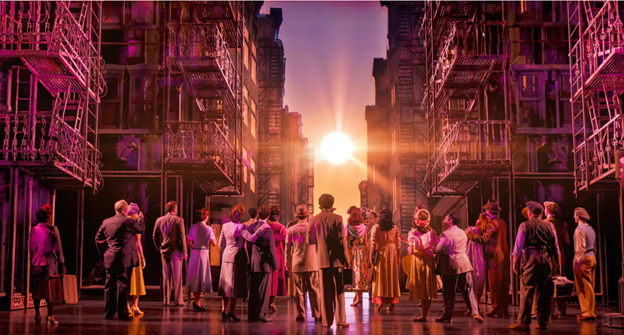 The company of New York, New York. (Photo by Paul Kolnik)
Or, rather, it's New York, New York, and by the time that earworm arrives with its insistent five-note vamp, you're primed for it. All right, the happy ending for Jimmy and Francine isn't convincing, the subplots haven't added up to much, there's been more (generally excellent) Susan Stroman fancy footwork than the text really justifies. Tuck away your critical sensibilities, witness the splendor that is a big old-fashioned Broadway musical, and, most of all, let Kander's irresistible melodies sweep you away to a happier place. Many expert hands concocted New York, New York. He's the hero.

New York, New York
At the St. James Theater, 246 W. 44th St.
7 p.m. Tues, Thurs, Fri; 2 p.m. and 8 p.m. Wed, Sat; 3 p.m. Sun
Running time: 2:45, with one intermission
Tickets: $49-$159 seatgeek.com