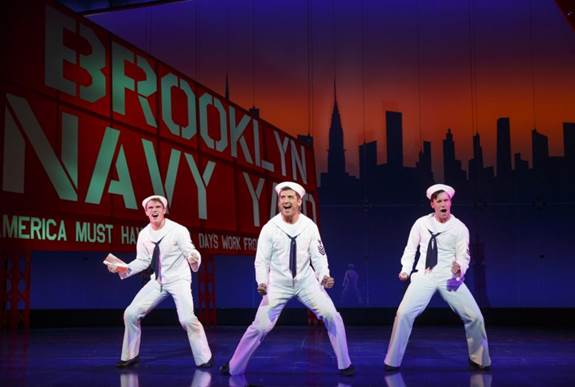 Jay Armstrong Johnson, Tony Yazbeck and Clyde Alves           photos  by Joan Marcus
                                                 by Eugene Paul
The Lyric Theatre, once again the Lyric Theatre after having been through several other incarnations since it grew bigger and more beautiful, is launching its now British ownership with the best, sweetest version of that very American delight, On The Town, also bigger and more beautiful, wiser and wittier, funnier and more affectionately satisfying than ever before. Leonard Bernstein's sparkling score buoys Jerome Robbins' happy concept to effervescent heights and the book and lyrics by theatre mavens Betty Comden and Adolf Green have been perked to new joy.  It's a wowser of a show.
And right off the bat, to get us in the right frame of mind, conductor James Moore leads his rousing twenty-eight piece orchestra in a rising "Star Spangled Banner" which is sung full throat by us, all of the two thousand audience, in an astonishing – and touching – renewal of who we are.  Genuine tingles.
Then, the great flag curtain lifts, it's three minutes to 6 AM at the Navy Yard and magnificent Philip Boykin in glorious voice, sings "I Feel Like I'm Not Out of Bed Yet", an absolute Bernstein delight – and we're off.  Those three sailors, Ozzie (Clyde Alves) Chip (Jay Armstrong Johnson) and Gabey (Tony Yazbek) burst out, on 24 hour 1944 war time leave, to do all of New York City in one very full day: "New York, New York, it's a helluva town, the Bronx is up and the Battery's down, the people ride in a hole in the ground, New York, New York, it's a helluva own!"  Ain't it the truth.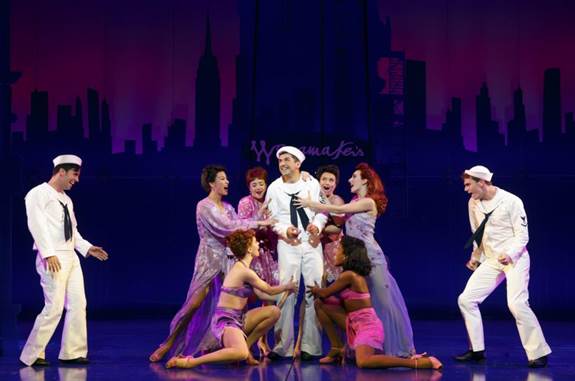 Gabey sees a poster of 'Miss Turnstiles", falls like a ton of bricks for her, Miss Ivy Smith (Megan Fairchild), steals her subway picture and the chase is on.  Not only do the three of them have to do all the sights that Chip has ticked off in his father's 1930 listing of places to see and do, they have to find Ivy, Miss Turnstiles and evade the pursuing police egged on by a righteous Little Old Lady (Jackie Hoffman).  Of course, Ozzie and Chip must also find their own dates – these sailors gotta get lucky – so it's a busy schedule laid on, if you'll pardon the expression.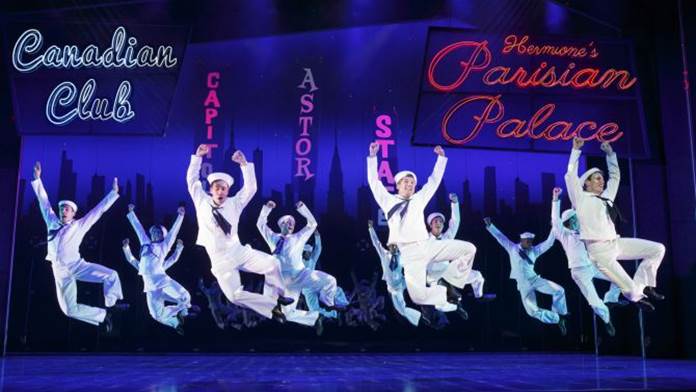 Originally, Jerome Robbins developed a series of ballet episodes which Comden and Green interspersed with lowdown wackiness; blending them took infinite skills.  The merges sometimes came up with real integration challenges but bless director John Rando.  He has made all one, a romp of nonsense chases and romances, funny and endearing, nostalgic, beautiful, and nuts, in huge measure thanks to choreographer Joshua Bergasse who has beguiled the Robbins ballets right into the pull of the overall story line but kept them electric, beautiful and sexy.  It's the difference between admiring them and being swept up in them.  This evocation of On the Town captures us.
Director Rando's endless witty flourishes come at us from a charged company that has taken full possession of the whole show and delivers it to us proudly, with gusto. Star turns are not stand alone but part of the whole show. In their version, Frank Sinatra is fine, Gene Kelly is fine, Ann Miller is fine but they're no better than the wonderful players of this company.  (Where do they find all these triple threat people, with looks, voices and dancing gifts?) (True, there is Jackie Hoffman who sticks out like a sore thumb but what the hell, there's always somebody who likes her shtik and Rando still has control of her antics.)  (Well, almost.)
But Megan Fairchild as Ivy is enchantment, yet part of the whole picture, Alysha Umphress as Chip's sex mad cab driver, Hildy, is grinningly improper, sings, dances, right in the picture and Elizabeth Stanley, as svelte Claire DeLoon who gets haplessly undone – and done –by Ozzie is a broad delight, sings, dances, and very right in the picture.  Of the three, iconic sailor Ozzie, Clyde Alves, Mr. Knock-'Em-Dead, sings, dances as if to the manner born, a great pleasure.  Jay Armstrong Johnson, sailor Chip, the country boy with the guide book to New York heaven, sings, dances and defends his honor to the last drop, then happily drops.  He's fun.  But it is Tony Yazbek, big innocent Gabey, who soars. His dancing sweeps from wicked, good natured knockabout to yearning beautiful tone poem with lovely Megan Fairchild and his singing "Lonely Town" hurts so nice it stops the show. Truly triple threat.
Beowulf Boritt has designed setting and projection impressions of the 1940's Big Apple which wrap hand in hand with Jess Goldstein's colorful costumes. Josh Lyons' lighting and Kai Harads's sound design are woven by director Rando into the fabric of a hit with this great, giving company in a show that runs the gamut from raunchy funny to truly poetic.  Leonard Bernstein and Jerome Robbins are deliciously, deliriously alive.
On The Town. At the Lyric Theatre, 213 West 42nd Street. Tickets: $35-$160. 800-250-2929 or ticketmaster.com. 2hrs, 30 min.