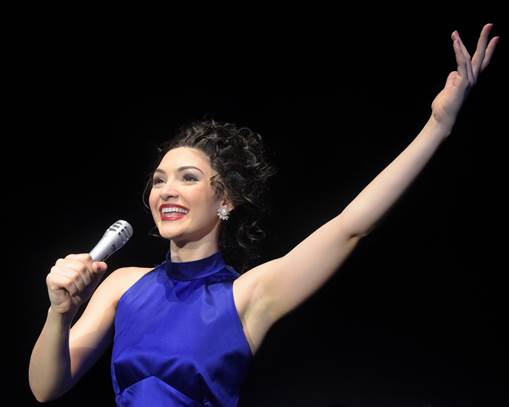 Maria Bilbao (as Gloria Estefan)                     Photos by John Vecchiolla


On Your Feet
                          By Edward Lieberman


For its summer production WBT is cranking up the heat! Its 211th production is On Your Feet, the sizzling musical retelling of the career of Gloria and Emilio Estefan, Cuban emigres who became the first crossover artists to hit it big in the U.S.


The book, by Alexander Dinelaris, follows the life of megastar Gloria Estefan, starting with her childhood; meeting Emilio, the leader of a local Cuban band called the Miami Latin Boys, who was looking for a female vocalist for the band; their early difficulties getting records produced and played on English-speaking stations; the ultimate success she and Emilio enjoyed; the almost-fatal crash of their tour bus that almost derailed her career; and her ultimate recovery and continued success.
Jose Luaces (as Emilio Estefan) and Maria Bilbao (as Gloria Estefan)
The show also focuses on Ms. Estefan's family dynamic. Her life is an interesting contrast to the typical Broadway depiction of performers' families: unlike, say, Gypsy, which is the story of a talented but frustrated stage mom  who tries to live vicariously through her childrens' success, Ms. Estefan's mother was herself a very talented performer, whose father made her turn down a Hollywood contract to play the Spanish voice of Shirley Temple. Instead of pushing young Gloria to make use of her talent and have the career she was denied, her mother does everything in her power to prevent Gloria from doing so. It falls to her grandmother to introduce her to Emilio, and to encourage her to go against her mother's wishes and enter into a performing career. This has a devastating effect on Gloria's relationship with her mother, who refuses to even speak or see Gloria for several years, until there is a reconciliation between Gloria, her mother and Emilio after her accident.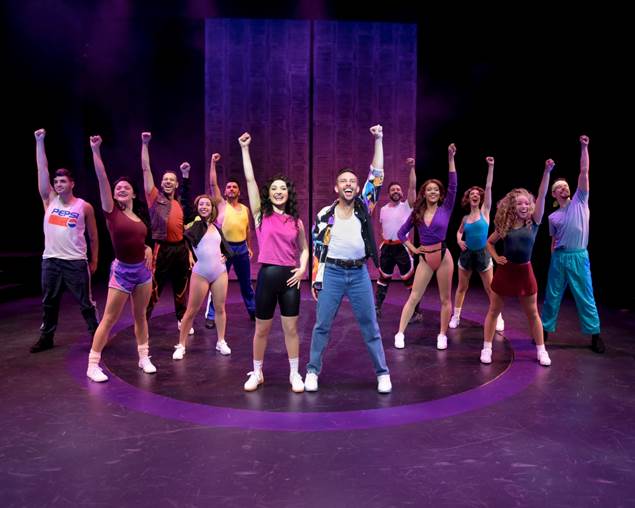 The show is also timely, albeit not intentionally so. It depicts the latent racism in the music industry of the time. When Gloria and Emilio propose a song to an executive of the record label with which they have a contract, the executive refuses because it is in English, saying that they are a Latin band and that there is where their success will always lie. They angrily confront him, with Gloria crying: "Look at my face. This is what an American looks like!" In an amusing sequence, they invite the executive to see them play their English song at a Bar Mitzvah they were playing: the executive refuses to go; then they invite him to an Italian wedding they are playing: he still refuses; finally they find out that the executive wants to attend a Shriner's convention in Las Vegas and they play it there, prompting the Shriner's to form a Conga line. The rest, of course, is history.


This production is perfectly suited to the season: HOT, HOT, HOT! The chemistry between Maria Bilbao, who plays Gloria, and Jose Luaces, who plays Emilio, is palpable. The charisma Ms. Bilbao brings to her role is worthy of the real life character she was portraying, and she has the voice and dancing chops to bring it off. Mr. Luaces' roll is smaller, but he melds his acting/singing perfectly with Ms. Bilbao. Little Isabella Preston is adorable as the young Gloria. Sandy  Rosenberg, as Gloria's grandmother, is the warm human heart of the show.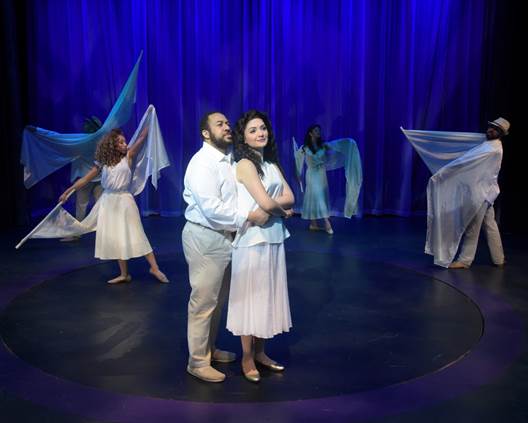 Byron St. Cyr (as José) and Maria Bilbao (as Gloria Estefan) and company in "Wrapped."


If there are superstar voices here, however, they belong to Gloria's parents: Karmine Alers, as Gloria's mother, has only one song, a flashback to a Cuban nightclub where she performed before moving to Miami, but she is electric, bringing down the house and making one wonder what success her character might have had had her father not stood in the way. Although Gloria's father. Jose, is seen only in flashbacks, as a soldier in Vietnam reading a letter he sent to his little daughter, and as a mute, paralyzed patient being cared for by the adolescent Gloria, Byron St. Cyr's glorious voice makes one sure that he will be heard from again and again in the future, hopefully here at WBT or, more probably, on Broadway.


These leading players are ably abetted by the talented and energetic chorus of dancers, choreographed by Rhonda Miller, dressed in a panoply of costumes designed by Keith Neilsen. ranging from gaudy production outfits to drab everyday clothing worn by Gloria's working-class family and neighbors. The minimalist set by Steve Loftus creates the various locales that this wide-ranging show requires, ably lit by Andrew Gmoser. Finally, kudos go to Bob Bray, in charge of the ten-member on-stage Latin orchestra, all brought seamlessly together by Director Donna Drake.


On Your Feet will play at Westhester Broadway Theater through August 4th.  
Box Office: (914) 592-2222; www.BroadwayTheatre.com