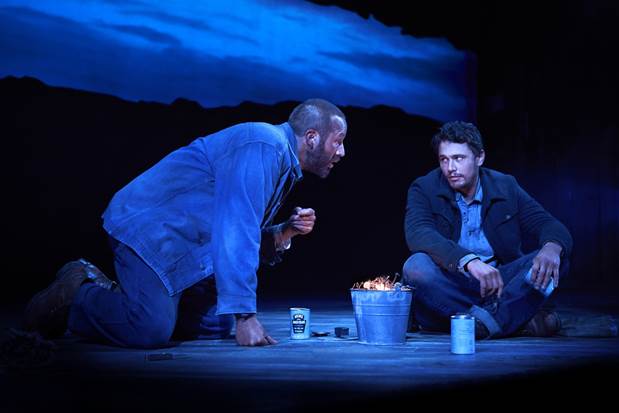 Chris O'Dowd and James Franco in Of Mice and Men (photos by Richard Phibbs)
OF MICE AND MEN
                                                                                 by EUGENE PAUL
If you've managed to keep up with the smoothly ongoing hype machine which has propelled James Franco into the front ranks of media stars you are also aware that New York City police are having a field day monitoring the movements of throngs of fans at Broadway theaters housing shows decorated with  stars whose names are household icons, and the biggest crowds seem to be right here at the Longacre theatre where glam star Franco is making his Broadway debut. Which means that the audience is revved up.  And revved up audiences express their revness more vigorously than the decorous audiences which give a polite round of applause when their favorites  first appear during an evening's performance. It's a kind of mutual acknowledgment, after which the show goes on its way.
But that does not happen which Chris O'Dowd and James Franco appear at the show's opening scene, in character, as Lenny, the huge, mentally challenged  companion to George, the smaller, tightly wound protector of them both. Star Franco was so immersed in his role, in his play, that for a moment, the audience did not recognize him, the star, only the character.  Which is just the way he wanted it, a silence that was even higher praise. Franco, the actor, proves to be an actor's actor in his Broadway debut, pulsing with inner fire. And O'Dowd is a dream of an acting partner, playing his acute skills off Franco's heat.  Together, they sweep us into Steinbeck's now classic tragedy without a single false note.
That does not mean there is no friction between Lenny and George.  Lenny's huge hands with their delicate gestures, eager for the feel of soft things, a mouse, a puppy, cannot curb the killing strength of Lenny's hands and Lenny and George are continually plagued by a series of tiny tragedies which frustrate George but – what can you do.  Lenny doesn't even remember, afterwards. All George can do is try to keep Lenny from harm, his own and that of others.
James Franco and Jim Norton
Steinbeck does not tell us what creates the bond between George and Lenny, but it's clear the big man needs the protection of the smaller man, needs the smaller man to  feed him his dream  of some land, a small house, a cow, some chickens, a pig, and especially, rabbits for Lenny to touch, to feel, to take care of. As soon as they get a stake. Which is why they've got these jobs, why they're living in this strange, iron bunk house with these hard, wary strangers, simple, dangerous country folk trying to live in the jungles of poverty, George really wired up, afraid of what Lenny might do. George can smell the doom.
Director Anna D. Shapiro ratchets up the tensions among the men, as men, even further, when the boss's son, Curley (excellent Alex Morf) angry, suspicious, bursts in looking for his  very young, very pretty, very feckless wife (charming Leighton Meester).  As matters spin out of control, we are glued by our forebodings – and our foreknowledge – by the integrity of the performances.  Director Shapiro has fielded a marvelous cast, Jim Norton, as Crooks, the one handed old man, eager to join their dream, Carlson (wonderful Joel March Garland), the mercy killer,  fine Jim Parrack, fine James McMenamin, terrific Jim Ortlieb, super Ron Cephas Jones. Even Curley's dog, as pathetic and dignified a mutt as you could find, turns in a splendid performance.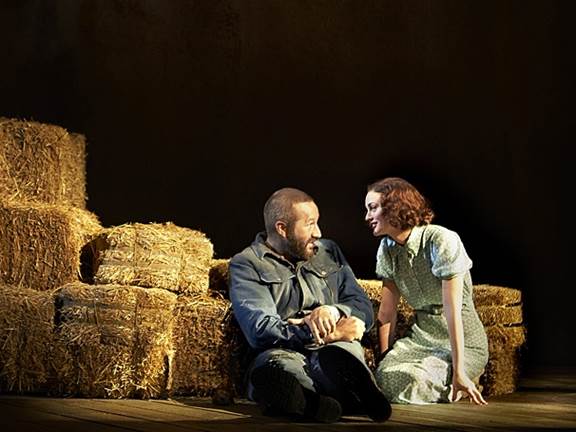 Chris O'Dowd and Leighton Meester
She has expanded her vision for Steinbeck's devastating play by enlisting the powerfully evocative, even poetic settings created by designer Todd Rosenthal. All staging elements, Japhy Weidemen's striking lighting, the sound design of Rob Milburn and Michael Bodeen, David Singer's original music, Thomas Schall's fight staging – the agony when Lenny crushes Curley's hand! --, work in key, in tone, with and for the remarkable performances coming from Chris O'Dowd and James Franco heading this definitive staging of one of the staples of the American theater, an outstanding production in an outstanding season.
Longacre Theatre, 220 West 48th Street.  Tickets: $37-$137+premium212-239-6200.  2 hrs, 20 min.  Thru July 27.