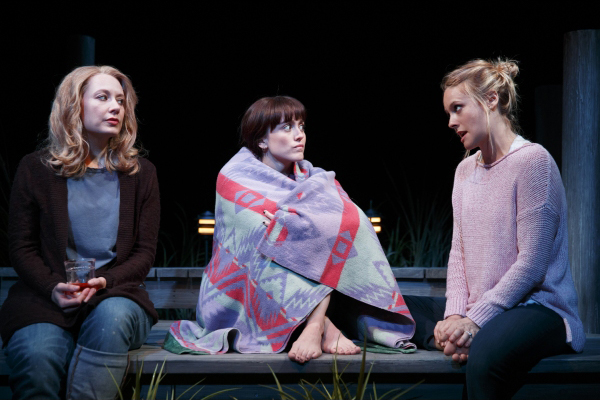 Pictured (L-R): Jennifer Mudge, Heather Lind, Alicia Silverstone
photos by © Joan Marcus 2015
by Eugene Paul
Lynne Meadow has been the artistic director of the Manhattan Theatre Club for forty-three years, during which time MTC has grown into one of New York City's premier ornaments, presenting splendidly produced efforts no matter the material and the present production, Of Good Stock, benefits hugely in this regard, beautifully acted, meticulously directed in a wowser of a setting by long time magical set designer Santo LoQuasto.  In fact, watching and wondering about the set is on occasion the most interesting thing going on. It's an enviable beach  cottage that Jess (Jennifer Mudge) has inherited from her overwhelmingly famous father dead these ten years and the continuing half friendly subject of squabbles between her and her two sisters, Amy (Alicia Silverstone) and youngest, Celia (Heather Lind).
A rather lugubrious Jess has invited them to celebrate her forty-first birthday.  In spite of the tell-tale wig and her secretive throwing up she has now lived longer than their mother.  She and husband Fred (Kelly Aucoin), a chip-on-the-shoulder food writer/critic are more or less preparing for the girls and their men to visit. (When things get too "Yeah, yeah, heard that before" we wonder why that nice couch almost has its back to that nice fireplace just to face front, and what in the world is a stepladder doing there? Maybe it's like the classic gun-in-the-first act syndrome, got to go off in the second act.  Hmmm.  Oh, here comes a sister.)
And it's lovely, vivacious, animated Celia?, yes, Celia, the youngest, who is fashionably rail thin but rather thick around the middle and we are not surprised when bearded boy friend Hunter (Nate Miller) shows up and promptly makes ze gaffe she's pregnant. Which takes a little steam out of  excruciatingly animated sister Amy's  entrance with her ornament, cool fiancé, Josh (Greg Keller) abrim with their wedding plans.  She's abrim.  Not him. And once all three sisters are together Amy becomes a whining, bickering, petulant teenager driving everybody crazy. Josh does some reevaluation. He splits.  For good.  We are meant to wonder and care what will happen next in this chick lit fest chock-a-block with everything we've heard before here, there and elsewhere.  No, no, no.
Back to the set. Which nicely swings a little for entrances to be boosted, swings more for a stretch of beach for earlier on Fred and Josh to smoke cigars and not quite bond, and swings most for the sisters to get roaring drunk (screeching drunk?) on a darkling dock, venting their pent up rage against their dead father (why?), Jess's breast cancer, (Uh huh) and just plain bursting with the need to bellow "fuck" as long and as often as they've ever wanted to all their lives.  Alicia Silverstone as Amy hits her peak in grandiloquent pique. Director Meadow really draws the best out of her people who work their butts off.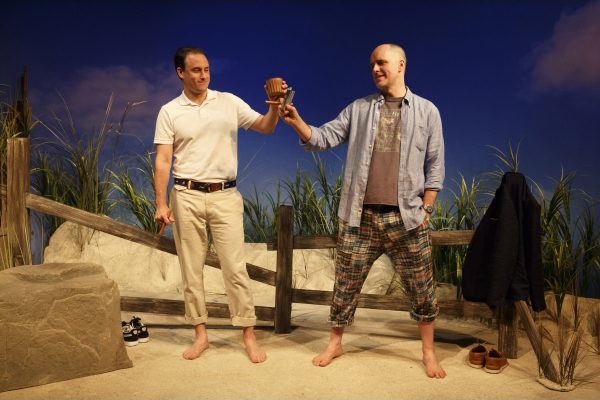 Pictured (L-R): Greg Keller, Kelly AuCoin
photos by © Joan Marcus 2015
Strangely enough, the one who apparently does the least, Nate Miller as sweet, bumbling Hunter, achieves most.   He's funny, touching, real.  And boy, that's saying a lot, with all of them, Aucoin, Mudge, Keller, Lind being real as all get out every moment. And, gosh, that lovely moment, when the smell of bacon cooking gets to us? Yum.  Noses count, too.  Tom Broecker's costumes are just right.  David Van Tieghem's music fits without fits. Peter Kaczorowski's lighting enhances.  Oh, that stepladder?  Yep.  Right on cue.  Playwright Melissa Ross ought to be very, very pleased.
                                                          *
Of Good Stock.  At New York City Center Stage 1, 131 West 55th Street. Between 6th and 7th Avenues. Tickets: $90. 212-581-1212. Two hours. Thru July 26.