Ohio State Murders
By Julia Polinsky
It must be said: Audra McDonald is a force of nature, and her performance in Ohio State Murders is wrenchingly, devastatingly sublime.
Those are fighting words, perhaps, but it would be hard to find another single actor who could drive a play about race, murder, failure, and success, while portraying being a whip-smart college girl, and that same girl, now a grown-woman writer, looking back on her life. Indeed, the two roles of Suzanne Alexander in Adrienne Kennedy's Ohio State Murders are often played by different actors, but not in this production. So adept, so superb is McDonald that she switches from one role to the other on a dime, carrying the audience along with her in this memory play full of rage.
Audra McDonald and Bryce Pinkham in Ohio State Murders. Photo by Richard Termine
Ohio State Murders is not a mystery; we are told early on who is killed and who kills. Under the direction of Kenny Leon, McDonald plays distinguished, mature, and well-known writer Suzanne Alexander, who, in the early 1990s, , is speaking at predominantly- white Ohio State University, which she attended in the late 40s-early 50s as one of 12 Black girls among the six hundred white ones in her dormitory. Alexander has been asked to speak about the violent imagery she uses in her work -- and she does; oh, she does.
For the first time in her life, Alexander speaks of the horrible murders of her twin daughters. She also talks of what it was like to be unable to major in English because Ohio State simply did not permit Black students to major in English – it was thought to be beyond their abilities. Yet, Robert Hampshire, a white professor of English (Bryce Pinkham) praised her papers as "brilliant," and said it was a shame that she could not major in the subject.
When the young Suzanne becomes pregnant by that same white English professor, he says it's not possible. Suzanne leaves Ohio State dormitory; then, after her twin daughters are born, returns to OSU, with the babies, living off campus. One baby is kidnapped and murdered – and the newspapers are silent on the subject. Later, the other baby is killed and the killer commits suicide, in the boarding house where Suzanne lives.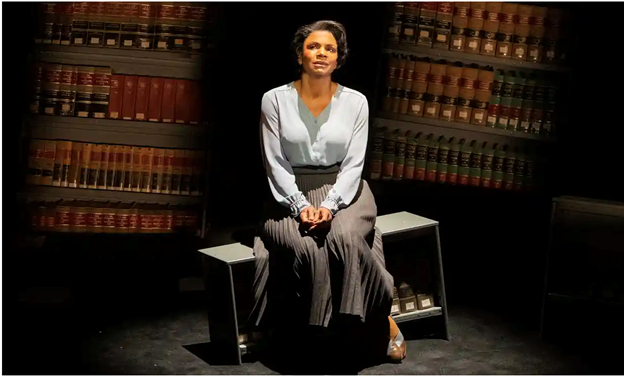 Audra McDonald in Ohio State Murders. Photo by Richard Termine
The framework of Ohio State Murders as a memory play is fragile and frangible, mixing memory so thoroughly that it's sometimes hard to tell who is talking: young Suzanne or the adult Alexander, especially when Kennedy's script has them interleaving their lines so that McDonald has to switch back and forth on short notice.
Beowulf Boritt has made a set for Ohio State Murders that uses books and bookshelves as tumbling blocks to make Alexander claustrophobic; some are like coffins, some about to fall on her. All of these bookshelves are full of books from the law library – ironically, since the law is of no help to Suzanne when her babies are killed. Lighting from Allen Lee Hughes and sound design by Justin Ellington keep up the pressure on Suzanne Alexander as she tells her story.
The playwrignt tells you early in the play that there were murders, and who is killed, and where; by the end of Ohio State Murders, there is no doubt of whodunnit. Over and over again, Suzanne Alexander endured the slings and arrows of life: the banality of recognizing white male privilege within the academic world.; that her family abandons her when she's pregnant; the stupendous impact of white male ignorance – "you can't be pregnant, we were only together two times," as Hampshire says to her. The shock of baby-murder. The rage.
The wounds to her soul over and over: that's what informs the violent imagery in Suzanne Alexander's work; Audra McDonald makes you feel every cell of her body vibrate to that rage. She's magnificent. The 75 minutes of Ohio State Murders fly by. Don't miss this performance, this play, this experience.
https://www.youtube.com/watch?v=vIB7CqnCCNk&ab_channel=OhioStateMurdersonBroadway
Ohio State Murders
James Earl Jones Theater
138 West 48th St
New York, NY 10036
Tickets $114-244
https://ohiostatemurdersbroadway.com/tickets/