Rebecca Naomi Jones and Damon Daunno photos by Teddy Wolff
by Julia Polinsky
Director Daniel Fish's integrated, intimate, immersive staging of one of the landmark pieces of American musical theater transforms Rodgers and Hammerstein's sunbeams-and-cornpone vision of America into art as dark as the oil-soaked soil of the state itself. Though not much has been changed from the original script, the show feels absolutely new, completely modern.
That may not be to everyone's taste. From the moment the scruffy, cocky Curly (the delightful Damon Daunno) walks into the space, picks up his guitar, and lets his lovely voice loose on "Oh, What a Beautiful Mornin'" through the horrifying smokehouse scene when Curly tries to convince Jud (an amazing performance by Patrick Vaill) to kill himself; from the almost ethereal Laurey's dreamy indecision (a beautifully nuanced performance from Rebecca Naomi Jones), to the final moments, when "frontier justice" has been served and it's back to singing about a beautiful morning, it all seems familiar, but also all feels new.
For instance, if you're looking for the Act 1 "Laurey's dream" ballet and its Agnes deMille choreography, you'll be deeply challenged. For one thing, it's been moved to the beginning of Act 2. For another, Gabrielle Hamilton's sharply modern solo dance expresses Laurey's laudanum dream of desire, fear, and indecision to a dissonant, punked-out score. It's a terrific piece of modern dance, beautifully done, but upsetting; the return to the sunny barn and the full cast, after the solo, feels like a relief.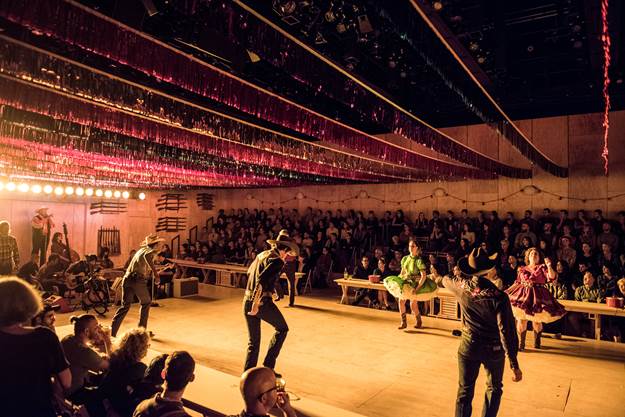 Oklahoma!, whether on stage or film, often gives its characters a mildly patronizing aw-shucks attitude. Not in Daniel Fish's worldview. As they move from one end of the performance space to the other, interacting from a distance or literally in each other's faces, the actors become people you know, or could know. Even smaller roles, like the peddler, Ali Hakim (Michael Nathanson), could easily be hammed up, but not here. Mary Testa's Aunt Eller hits just the right notes of no-nonsense countrywoman. Mallory Portnoy, as Gertie Cummings, has the most perfect annoying laugh ever; Anthony Cason as Cord and Will Mann as Mike take small roles and make them big.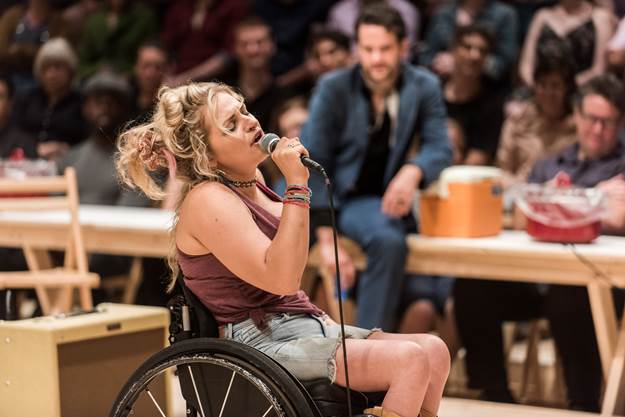 Ali Stroker
There is, of course, a subplot, about the original gal who can't say no, Ado Annie (Ali Stroker, in a performance so wonderful, you don't even notice her wheelchair until you're forced to), her crush on Ali Hakim, her shotgun-wielding daddy (Mitch Tebo) and her faithful, if not very bright, lover, Will (a hilarious James Davis). This silliness adds a welcome bit of leavening to the heaviness of the main story. Face it: in Oklahoma!, the main love triangle is formed by a drifter, a farmer's daughter, and a sexual predator and possible multiple murderer. How can you make a musical-worthy happy ending out of that?
Rodgers and Hammerstein did it, though, and we're so used to cognitive dissonance in this country that we accept the blood wedding at the end, the neat wrap up, and get back to feeling good. It's what we do, who we are. Someone got killed? Too bad! Let's sing and have some chili and cornbread!
Laura Jellinek's terrific set lines the audience up against the long walls of a barn, seats people at tables at the very edge of the performance space, puts crockpots on those tables. The story unfolds in our faces; the audience might as well be at the box social of Act 2. It all seems so countrified and innocent, until you look at the one wall full of multiple displays of long guns, rifles, shotguns, flintlocks: it's a history of America written in firearms. Take notice: those guns are not there by accident.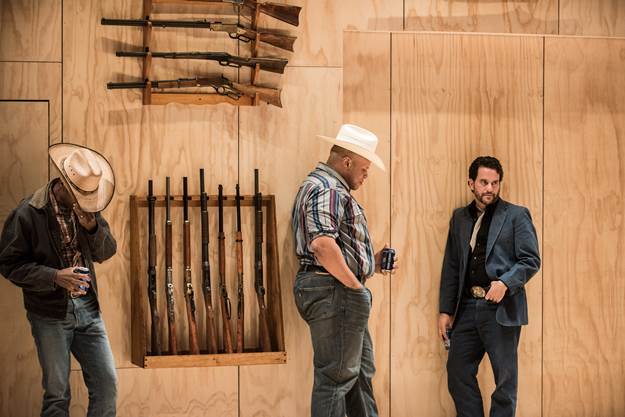 Anthony Cason, Will Mann, Michael Nathanson
The onstage band of fiddle, banjo, steel guitar, etc., the classic instrumentation of country music, works surprisingly well with Rodgers' lovely music. Terese Wadden's spot-on modern costuming just kills it – these actors look like Oklahomans you'd meet at the Tulsa Gun Show. Lighting designer Scott Zielinski paints the space with everything from a bright golden haze to profound darkness.
So, Daniel Fish's Oklanoma! Doesn't necessarily look on the sunny side, painting an optimistic picture of dreams, possibilities, an American future, and his Oklahoma! Is definitely not your mother's Oklahoma! No; it's better. Open your mind and go with the richly rewarding experience.
Oklahoma!
St. Ann's Warehouse
45 Water Street, Brooklyn, NY 11201.
Tickets start at $41
October 2-6, 9-14, 16-21, 25-28, 30-31, November 1-4, 6-11 at 7:30pm
September 30 and October 7 at 5pm
October 6, 13-14, 20-21, 27-28, November 3-4, 10-11 at 2pm
718-254-8779
866-811-4111.
At St. Ann's Warehouse
Music and Lyrics by Richard Rodgers and Oscar Hammerstein II
Choreography by John Heginbotham
Music Director Nathan Koci
Directed by Daniel Fish