Mike Birbiglia: The Old Man & the Pool
By Deirdre Donovan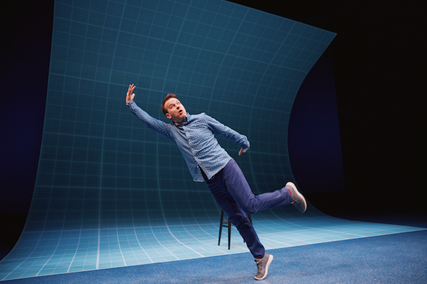 Mike Birbiglia in his new solo show, Michael Birbiglia: The Old Man and the Pool at the Vivian Beaumont.
Photograph: Emilio Madrid
Mike Birbiglia is back!  Yes, that stand-up comedian turned virtuoso storyteller returns to the Great White Way with another rib-tickling solo show, Mike Birbiglia: The Old Man & the Pool (at the Vivian Beaumont, now extended through January 15th).  Directed by his long-time collaborator Seth Barrish (The New One, Sleepwalk With Me), this coming-of-middle-age tale takes a deep dive into the subject of mortality, ingeniously coupling comedy and tragedy as only Birbiglia can.
Dressed casually in a light blue shirt, mauve colored pants, and tan sneakers (costume design by Toni-Leslie James), Birbiglia is the epitome of everyman as he greets us from the stage.  No pretensions, no affectations, no grandstanding.
Beowulf Boritt's pristine set, lighted by Aaron Copp, suggests a swimming pool environment, with the stage's backwall looking like a reflecting pool. The big advantage to this Spartan stage design is that it keeps the focus front and center on our yarn-spinner.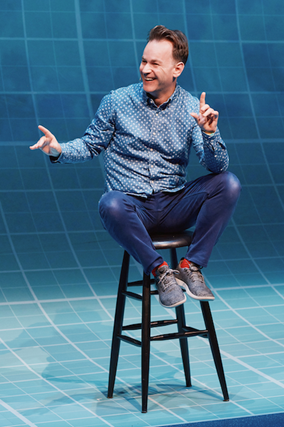 The virtuoso storyteller Mike Birbiglia in his new solo show, Mike Birbiglia: The Old Man & the Pool at the Vivian Beaumont.
Photograph: Emilio Madrid
The show opens with Birbiglia's at his annual physical, in which the 44 year-old recounts his abysmal performance on a pulmonary test. To wit: He blew his breath into a device to test his lung capacity, with the dial hardly lifting from zero.  "Am I having a heart attack?" he asked the doctor, who responds with the horrifyingly vague: "I don't think so."  But he does tell Birbiglia in no uncertain terms that he has Type 2 diabetes.  Unsurprisingly, this diagnosis is followed by recommendations for a healthier diet and a five-days-a-week swimming regimen, all designed to improve his cardiovascular strength.
Birbiglia balks at this aggressive swim schedule, inwardly thinking that Michael Phelps would feel inundated by it.  But Birbiglia also sees the writing on the wall, as he shares the health history of his family tree: His father and grandfather both died at age 56 from heart attacks.  Little wonder that our raconteur feels that he is living on borrowed time.  
With his characteristic self-deprecating humor, Birbiglia explains how he decided to become a habitué at his local Y.M.C.A. and get in the swim of things.  But it was a tough go for this non-athletic artist.  There was the highly chlorinated water to remind him of the large quantity of urine in the water; the fungus puddles on the pool's deck lying in ambush; the swim cap that he borrowed from his instructor to pull over the sparse hairs on his head.  In short, a public pool is not for the vain or squeamish-stomached.
Birbiglia is no stranger to Broadway.  Indeed, the audience's laughter ratcheted up when he mentioned his daughter Oona, the subject of The New One, which debuted on Broadway four years ago.  Aside from Broadway, there's his other showbiz projects: his film Sleepwalk with Me (It's about his sleepwalking woes) based on his hugely popular one-man show of the same name and in which he also starred.  Then there's his forays into Off Broadway, movies, television, books, and podcasts. 
Birbiglia's storytelling technique is not as the crow flies.  He digresses quite a bit, but deliciously so.  Case in point.  Birbiglia confesses to an unhealthy obsession for pizza, which he dubs the ultimate late-night party food.  His shtick on this famous New York fare is humorously contrasted with the ever more beneficial and sensible vegetable, a food group that he only recently took a serious look at.  Although this pizza yarn might have fallen flat to audiences in Peoria, it landed just right in Gotham.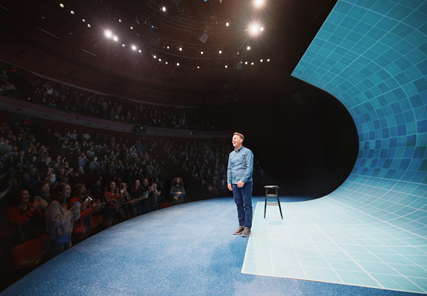 Birbiglia sharing one of his many stories with the audience in his latest solo show, Michael Birbiglia: The Old Man & the Pool at the Vivian Beaumont.
Photograph: Emilio Madrid
Birbiglia branched into more sentimental territory by revealing that his family rarely used the word "love" with each other, replacing it with the more salubrious "Take care." Birbiglia teased this vignette out at length, remarking that he doesn't know whether to see this inability to say "love as a potential sign of passive aggressive tendencies in his family or simply the result of being born a New Englander (Birbiglia hails from Shrewsbury, Massachusetts).
The title of the show is a parody of Ernest Hemingway's 1952 masterpiece, The Old Man and the Sea, a story about an aging fisherman down on his luck who engages in an epic battle to catch a marlin.  At first blush, it might seem that Birbiglia's show has no connection to Hemingway's classic beyond the natural element of water.  But, if one considers the rich thematic material Birniglia is investigating—death, ageing, man vs. nature--the message in Old Man & the Pool may well parallel the one that is found in Hemingway's masterpiece: "Man was not made for defeat." 
And, oh yes.  The title of the show also references Birbiglia's boyhood memory of an old man flagrantly powdering his privates in a pool's locker room.  No question that the man on stage fashions stories from material that others would think is unmentionable.  But that's part of Birbiglia's secret.  What's off limits for other comedians is fair game for him.
What makes this solo-show so powerful, however, is that Birbiglia is talking about a subject that most of us try to avoid like the plague: our own mortality.  And, yet Birbiglia somehow manages to find the words, images, metaphors, stories, that allow us to look death square in the eye, and though the magic of laughter, gain a fresh perspective on it.
Through January 15 at the Vivian Beaumont Theater, Manhattan.
For more information, visit www.mikebirbigliabroadway.com
Running time:  1 hour; 15 minutes with no intermission.