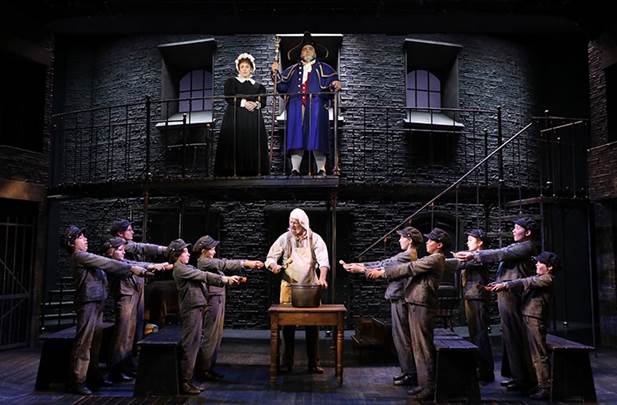 By Edward Lieberman
At first blush, there is nothing about Charles Dickens' famous novel that one would think lends itself to musical treatment: unlike Annie (which coincidentally originated at the Goodspeed), wherein the heroine is an orphan adopted by a kindhearted billionaire and all is rosy ("The Sun Will Come Out Tomorrow"), "Oliver Twist" is an unremittingly depressing tale about an orphan who endures hardships at a workhouse until he has the temerity to request more food ("Please, sir, I want some more"). Instead of more food, Oliver is sold off to an undertaker, where he is mistreated by his fellow apprentices and escapes to the streets of London. There, he is taken in by a street urchin, Artful Dodger, one of a band of pickpockets under the tutelage of Fagin. Fagin's associates are Nancy and Bet, two hard-drinking ladies of the night, and Nancy's abusive boyfriend, the criminal Bill Sikes, a looming presence so violent that no one is permitted to mention his name.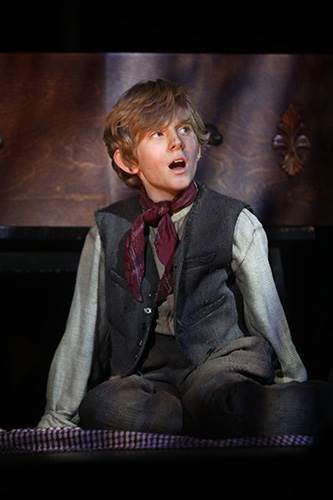 Elijah Rayman   photos by Diane Sobelowsky
Although there is a happy ending, it comes at the very end of a depressing tale of poverty, deprivation and violence. In short, hardly the stuff of other musicals of the pre-Les Miz  era, such as A Funny Thing Happened on the Way to the Forum, Little Me, and Stop the World, which were nominated for the Tony Award, the year Oliver! opened on Broadway. The fact that Oliver! became one of the legendary musicals in Broadway history is a tribute to Lionel Bart's wonderful book, score and lyrics, which include such classic songs as "Food, Glorious Food," "Consider Yourself [One of the Family]," "I'd Do Anything," "Who Will Buy," the rousing "Oom-Pah-Pah," hilarious "Reviewing the Situation," and the powerful ballads "Where is Love" and "As Long As He Needs Me." 
Goodspeed's production is uneven, both in pacing and casting. The show seemed to race from one number to the next, especially in the first act, which gave the performance a rushed feeling. Also, Artful Dodger's makeup did poor Gavin Swartz no favors, looking like someone just threw some smudge on his cheeks and didn't bother to rub it in. Perhaps as a result, this reviewer found his performance flat and awkward at times. That said, the rest of the cast was outstanding.
Donald Corren
Indeed, Donald Corren was the best Fagin this reviewer has seen, and that includes the film version, starring Ron Moody in the role. His renditions of "You've Got to Pick a Pocket or Two," and "I'm Reviewing the Situation," sung with a devious twinkle in his eye and voice, exuded a gleeful delight in what he was doing.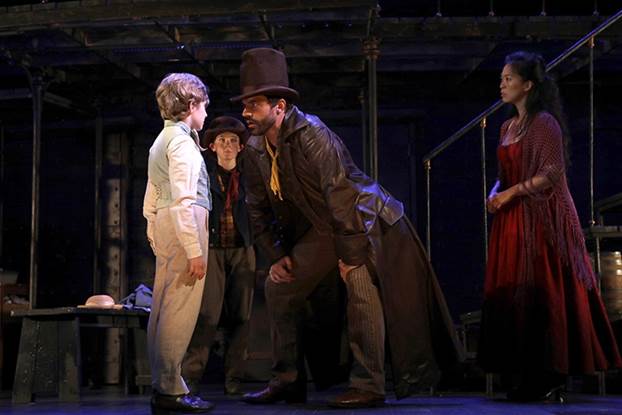 Elijah Rayman, Gavin Swartz,  Brandon Andrus,   EJ Zimmerman
Likewise, EJ Zimmerman, as Nancy, has a wonderful voice, spunky demeanor and an equally accomplished cockney accent (somewhat incongruent with her Asian-American background) befitting her role. She knocks her two showstoppers ("It's a Fine Life" and "As Long As He Needs Me") out of the park. Richard R. Henry, as Mr. Bumble, completes the list of outstanding voices in his mournful solo, "Boy for Sale." Other standouts include Brandon Andrus, as the menacing Bill Sikes; Joy Hermalyn, as the workhouse mistress and object of Mr. Bumble's affections; and Elijah Rayman, as the innocent protagonist, Oliver. Jamey LaVerdiere, Karen Murphy and Miranda Gelch play multiple roles admirably.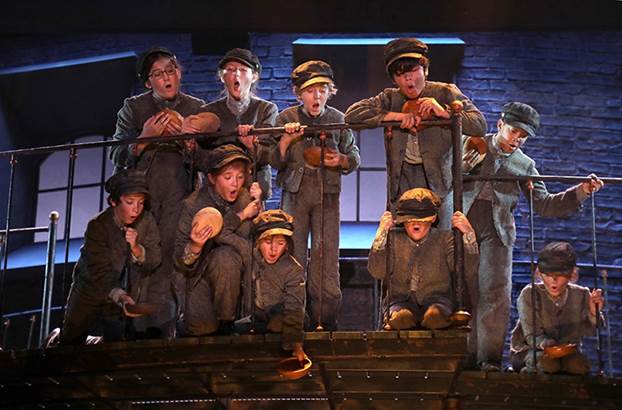 Of course, since this is a show about orphans, there is a "kids company," consisting of children of various ages who play both the orphans and Fagin's cast of future pickpockets. They perform admirably, especially in the choreographed performance of "I'd Do Anything," in which they form a horse and carriage, with spinning wheels made of umbrellas.
The cast is ably abetted by James Bray's imaginative choreography, including the aforementioned human horse and buggy and the music-hall number, "Oom-Pah-Pah." Michael Schweikardt's imposing set, shadowed by John Lassiter's lighting design, conveyed gritty Dickensian Industrial Age London. Alejo Vietti's costumes portrayed the "Tale-of-Two-Cities" contrast between the poverty of the orphans and the wealth of the trustees of the workhouse and of  the Bloomsbury, London neighborhood of Oliver's eventual benefactor, Mr. Brownlow ("who Will Buy"). Last, but not least, kudos to Director Rob Ruggiero for including a prologue from the 1994 London revival of the show that portrays Oliver's birth, providing context for the Oliver's eventual rescue by his grandfather, Mr. Brownlow, that was missing from the early and film versions, and his staging of "I'm Reviewing the Situation" with a fiddler would do Fiddler on the Roof proud.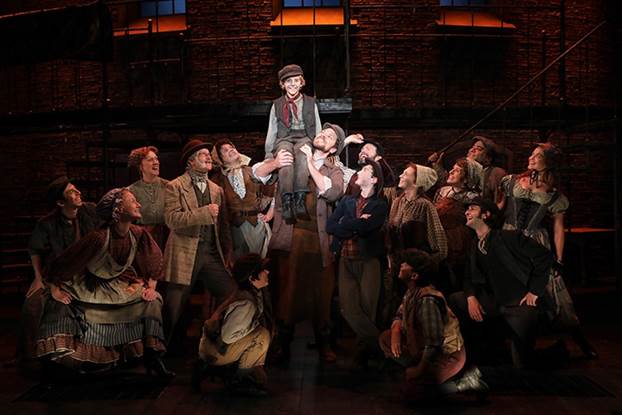 One word of caution for those who would bring children: the show includes themes of crime, misogyny and violence, including a gunshot and resulting murder; accordingly, it may not be appropriate for younger children. For older children and teenagers, on the other hand, it may serve to foster discussion of the abusive relationship between Bill Sikes and Nancy in light of today's "Me Too" Movement.
Theater: Goodspeed Opera House, 6 Main Street, East Haddam, CT          
Show times: Evenings: Wednesday-Sunday; matinees: Wednesday, (some) Thursday, Saturday- Sunday,
THRU SEPTEMBER 13, 2018.
Box Office: Phone: 860-873-8668; www.goodspeed.org.