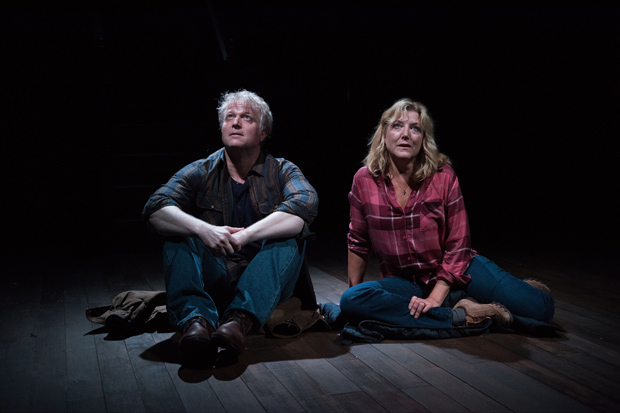 C.J. Wilson and Mary McCann star in Simon Stephens's On the Shore of the Wide World, directed by Neil Pepe, at Atlantic Theater Company.
(© Ahron R. Foster)
†††††††††††††††††††††††††††††††††††††††††††††††††††††† By Ron Cohen
ďitís really difficult, isnít it?... Just, the whole business of, you know, being alive. Very complicated,Ē says a loquacious cab driver toward the close of Simon Stephensí family drama On the Shore of the Wide World.
Itís hardly an original point, but itís one that Stephens illustrates with poignant credibility as he draws us quietly and steadily into three generations of a fairly quotidian English family, living on the outskirts of Manchester. The Atlantic Theater Company production is devoid of the astounding theatrical effects that marked Stephensí 2015 Tony-winning adaptation of the novel The Curious Incident of the Dog in the Night-Time, which ran on Broadway for two years, but it provides a similarly gratifying if tamer experience.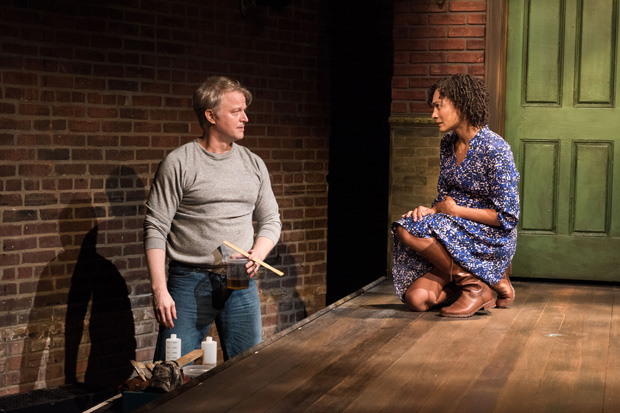 C.J. Wilson plays Peter and Ameila Workman plays Susan in On the Shore of the Wide World.
(© Ahron R. Foster)
The family in question consists of Peter and Alice Holmes; their sons, 18-year-old Alex and 15-year-old Christopher, and Peterís father and mother, Charlie and Ellen. During the time period of less than a year covered by the play, they move through a maze of complications and challenges.
On the lighter side, we find Peter and Alice at the playís start dealing with their decision to allow Alexís girlfriend, Sarah, to spend the night in Alexís room. Itís a decision complicated by Christopherís massive crush on Sarah.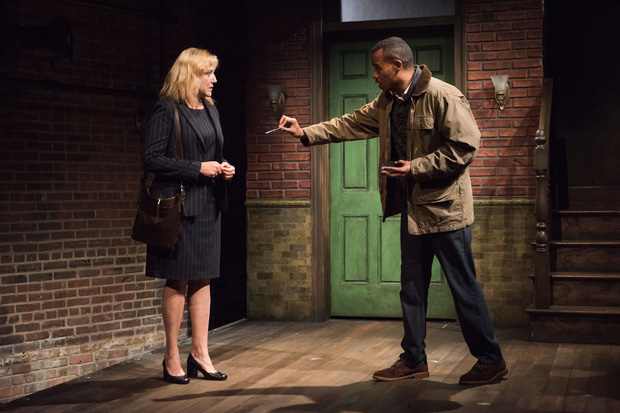 Mary McCann plays Alice and Leroy McClain plays John in On the Shore of the Wide World.
(© Ahron R. Foster)
But along with this realization of their offspringís maturity -- their looking to a wider world -- come steeper challenges. There are the intimations that their own marriage has grown stale, the destructive lure of marital infidelity, uneasy reverberations between Charlie and Ellen and the vicissitudes of age and illness. All of this and more is deepened by the intrusion of sudden tragedy, coming so unexpectedly that when itís revealed, almost matter-of-factly, itís a total shocker.
There are compellingly explosive moments, to be sure, but what also grabs you Ė perhaps even more -- is the understated web of feeling and enduring attachments created in Stephens writing and beautifully realized by the cast under Neil Pepeís sure but sensitive direction. Whatever the problems, we see people somehow getting through and often enjoying the ephemera of daily life, having breakfast, talking about soccer players, watching television.
At the center of the play is C.J. Wilsonís splendid portrayal of Peter, a man who has trouble expressing the love he has for his wife and children, but nevertheless demonstrates it in so many ways. The tenderness and concern come to the fore even when he quickly wraps a bacon sandwich for Christopher to take on a morning bike ride. And itís there when he hands over cash to Alex for his move to London with Sarah, another element adding to the distress of Peter and Alice.
Wilson also shows us a guy of integrity with a passion for his work as a house restorer, the business he took over from his father. Itís an integrity to family as well, as we watch him controlling the sexual tension while conversing with a comely, if pregnant, customer (nicely played by Amelia Workman) about the job he can do in fixing her home.
As Alice, Mary McCann movingly reveals the unease taking over her psyche, while demonstrating the womanly charm that keeps Peter in her orbit. Those charms fairly blossom in conversations with a new acquaintance, a man drawn to her through unfortunate circumstances, and sympathetically limned by Leroy McClain.
Ben Rosenfeld and Wesley Zurick deliver well-defined portraits, respectively, of the somewhat reserved Alex and the precocious Christopher, while Tedra Millan bubbles with frothy charm as Sarah.
Peter Maloney and Blair Brown bring depth and authority to their portrayals of Charlie, crusty and prone to drinking but affectionate, and Ellen, pondering the direction of her life. Completing the cast is Odiseas Georgiadis as the magnetic pal who lures Alex and Sarah to London.
The story travels over numerous locales Ė the two homes, a deserted hotel that the younger generation uses as a hangout, and various other spots around the town. Pepeís adroit staging and Stephensí dialogue keep things fairly evident, as Christopher Akerlindís lights come up to define different areas of Scott Paskís atmospheric bi-level set.
What isnít always clear is the time frame of the scenes, and it may take some sharp attention to the dialogue or simply a leap of faith to discern or settle into whatís going on as a new scene begins.
What is clear, however, is Stephensí deep compassion for his characters, his artfulness in bringing them to life and making you feel for them, widening your own emotional expanse. And thatís an ages-old reason to go the theater.
Off-Broadway play
Playing at Atlantic Theater Companyís Linda Gross Theater
336 West 20th Street
866-811-4111
atlantictheater.org
Playing until October 8