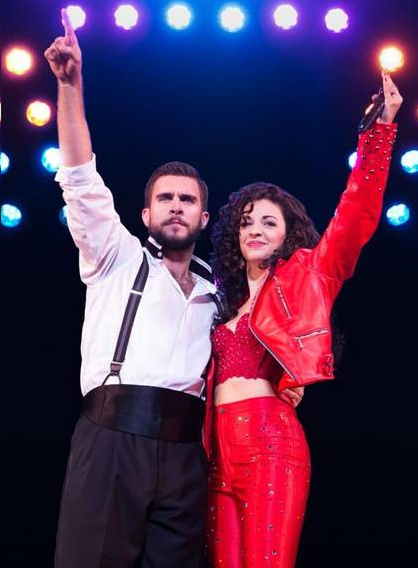 Josh Segarra and Ana Villafane
by Eugene Paul
There are so many ways to look at this endearing, heart warming monster musical that it would be a shame not to enumerate some of them: first: there's the smart money Broadway savvy, far from visionaries who see clearly that this show would be totally out of their picture if it were not for the deep pockets and enormous following of the real stars of the show, Gloria and Emilio Estefan. So, hedging their bets and tucking schadenfreude deep into their cheeks they give this show a great big solid "Maybe". They are, happily, wrong.
Secondly, but closely related, are the Sondheimers, adorers of intricacies in lyrics, music and concepts who are gobsmacked by the deeply clever solutions achieved by our foremost composer/lyricist and whose disdain for this sweetly fresh show is foreordained. They're wrong, too. And third, just to keep things simple, there are the innovators, who have been having some good licks in the past few seasons and welcome non-standard Broadway efforts on Broadway. They're more and more, the right ones.
Nevertheless, why does it feel perilously like wishful thinking? Here it is, a great, big musical that right off the bat deliberately looks like a pop star road tour show enhanced with a too familiar family chronicle, batteries of lights, batteries of costumes, of sets, of volume, batteries of everything, supporting a large cast almost entirely making Broadway debuts. Yes. Neophytes. Then what, you are asking, makes it so special? That they are giving their all? No, we see that on Broadway again and again, far more polished in many instances. This time, though, their all comes from their roots, their Latin roots, from their passion to tell Gloria's and Emilio's story which has woven them together, a marvelous company loaded with talent, in as tight a family as I have seen on so large a scale, and for their sheer love of what they are performing, singing, dancing, acting the story of Gloria's and Emilio's life? Yes, yes, and yes.
The story? Fiercely beautiful, talented Gloria Fajardo ( fiercely beautiful, talented Andrea Burns) her early singing career quashed by disapproving parents, is just as disapproving, and definitely jealous of her own daughter, also Gloria, ( stunning Ana Villafane) whose own Cuban rooted songs and singing have become the rage of her Miami neighborhood. And when young immigrant musician Emilio Estefan (splendidly stalwart Josh Segarra) comes seeking young Gloria to be the lead singer of his band, the conflict deepens. Mother Gloria forbids daughter Gloria to join the band. The band becomes the Miami Sound Machine, and with Gloria and her music, the band roars to Latin fame.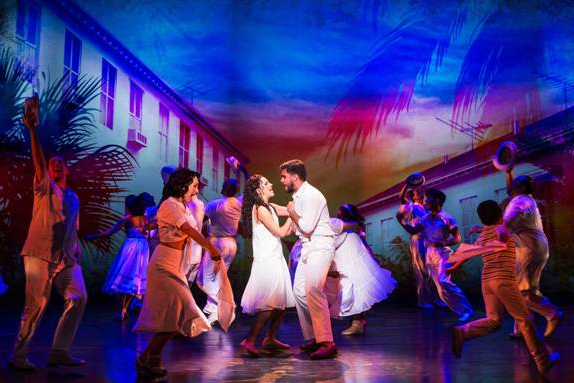 For years, mother and daughter do not even see each other. When Gloria and Emilio fall in love and she becomes Gloria Estefan, the estrangement from her mother is complete. Gloria and Emilio build their lives together without her, success after success, until they hit the wall that separates Latin music from the great white music world. They want to cross over. Their agent, Phil (snappy Lee Zarrett) says they're crazy to jeopardize their Latin success, refuses to help. "Stick to what you do! It's enough!"
But it is not, of course. Gloria and Emilio, on their own, insert their English lyric songs into gigs reduced to weddings and bar mitzvahs, striving to get their new music heard, going hand to hand to radio deejays, until "Conga". The fused salsa with strong drums, and English lyrics comes magically together and a huge hit is born. The walls come tumbling down. "Conga" is a smash world wide. The Swedes go mad for Gloria's music. "Rhythm Is Gonna Get You", and it does. "Anything for You" is everything a hit can be. The songs spill out more and more, success after success.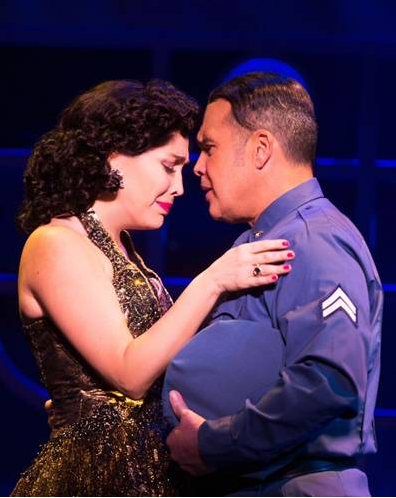 Gloria goes to visit her father, crippled, immobile, a victim of the Vietnam War. Her mother won't stay in the same room with her.
Gloria, shining lodestar. Emilio, the rock. The love story. The rags to riches trajectory. The burning talent projecting them. The irresistible sinuosity of Latin suffused music, the cascade of 100,000,000 albums. Struggle after struggle. Huge success. Brought to a horrific halt when a tractor trailer crushes their tour bus. Gloria is paralyzed. Only then does her mother relent.
Those beautiful, young people devastated, fans devastated, families devastated. Then, the grueling climb back.
Yes, it all makes a show, and yes, book writer Alexander Dinelaris fashions a workable narrative around the music of Gloria and Emilio and the Miami Sound Machine, their band. And yes, there's been a fortune poured into David Rockwell's endlessly active settings, Esosa's twirling costumes, Kenneth Posner's exactostabbing lighting, and in sound design, music design, music direction, orchestration and on and on and on, nothing spared, everything chivvied and chased and worked to a gleam, but both choreographer Sergio Trujillo and director Jerry Mitchell at the top of their craft, have the insight to know that they have to save the truly felt love in their entire company for what they are doing as the very essence of the show. And they have succeeded brilliantly.
That's why On Your Feet is the charmer that it is. Such singing! Everybody sings his and her heart out. Such dancing! Everybody dances his and her heart out. Ana Villafane is Gloria to the nines, simply brilliant. Charming Josh Segarra is the rock Emilio, the strength, the cement, the building block of the show. Everyone in the company is completely there. As wonderful as Ana and Josh are, so are they all. Andrea Burns, wonderful, Alma Cuervo as Gloria's beguiling grandmother, wonderful. The children, Alexandria Suarez, Eduardo Hernandez, outstanding. The entire cast of thirty, exhilarating. The roar of the audience filling the huge 1700 seat Marquis auditorium, on its feet, pulled there at the final curtain. You give heart, you get heart. What a show.
On Your Feet at the Marquis Theatre, Broadway at 45th Street. Tickets:$79-$199. 800-250-2929. 2 hrs, 20 min, Open run.