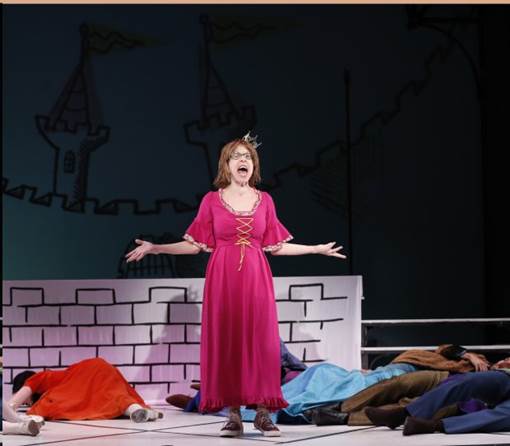 Jackie Hoffman
Once Upon a Mattress
by Deirdre Donovan
Remember that funny Broadway musical Once Upon a Mattress? Well, the Transport Group Theatre Company is reviving it downtown at the Abrons Arts Center , and their new-fangled iteration is even funnier than the original.
If you need a refresher on the plot, it is based on Hans Christian Andersen's classic fairy tale "The Princess and the Pea." Set in medieval times, it's about a fictive royal couple King Sextimus the Silent (David Greenspan) and Queen Aggravain (John "Lypsinka" Epperson), who are hoping to find a real princess for their son Prince Dauntless (Jason SweetTooth Williams) to wed. Many wannabe princesses have come to the palace to see if they might win the Prince in marriage. But, alas, not a one has passed the Queen's rigorous pre-nuptial test. Enter Princess Winifred the Woebegone (Jackie Hoffman), who is a different kind of princess. And, as soon as she materializes on the scene, all the Knights and Ladies take immediate notice of the less-than-regal looking young woman—and muse if she might possibly pass the Queen's test and become the bride of Prince Dauntless.
Now let's cut to the chase: This Mattress doesn't have the glitz of the original 1959 Broadway production (with Carol Burnett) or the 1997 Broadway revival (with Sarah Jessica Parker). But what makes this scruffy new Mattress stack up is its first-rate cast. They collectively pull out the stops and do wonders in this scaled-down production. So what it lacks in décor (modest set by Sandra Goldmark) and luxurious costumes (costume design by Kathryn Rohe), it makes up for in sheer pluck and gutsiness.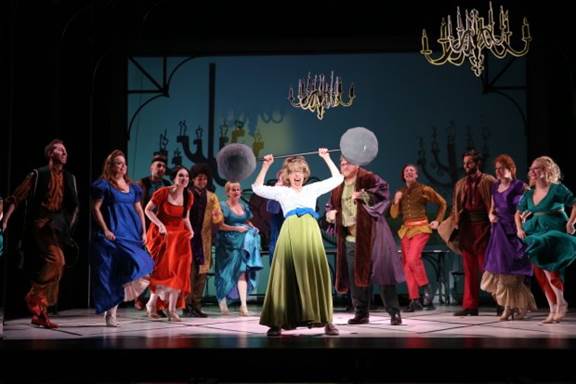 Photos by Carol Rosegg
Epperson deliciously plays the domineering Queen Aggravain in drag. Greenspan, as the aptly-named King Sextimus, nails his mute part with zany physical comedy, chasing the young single women in his kingdom on the sly. Jackie Hoffman is well-cast—and pitch-perfect--as Princess Winifred, with her musical chops blazing from her opening number to the finale. Williams, as the milquetoast Prince Dauntless, inhabits his royal character with just the right degree of nerdiness. And the good acting and singing doesn't end with the principals. No, siree! Hunter Ryan Herdlicka, as the Minstrel, does his minstreling with a twinkle and much brio. And Cory Lingner, as the Jester, is jolly good fun to watch and listen to, with a show-stopping number in Act 2 (more on this, later).
Directed by Jack Cummings III, this Mattress is unlike its Broadway predecessors. Yes, it still holds intact the plot, along with the curse on King Sextimus ("When the mouse devours the hawk," the King will find his voice) and the moral (The real princess will trump the Queen's marriage test and win the Prince). But Cummings boldly departs from the more conventional Broadway productions by cross-gendering the Queen Aggravain role. It is a master stroke by Cummings--and adds a new contemporary stripe to the musical. And who better than Epperson to pull it off, sending up the Queen par excellence and parodying her oh-so-haughty manner?
Mary Rodgers' music and Marshall Barer's lyrics and book (with contributions by Jay Thompson and Dean Fuller) still hold up surprisingly well. There are 18 musical numbers in all, and though none may ever be included in Broadway's top hits, a few, as revived here, do hit the mark. In Act 1, Hoffman belts out the misleadingly-titled song "Shy" with her own spunky signature. Joined by the Knights and Ladies, Hoffman proves that it's not what you say that counts but how you say it. The other knockout number comes in Act 2, with Lingner, as Jester, delivering the song "Very Soft Shoes," an homage to his father's dancing days. Although he sings the song at a velvety-soft volume, it's deeply affecting and just might have you reaching for a tissue.
The Transport Group Theatre Company has retooled a Broadway musical and whipped it into a fresh theatrical confection at the Abrons Arts Center --and it will satisfy your hunger for shows that end happily-ever-after. And if you like your theater at the cutting-edge (and with a campy flavor), this Mattress cuts the mustard and more.
Through January 3rd.
At the Abrons Arts Center (at the Henry Street Settlement) on 466 Grand Street (at Pitt Street ). For tickets, phone 866-811-4111 or visit www.OvationTix.com
Running time: 2 hours; 20 minutes with one 15-minute intermission.