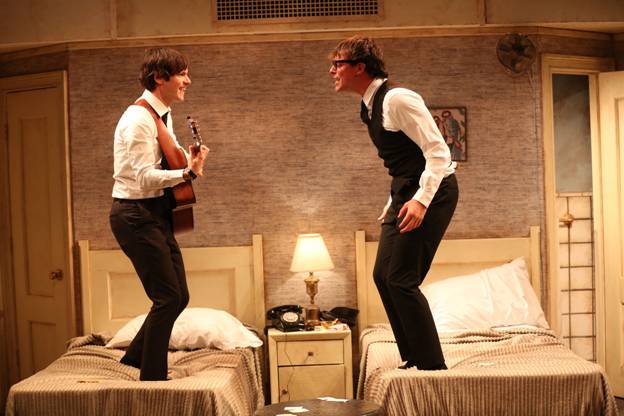 Tommy Crawford, Christopher Sears.                         Photo by Carol Rosegg
Only Yesterday
                               By Ron Cohen
How do you pull off a play about the Beatles – or at least two of the Beatles -- without performing for whatever reason – licensing restriction, copyright prohibition, cost -- any of the Beatles music?
As in Only Yesterday, you cast two actors who can transmit a lot of Beatle persona, charisma and musicianship without trying to achieve the probably impossible task of precise impersonation. And with Tommy Crawford as Paul McCartney and Christopher Sears as John Lennon, the solution works well for this slight but affectionate and affecting sketch of a play.
The play is the first to be written by Bob Stevens, who has made his mark as a producer and writer on such television shows as Malcolm in the Middle and Murphy Brown. Framed by a radio interview McCartney gave after Lennon's death discussing his song and poem "Song for John," the script details a day and night spent by McCartney and Lennon in a Key West, Florida, motel room. They are stranded there while waiting out a hurricane on their way to a concert in Jacksonville.
The year is 1964 and Beatlemania has taken over the U.S. While the two guys stay sequestered, we hear the squealings of young fans every time the door to the room is opened. (George Harrison and Ringo Starr are stashed in another room somewhere.)
And how do these two guys who will indelibly change the face of culture spend their time? One of the first things they do is tell their hard-working road manager (nicely played by Christopher Flockton) that they insist that the Jacksonville concert be desegregated, a request that's quickly followed.

Tommy Crawford, Christopher Sears, Christopher Flockton
Lennon recalls how black musicians influenced the Beatles music: "Chuck Berry, Fats Domino, Little Richard. They're our heroes. If it weren't for them, there'd be no Beatles."
Lennon also takes a request for a press interview over the phone, lightly and not so lightly joking with the interviewer named Jean. "Hi, Jean," he says. "How's your hygiene?"
Lennon is also frustrated in trying to call his wife in London, an attempt ending with his pulling the phone from the wall. Later there's some playful pillow fighting, a perusal of fan mail and an inordinately long conversation with a fan who has gotten herself stuck in the room's air vent (an unseen Olivia Swayze). Here the guys exude graciousness and deliver her a joyful serenade with the non-Beatles song "How Do You Do It."
There are more non-Beatles songs when the two guys discuss tunes they might possibly record as covers, such as "House of the Rising Sun" and "Do You Want to Dance." It's a delightful display of the musical talents— singing and intricate guitar playing -- of Crawford and Sears.
Things become a bit more serious when Lennon expresses his desire to write songs that are more meaningful than the pop love songs on which their popularity was initially built. But the dramatic heart of the play comes once the motel bar opens and after a long visit there, the two return to their room drunk and recall together the turns of fate that bonded them. In their hardscrabble teenage years, both McCartney and Lennon lost their beloved mothers. The two motherless boys eventually found solace in their music and each other. It's a moving scene, climaxed by Sears' touching rendition of "Danny Boy."
Stevens' play may not probe deeply into the whys and wherefores of Beatlemania. Some of the writing seems a bit like filler. But overall, it provides an entertaining look at two world-shaking personalities just entering their prime and how they fed off of each other's creativity.  And the actors carry it through, with Sears giving Lennon's grit and sarcasm a tempering of gentleness, and Crawford's fortifying of McCartney's sweeter nature with a hint of inner strength.
They are two rich performances, playing responsively off each other under the unforced but well-paced direction of Carole Dunne. Dunne is the producing artistic director of Northern Stage, White River Junction, Vermont, where Only Yesterday was developed and first performed. It's also a solidly mounted production, with Michael Ganio's set a smart depiction of 1960s motel room formula, and Allison Crutchfield's costumes providing a memory-jabbing sampling of early Beatles garb.  
For the record, it should be noted that a bit of the recording of "A Hard Day's Night" is heard before the play starts and a bit of 'Let It Be' is heard some 70 minutes later with the end of the play. Certainly, more Beatles music would have been a great asset, but nevertheless, the trick of Only Yesterday is that even without the music it serves up a good helping of Beatles flavor.
Review posted September 2019
Off-Broadway play
Playing at 59E59 Theaters
59 East 59th Street
646-892-7999
Playing until September 29