Kristin Chenoweth as Lily GarlandPhoto: Joan Marcus
                                                 by Eugene Paul                   
Screwball?  Yes.  Madcap? Yes.  Zany?  Yesss. Dizzying pace? Yes.  Laughs? Galore.  Laughs?  Raucous.  Laughs?  Gut busters.
Kristin Chenoweth?  A scream.  Peter Gallagher? A hoot.  Andy Karl?  A howl.  Mark Linn-Baker, Michael McGrath, Mary Louise Wilson? Funny, funny, funny. Rick Faugno, Richard Riaz Yoder, Drew King, Phillip Attmore, the dancing porters, absolute show stoppingly knockouts in routines good, better, best, bestest.  Make that all bestest.  Choreographer Warren Carlyle – having a helluva season – is the dooziest.
So what are you waiting for?  It's only on until July 5.
And what's on is On The Twentieth Century, first time in 37 years, which  startling info may not float your boat but seeing is believing and you will be a believer once you get a load of the utterly nutso caper that director Scott Ellis has conjured up in feverish glee.  Do not be in doubt for a second, this is a scrupulously cleverly contrived confection, masterfully constructed, spiced, seasoned, paced, delivered with enough pizzazz to send sparklers in the sky, practically perfect.  We'll get to that "Practically" in a bit but, first, the show.
Well, first, there was this unproduced play by Bruce Milholland.  Ben Hecht and Charlie MacArthur took it and after they massaged it in their deft paws, built Twentieth Century, a hit play and a hit movie centered on Oscar Jaffee, flamboyant producer of four flops in a row, who leaves his unpaid company of actors stranded in Chicago and ducks out of town on the "Twentieth Century", the  luxury super train of the 1930's between Chicago and New York. His two henchmen have conned a stateroom for him right next to that of Lily Garland, hot, hot, hot movie star who Oscar had discovered when she was little Mildred Plotka.  All he has to do before they arrive in New York is get her to sign a contract with him for his next production whatever the hell it is and he'll be back on top. Small detail: Lily hates his guts.  Lots of other details go along with the trip, especially, Lily's unexpected new boy toy, muscle man Bruce Granit.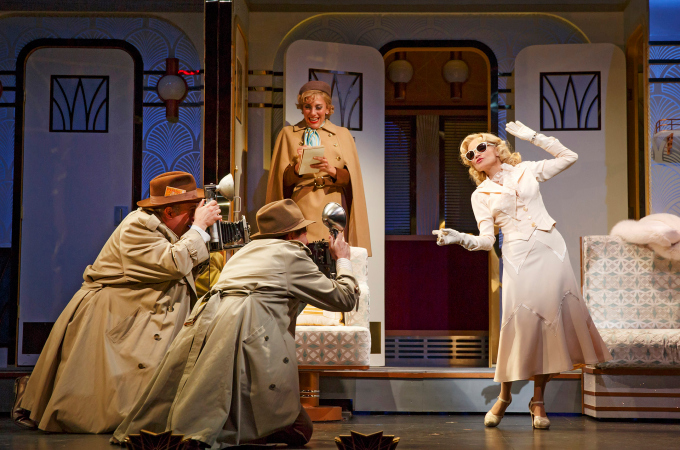 Master show mavens, Adolf Green and Betty Comden took the show and wheedled it into a musical, their book and lyrics pushing lunacy apace, married to a score by the  great Cy Coleman keeping their star lunatics at shriek peak, infusing this 1930's situation with a bouncy, trouncy necklace of songs Coleman nails in place as a tongue in cheek takeoff on Viennese operettas, of all things.  And it works, but, sorry, folks, you won't be singing along.  There isn't a darn song you want to remember.  What, "Saddle Up the Horse on the 20th Century"?  "Repent"?  "I Have Written a Play"? "Stranded"?  "She's a Nut"?  C'mon… And that's not even half of them.  But why should you care, anyway?  You'll be rolling in the aisles or wherever.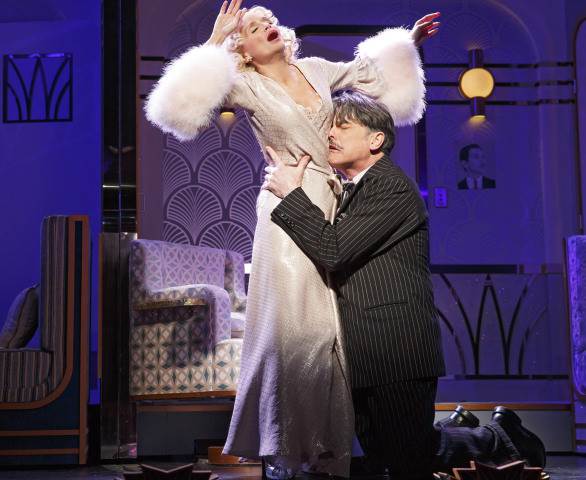 Kristin Chenoweth and Peter Gallagher in "On the Twentieth Century."Photo: Joan Marcus
Oh, what's not perfect?  Well, excuse me, but when a big deal designer, David Rockwell, goes crazy being smashingly clever and witty and nostalgic and satiric – and nuts – why, oh, why didn't he put Lily Garland's compartment center stage since 70 percent of the action takes place there instead of way over  where it logically belongs?  Why be logical?  In this show?
And that's all. The rest is an adrenalin dream boat.  William Ivey Long's costumes are so cleverly derivative they'll set trends by themselves.  John Weston's sound design lets you have it, Donald Holder's lighting smacks you in the eye, Amanda Green's added lyrics really add, over and over those ridiculously over the top production numbers from director Scott Ellis and choreographer Warren Carlyle play perilous, audacious games with sense and nonsense and win. And ultimately, there's solid brass solid gold Kristin Chenoweth, untoppable. What a ride.                        
On The Twentieth Century. At the American Air Lines Theatre, 227 West 42nd Street. Tickets: $67-$162. 212-719-1300. 2 hrs 30 min. Thru July 5.