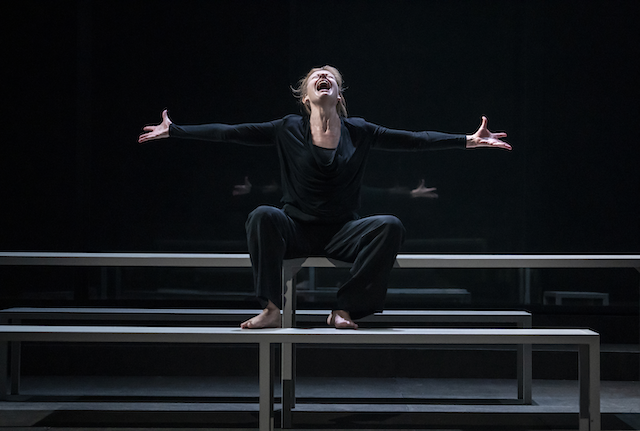 Anastasia Hille in Oresteia, Park Avenue Armory, 2022
Photo: Joan Marcus

Oresteia
By Deirdre Donovan
Aeschylus' Oresteia is the kind of work that makes most directors go weak in the knees. Not Robert Ickes. British writer-director Ickes has grabbed the bull by the horns and astonishingly reworked the tragic trilogy for contemporary sensibilities. His Oresteia, currently running in repertory with Hamlet at the Park Avenue Armory, is not only a successful realization of the ancient Attic work, but it features a top-drawer cast, led by the radiant Anastasia Hille, as Klytemnestra.

Although purists may object to Icke's jettisoning of the Chorus and displaying brutal bloodbaths onstage, those who like their Greek tragedies served up with bite will find a feast in Icke's epic-scale work that clocks in at three and a half hours, with two intermissions and a pause.

The trajectory of Icke's work broadly follows the outline of Aeschylus' Oresteia, which is comprised of Agamemnon, The Libation Bearers, and The Eumenides. While his Oresteia draws mostly on Aeschylus' triptych, Icke also has deftly incorporated elements from Homer's Iliad and Odyssey, Sophocles' Electra, and Euripides' Iphigenia at Aulis. The result? Icke gives us a richly integrated work that tells the whole story of the family's violence and suffering throughout the decade-long Trojan War.

If you haven't had time to brush up on Aeschylus' Oresteia, no worries. Ickes' retooling of the trilogy is endowed with clarity and can get one up to speed with the story in no time. Indeed, it is extraordinary to watch the chain of murders--the filicide, patricide, and matricide--all play out against the backdrop of Hildegard Bechtler's black-and-white set, lit by Natasha Chivers.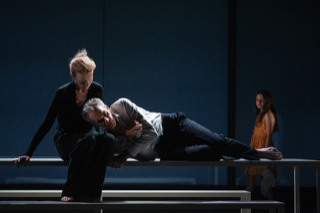 Anastasia Hille, Angus Wright, and Elyana Faith Randolph in Oresteia, Park Avenue Armory, 2022
Photo: Joan Marcus

Tim Reid's video design is spot on. It effectively complements the dramatic action without overpowering it. When we see Wright's Agamemnon being interviewed about the war on a giant screen early on, it shows his character to be quite the canny politician. It also makes the Trojan War seem like it's happening in our own backyard and that its outcome is still up for grabs.

The acting is excellent. Anastasia Hille's performance as Klytemnestra is spell-binding. Hille, with her regal physical stature and fire in the stomach, simply seems born to play this part.

No, Hille's not the only watchable actor on stage. Angus Wright, doubling as Agamemnon and Aegisthus, projects the commanding presence of the Greek leader and the craftiness of Klytemnestra's lover.

Luke Treadaway's Orestes conveys both the angst and the courage of a young man whose family inheritance has placed him between a rock and a hard place. While Treadaway's Orestes intermittently appears during the first half of the play, he becomes the central figure later on when the courtroom trial begins.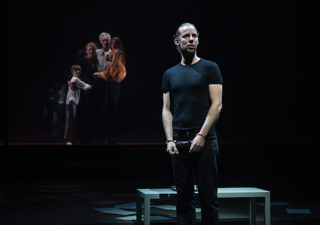 Wesley Holloway, Anastasia Hille, Angus Wright, Elyana Faith Randolph, and Luke Treadaway in Oresteia, Park Avenue Armory, 2022
Photo: Joan Marcus

Tia Bannon's Electra is the epitome of a young woman desperately struggling to cope with life's cruelty and yet caught in the web of family revenge. "We're not the model family of the modern major general," remarks Electra to Agamemnon's ghost as she sits at the family table." Bannon's Electra delivers these lines with all the vinegar in her soul. Yet we can't help but admire her witty twist of Gilbert and Sullivan's lyrics.

Kudos to the two youngsters in the company, Elyana Faith Randolph and Hudson Paul, as Iphigenia and young Orestes, respectively.

Randolph's Iphigenia will tug at your heartstrings with her childish trust and preternatural stoicism during her murder scene. Indeed, one could hear that proverbial pin drop in the Wade Thompson Drill Hall as the lethal drug dose was clinically administered to her in three pleated paper cups.

Spared his stage sister's fate, Paul effortlessly slips into the skin of the Young Orestes, showing us the undaunted spirit of his character that will later on anchor him as an adult.

Admittedly, this production has a flaw in the crystal. Why isn't the reason for Agamemnon's killing of Iphigenia explained clearer? While some will "get it," others will be puzzled why the seer Calchas (Michael Abubakar) and Agamemnon keep discussing "signs" and the windless weather as they plan Iphigenia's murder. True, this is nit-picking Icke's work. But his yoking together of Aeschylus' trilogy does leave a few holes in the tragic narrative.

What makes this production hum is its vibrant immediacy. We get the feeling that the horrors of war playing out in the world of Oresteia is not unlike those which are happening in Ukraine now.
Indeed, that phrase in Icke's adaptation, "The child is the price of the war" seems like it could have been coined for the Ukraine war. After all, so many young Ukrainian children, like the character Iphigenia, have lost their future.

Icke isn't the first writer who has given us a trilogy inspired by Attic playwrights. Anne Carson penned An Oresteia based on Aeschylus' Agamemnon, Sophocles' Elektra, and Euripides' Orestes, which was staged at the Classic Stage Company in 2009. And, of course, Eugene O'Neill wrote his play cycle, Mourning Becomes Electra, as an American update of Aeschylus' trilogy set in a Puritan New England town at the end of the Civil War. But, that said, Icke certainly is the most recent writer to attempt this high-wire act. And, he succeeds, by and large, by steering clear of pretentiousness and focusing on emotional realism.

It's not for nothing that Ickes has been referred to as the great hope of British theatre. His Oresteia at the Armory clearly cements his reputation in the theater world and adds a fresh feather to his cap. Although it's not for the weak-stomached, his new adaptation of Aeschylus' trilogy is a must-see for all serious theatergoers.

Through August 13th.
At the Park Avenue Armory, Manhattan.
For more information, visit armoryonpark.org. Running time: 3 hours 30 minutes, with two intermissions and a pause.