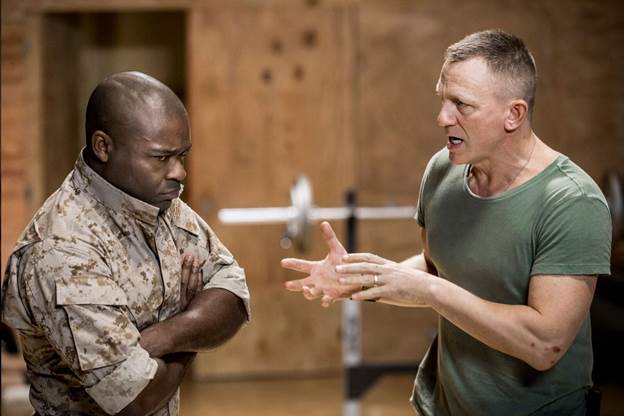 David Oyelowo and Daniel Craig                                                      photos by Chad Batka
                                                     By Ron Cohen
Conceptual director Sam Gold and cohorts take on William Shakespeare's Othello with no holds barred in this hotly anticipated New York Theatre Workshop production. It's a good, sometimes violent tussle, but the two who emerge indisputably victorious from this three-hour-plus fray are the stars, Daniel Craig and David Oyelowo, delivering galvanizing performances of Olympian proportions.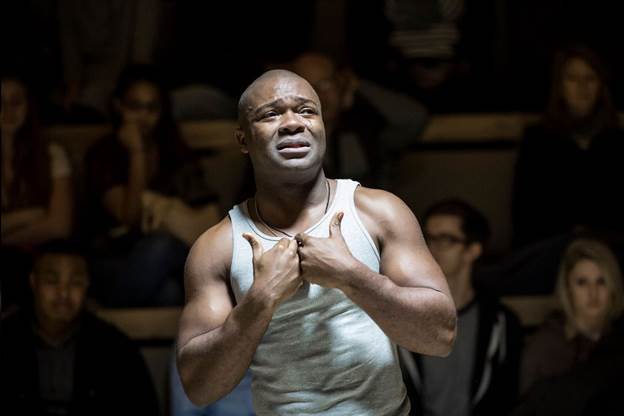 Oyelowo, the celebrated British actor who recently appeared as Martin Luther King Jr. in the film Selma, takes on the title role, a Moorish general in the Venetian army undone by unfounded jealousy and doubts about the fidelity of his adored wife, the fair Desdemona.
Craig, whose head-spinning career has taken him from Pinter on Broadway to James Bond in the flicks, metamorphizes once again as Iago, the deceitful ensign who ignites Othello's suspicions.
With the Venetian army occupying Cyprus, Gold has transported the story to a modern-day military installation, with such accoutrements as cell phones and AK rifles. It is not a new twist for this oft-reinterpreted masterpiece, but it's done with such ferocity that you can almost smell the solider sweat in the unkempt, apparently temporary barracks in Andrew Lieberman's set design.
The theater's walls have been covered in unfinished lumber, the same material used for the four rows of bleachers that line three sides of the playing area. In the show's first half, mattresses, as army cots, are sprawled across the floor.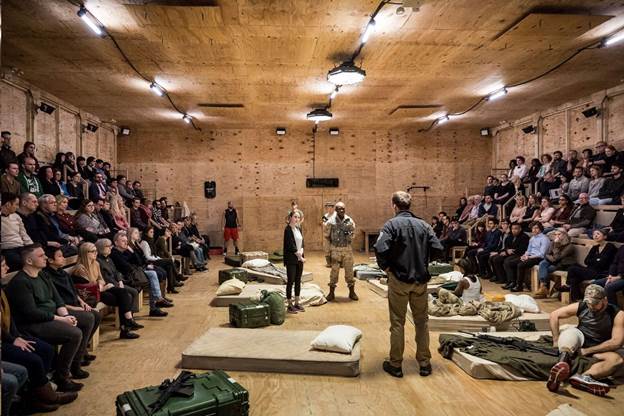 In the second half, most of the mattresses have disappeared, and only one neatly made up bed remains as a centerpiece. This, of course, is the bed on which Desdemona will meet her doom – as she always does -- at the strangling hands of her husband. For a play that's more than 400 years old, that's not a spoiler. However, Gold has given the production a number of idiosyncratic touches, like playing a long opening section in almost near darkness and the soldiers' singing of a bluesy song about cell phone calling, and there are indeed some alterations that would be spoilers to reveal.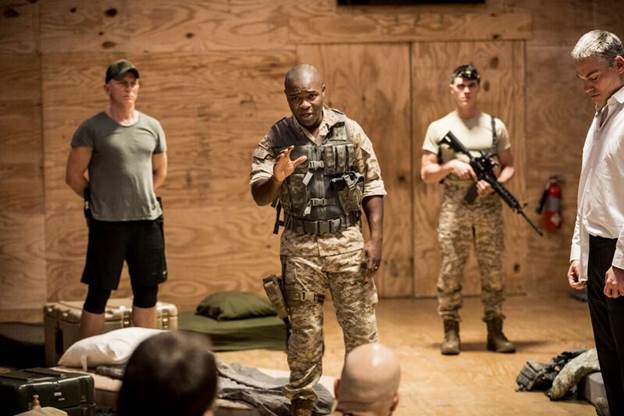 The tragedy's frequently examined themes of racism, xenophobia and unrestrained evil are all evident here in varying degrees. But the production's most striking departure from traditional renderings may be in its subtle reworking of the Othello-Iago relationship. Oyelowo adopts an African (or is it Caribbean?) accent to give a hint of the outsider, but his Othello is not an exotic masterful warrior, a noble figure, betrayed by a malevolent underling. We never see the general in full regalia. He appears and stays in something like battle fatigues. He carries the quiet assurance of a black soldier who's made a good career in an integrated army. There's another black soldier on stage, and Iago's wife, Emilia, is played by a black actress, Marsha Stephanie Blake – and played quite well. And while Iago displays a touch of outward deference to the general, Othello could in the past have simply been a somewhat younger buddy who now has made it through the ranks, leaving Iago behind and then even bypassing him for promotion.  There's a sense of mano a mano familiarity between the two that makes Iago's manipulation of Othello – and his declaration of hatred for the Moor -- all the more despicable and poignant. Craig's performance – with his working class British accent and noncom semi-swagger – compounds this with a display of cold-blooded but charismatic intellect as he reveals to the audience his plotting with more than a dollop of glee.
Things climax in the first half when Othello explodes with desperation and rage over Desdemona's supposed philandering with the lieutenant Cassio, as Iago eggs him on and on, ending with the villain's poisonous vow, profile to profile: "I am your own forever." It's raw, dynamite theater, and you well might wonder how it can be topped in the second half. But that's exactly what happens. As Othello's despondency grows and Iago's plotting becomes ever more insidious, it's like witnessing a human soul being put on the rack and torn asunder, piece by piece. 
Craig and Oyelowo pretty much own the stage, but, in addition to the aforementioned Blake, there are several noteworthy contributions. Rachel Brosnahan makes Desdemona a spirited and appealing 21st Century woman, but one still possessed of a playful and inquiring innocence. Her early scenes with Othello exude a fetching romantic sweetness. Finn Wittrock's Michael Cassio is graced with admirable sincerity, and as played by Glenn Fitzgerald, the rage of Desdemona's father, a Venetian senator, when he learns his daughter has eloped with a black man, is fearsome. As Roderigo, the doltish civilian who pines for Desdemona and becomes a tool in Iago's scheming, Matthew Maher gets little sympathy but a number of laughs.
In total, this Othello lives up to expectations as an event, but it offers much more than the chance to see a couple of movie stars up close. It's the kind of event that's truly worth standing in line for cancellations. 
Off-Broadway play
Playing at New York Theatre Workshop
79 East 4th Street
212-460-5475
Playing until January 18