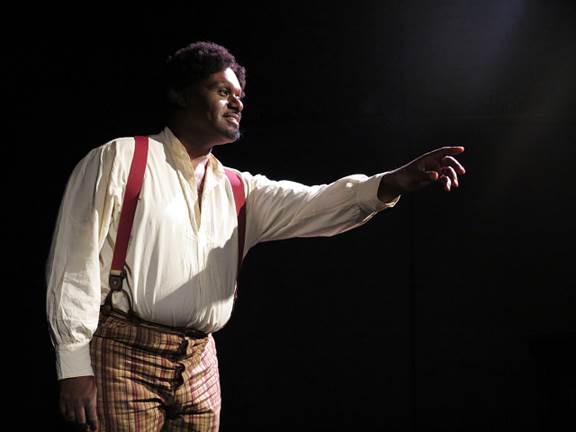 Richard Johnson                                         photo by Farnaz Taherimotlagh.
Pappy on da Underground Railroad
                                     R. Pikser
The Gene Frankel Theater is what used to be called a black box.  A few seats, minimal performance space, a piano, and good lighting in what used to be an inexpensive part of town, allowed performers to hone their imaginations and their craft.  The theater is still holding on among all the fancy new buildings, and the walls of the intimate lobby are covered with photographs of the great before they became famous, from Anne Bancroft and Frank Langella to Cicely Tyson and James Earl Jones.  There are also posters of the many productions, Broadway and Off-Broadway directed by the late Mr. Frankel.  This intimate house is perfect for a show such as Pappy on da Underground Railroad.
Richard Johnson is primarily a cabaret performer, and he has an engaging presence, but his day job is as a teacher.  He wrote this one hour play with music to teach his high school students about slavery and about Harriet Tubman who, between 1800 and 1863, just prior to the Civil War, helped so many to escape to freedom, often in spite of their fears and misgivings.  Mr. Johnson is careful to include examples of the horrors of slavery to demonstrate why the slaves had to escape and the atrocities inflicted on runaways so that others would be afraid to flee.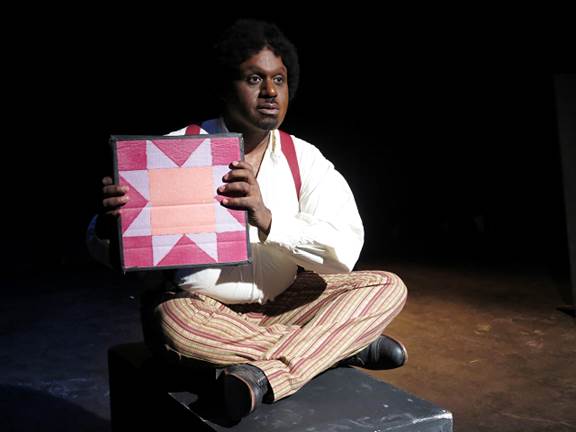 The show is organized around Pappy, who has escaped from slavery once through the good offices of Ms. Tubman and who has now returned to help us, a group of runaways including Ms. Tubman's parents, to pursue our freedom.  He encourages us with stories from his own life and by singing, throughout the show, in his pleasant light baritone, excerpts of spirituals that elucidate the action.  But Pappy explains these "sorrow songs," as W. E. B. DuBois called them, as instructions:  How to escape; how to keep from being caught; how not to get lost; dangers to beware of; how to warn each other; and where friends are to be found.
A danger of the one-person show is that it too easily becomes a series of impressions, without connection.  To Mr. Johnson's credit, he is never alone on the stage.  His characters - his mother, his first love, his master, the runaway slave catchers, Ms. Tubman, are all in dialog.  Even the whipping of a slave changes instantly, back and forth, between the master and his whip to the cries of the slave.  Even when Pappy is the only character speaking, we are there with him, on the road or in an underground hideout, receiving his wisdom and encouragement.
There is a tremendous need for a piece like this.  The example of Harriet Tubman compels us to think deeply about the real past of this country.  We need all the help we can get to help people understand our true history in all its variation and power and this show helps us on our way.
Pappy on da Underground Railroad
February 11th-27th, 2016
Thursday-Saturday at 8:00 p.m.; Saturday and Sunday at 2:00 p.m.
Gene Frankel Theater
24 Bond Street
New York, NY
Tickets $20; Seniors and Students $15
Brown Paper Tickets 800 838 3006
www.brownpapertickets.com