Lily Balsen as Fatima, Jonathan Tindle as Oliver Davenport
                        by Eugene Paul

Alex Draper as Leo Katz, Tosca Giustini as Gabriella Pecs, Jonathan Tindle as Oliver Davenport
Young, mysteriously excited Gabriella Pecs, (Tosca Giustini) has led worldly art historian Oliver Davenport (Jonathan Tindle) to an ancient ruin of a Romanesque church, begging him for just five minutes. She leads him to the back wall and, with his help, removes some large stones.  We can see that something has been hidden behind the stones.  Davenport recognizes the style immediately. What he can see looks like the work of Giotto.  Which is impossible.  This is the wrong place.  The apparent age indicates it's the wrong timing.  This work is earlier than Giotto.  Or so Gabriella, herself an art curator, has come to believe.  But she is too young and does not have the cachet of a Davenport opinion. The art world would be turned upside down if –
And the rigmarole begins along with the long task of removing the stones to reveal the entire wall painting. Whose claims of ownership are already conflicting, even before the absolute authentication?  The Orthodox Church involves itself, as does the Catholic Church, both religions sending emissaries to see that things are done properly in their behalves.  If, indeed, they have any position at all, according to the local authorities.  Soldiers are posted.  Ministers from the state itself are invoked. A judge is sent to adjudicate.  Everyone has his view.  And then, a bombshell: another art historian, Leo Katz (Alex Draper), American, quite disparaging of Davenport's British expertise. Tempers rise. Gabriella Pecs wants to move the painting to the national gallery once Davenport says it can be done.  Katz says it cannot be done.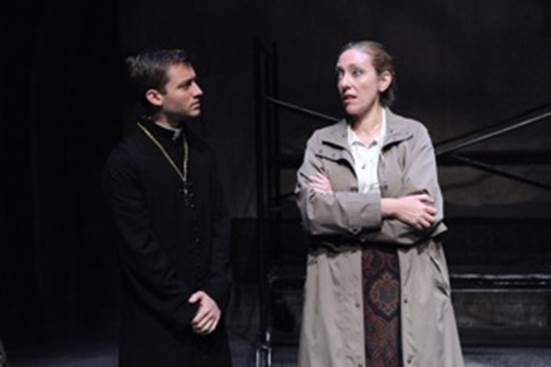 (L-R): Christo Grabowski as Father Petr Karolyi, Nina Silver as Anna Jedlikova
And into their war, the real war bursts.  A ragged crowd of refugees, armed, take over the site.  They are fleeing persecutions from violent fates in a dozen countries, need safe shelter where they can attempt to protect themselves. Playwright David Edgar has turned his art intrigues into the fodder for the saving of lives as opposed to the saving of art.  Or the saving both, if possible, in this world where life is cheap and art is expensive. He builds our sympathies in one direction and then another.  In the process, the histories and the lives of the people clash among themselves.  The art historians are forced to exchange their clothes with several of the refugees in order to disguise the refugees for an added level of protection and to confuse the enemy.
And who is this enemy?  Even opposing regimes wish to keep the painting from harm; its potential value is staggering.  For the humans, however, infant to elder, invaders of this once sacred space, their values have to be worked out: who is worth saving, who is not, which can be repatriated, which are thrown aside.  Can the painting itself save all their lives?
Director Cheryl Faraone knows that to keep the ideas going it is vital to have her characters be seen as human as possible so that we are not confronted with stereotypes and agit-prop, so that we become invested, begin to put our own values on the line. I particularly liked Jonathan Tindle, Alex Draper, Nina Silver, Lawrence Nathanson and Matt Ball. A unique, priceless artifact, a creation of the finest in the human psyche, precious to the world, versus a gypsy baby, a gypsy mother, a Bosnian, a Kurd, a Palestinian Kuwaiti, an Azeri, a Mozambican, an Afghan, a Ukrainian, a Russian,  how can we decide?
Director Faraone's success is also playwright Edgar's success.  The potentially unwieldy becomes as interesting and involving as both exercise and entertainment.  Quite as captivating is the changing work on the huge, mysterious painting, the most important feature in set designer Mark Evancho's impact on the play. Designer Jule Emerson provides a welter of story telling costuming and Hallie Zieselman and Aubrey Dube offer effective, evocative sound and light. Withal, as worthwhile and pleasurable an evening of theater as you will currently find.
 Atlantic Stage 2, 330 W. 16TH St.  Tickets: $35, $18 students, seniors. PTPNYC.org or 1-866-811-4111. 2hrs, 45 min.  Thru Aug 10.