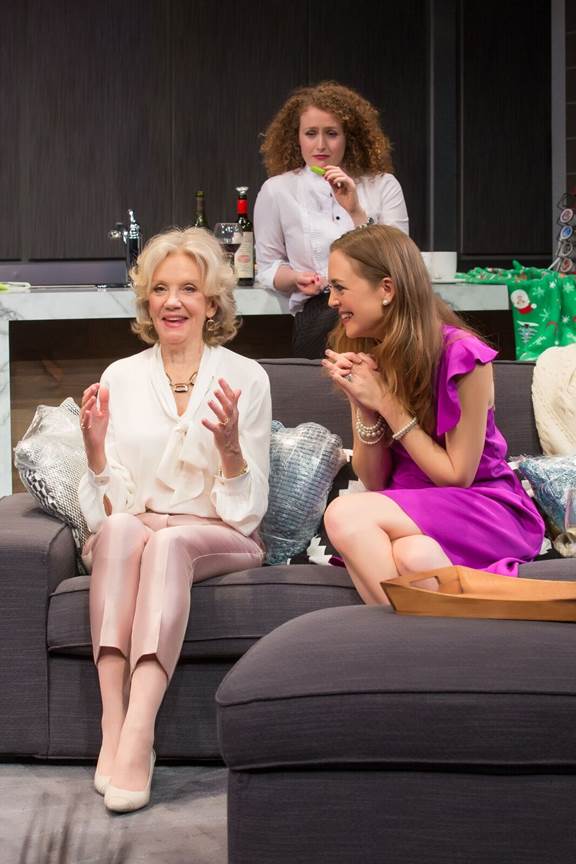 Hayley Mills, Brenda Meaney, and Allison Jean White       photos by Jeremy Daniel
                                                       By Ron Cohen
Several decades ago Hayley Mills won the hearts of Disney live-action moviegoers with such turns as the title role in Pollyanna (for which she won an Oscar for outstanding juvenile performance) and a pair of twins in The Parent Trap. So, for those of us who sometimes worry about the fates of child movie stars, it's good to report that Mills is currently disporting quite handily in the off-Broadway offering Party Face. At the same time, she's carrying on the acting tradition of her family; her father was the late revered British actor John Mills, and her sister is actress Juliet Mills.
The not-so-good news is that the play she's headlining in is a rather wan affair. Written by Irish playwright Isobel Mahon, it shows us how a gathering of five ladies in an upscale suburban Dublin apartment goes awry – as such gatherings in plays tend to do.
The party is to celebrate the newly created kitchen extension in Mollie Mae's flat. The problem is that Mollie Mae, played with appropriate glumness by Gina Costigan, isn't quite in a party mood. For one, she's only recently been released from a psychiatric hospital, recovering from a nervous breakdown. Furthermore, her husband of 16 years has taken up residence in a hotel.
But she's trying to carry gamely on, under the urgings of her overbearing, determinedly chipper widowed mother Carmel, played by Mills, looking snazzy in pink shantung jeans and sporty white blouse.
Disparaging her daughter's party menu, Carmel has brought an elegant assortment of hors d'oeuvres for the event and cheerily carries on about Mollie Mae's husband, unaware that the couple has split. Carmel furthermore has invited Mollie Mae's disliked but socially prominent neighbor Chloe to the party. As played by Allison Jean White, Chloe's bubble-headed superciliousness is apparent from the moment of her arrival.
The other two guests, who arrive eventually, are Maeve (Brenda Meaney), Mollie Mae's older sister and a cynical career woman with her own busted marriage, and Bernie (Klea Blackhurst), who was Mollie Mae's co-patient at the hospital.
Suffering from a highly severe case of germ phobia, Bernie has a compulsion to cover everything in plastic wrap, which she carries in her bag. It's one of the unconvincing elements of Mahon's writing, which also includes the convenient breaking down of the kitchen plumbing, spurting water into the air, to provide a hectic first-act curtain.
Then, there's the unearthing of connections between the women and other revelations, as they cavort and drink through the evening. They dispense one-liners that don't quite land, and zingers that don't zing.
What is interesting, however, is that the play presents a picture of Irish life rarely shown on New York stages, contemporary women quite on their own, living in fairly comfortable circumstances, as depicted in Jeff Ridenour's set and Lara De Bruijn's costumes. There's no talk of "the troubles," no sign of the melancholy lyricism or macabre spookiness, often marking Irish dramaturgy. If only Mahon's people took on a life of their own, rather than coming across as concepts of the playwright. Director Amanda Bearse gets the actors through their paces in brisk fashion to the play's somewhat upbeat conclusion about self-acceptance, but she also seems to have pushed them – or let them slip -- into occasional caricatures, losing any sense of reality and dimming the intended fun.
As Pollyanna might say, better luck next time, Ms. Mills.
Off-Broadway play
Playing at City Center Stage 2
131 West 55th Street
212-581-1212
NYCityCenter.org
Playing until April 8