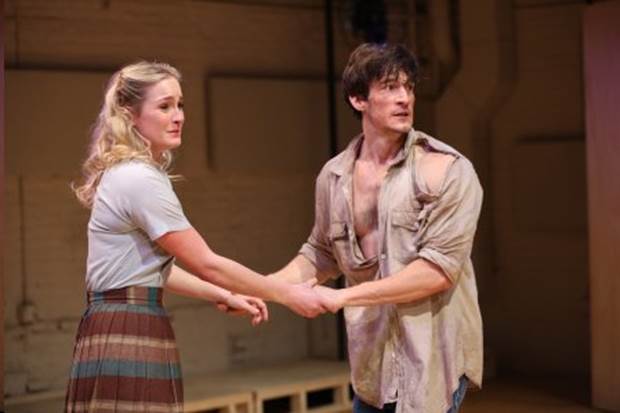 | | | |
| --- | --- | --- |
| | | Ginna Le Vine and David T. Patterson in "Picnic." Photos by Carol Rosegg. |
                                       By Ron Cohen
Jack Cummings III, artistic director of Transport Group Theatre Company, makes a solid case for the reemerging appreciation of William Inge, offering in rep affecting productions of two of the playwright's most important works; Picnic and Come Back, Little Sheba.
In the 1950s, Inge scored the rare feat of having four successive hits on Broadway, starting with his main stem debut with Sheba. Picnic came next to be followed by Bus Stop and The Dark at the Top of the Stairs. Each of the plays was also adapted into a successful movie. Then came a string of flops, relieved only by the Academy Award he won for his screenplay Splendor in the Grass. Critics even derided his early successes as old-fashioned, and comparisons with his friend and one-time supporter Tennessee Williams could be devastating.
Appraisals of Inge have become again increasingly more positive, but in June of 1973, the writer, questioning the value of this work and beset by personal demons, committed suicide. As Ralph E. Voss, an Inge biographer writes so poignantly, "he had run out of reasons to think he was any good."
Reasons aplenty, however, are on view in Cummings' mountings. These are not perfect productions (after all, how many of those are there?) but they play to the strengths of Inge's writing, his deep understanding and empathy for his characters, ordinary people stifled in the sameness of their ordinary lives. His plays are very much of their time and place – the small towns and cities of America's Midwest in 1950s. Sexual repression is a major theme in both Picnic and Come Back, Little Sheba, but the way it affects the play's people is timeless in its investigation of the human soul, the need for the comfort and closeness of another soul, whether you call it love or sex.
Picnic is set in a small Kansas town as it readies for its annual Labor Day community picnic. Hal, a hunky drifter given to exuberant braggadocio, lands in town, hoping to snare a job from his ex-fraternity brother, Alan, the scion of the town's richest family. When Hal gets breakfast in exchange for doing chores for a friendly older lady, he spies the lady's young neighbor, Madge. And it's almost a flash-fire of mutual attraction.
Madge, who works at the dime store to help out her single mom, is not only the prettiest girl in town, she's also Alan's sweetheart and presumed fiancée. The situation eventually explodes and leads to a heart-stopping, love-intoxicated climax. It's not the finish that Inge originally wrote and always preferred, but one he wrote to satisfy the play's original director Joshua Logan. It nevertheless packs a punch, leaving an audience with a breathless rush of feelings. Is Madge bravely fulfilling her fate or wrecking her life?
Michele Pawk and Ginna Le Vine
The production is blessed at its center with a lovely performance by Ginna Le Vine, making her off-Broadway debut as Madge. She captures eloquently the young woman's vulnerability and uncertainty about the value of her comely looks. Is this all she has to offer the world, and what does that mean about her? The idea that she might spend her future as the obliging wife of a wealthy man fills her with a vague sense of dread, or at least discomfort. It's something that she tries to hide from her practical mother, deeply hopeful of such a nuptial. When Hal comes on the scene, the chemistry is palpable, and the heat steadily and convincingly rises.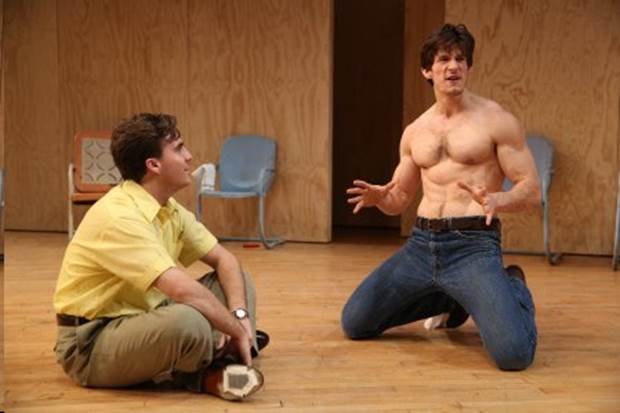 John Cariani and David T. Patterson
As Hal, David T. Patterson also makes an auspicious Off-Broadway debut. Hal's swagger at first seems overly forced, heightened by Patterson's 21st Century-superhero physique on display shirtless for quite a stretch.  But everything falls into place when he finally confesses to Madge the self-doubts he tries to keep buried deep in his own psyche. What seems off-putting at first becomes infinitely touching.
As a telling counterpoint to the youthful buoyancy of Madge and Hal, Inge gives us Rosemary, the school teacher who boards with Madge's mother. She is a woman of a certain age, fearfully looking to old-maidenhood. Buoyed by a few swings of holiday whiskey, she throws herself at Hal and when rejected, rails at him violently. Later, with the prospect of another year of teaching on the horizon, she falls to her knees begging her reluctant beau Howard to marry her. It's a plum role that won a Theatre World Award for its creator, Eileen Heckart, and here Emily Skinner fulfills it admirably, masking the woman's bitterness and anxiety with a tart-tongued propriety. John Cariani provides a sympathetic foil as Howard.
Among others making noteworthy contributions are Rowan Vickers as Alan, Michelle Pawk as Madge's mother, Hannah Elless as Madge's younger tomboy sister, and Heather Mac Rae as the good-hearted neighbor lady.
Cummings's direction imbues the show with vitality, against the rather minimalist set designed by Dane Laffrey: seven lawn chairs spaced out against a series of unpainted wooden  flats. The audience sits on two sides of the playing space. It's not terribly atmospheric, but it hardly matters as the actors and Inge's storytelling take hold of the audience's imaginations.
Heather Mac Rae and Joseph Kolinski
Six of Picnic's 11 actors also appear in Come Back, Little Sheba, in a cast headed by Heather Mac Rae, giving a beautifully calibrated performance as Lola Delaney. Lola is a lonely and unkempt housewife, getting through her days by chatting with the postman and other tradesmen who come to her door, worrying about the fate of her lost dog Sheba, and living vicariously through the exploits of her boarder Marie, a lively college student who has a distant fiancé but is carrying on with Turk, a campus athlete.
Lola's husband, Doc, is a member of Alcoholics Anonymous, whose alcoholism and necessary marriage to a pregnant Lola (their baby died) foiled his plans to become a doctor. He now is a chiropractor, keeping his life together with the concentration of a man walking a tight rope. It's his feelings for Marie that cause him to fall off the wagon and let loose in a vicious and galvanizing climax, the resentment he feels for Lola and the woman she has become.
The triumph of Mac Rae's portrayal is that she lets us see the beguiling young woman Lola once was, the woman that captured Doc's young heart. Beyond the avoirdupois and aimless conversation, there is an essential sweetness, even an innocence that grabs our sympathy. When in the final scene, she and a recovered Doc move past the ugliness, implicitly recognizing their mutual dependence, we feel a deep sense of relief, even though we know it could all happen again.
Joseph Kolinski delivers a strong turn as Doc. The turmoil seething below the careful demeanor is always apparent, threading the play's quiet, seemingly uneventful moments with a foreboding tension. And his giving way to drunken fury is terrifying.
In contrast to Picnic, Laffrey has designed a nicely detailed set, putting on display the lower floor of the Delaney house, from the kitchen refrigerator to the worn sofa in the living room. The audience is seated on all four sides, some of them fitted into the set's nooks and crannies. It makes for an intimate environment, heightening the power of this small-scale but highly potent drama.
| | | |
| --- | --- | --- |
| | | David T. Patterson and Hannah Elless |
The only distracting note is the sexual forwardness in the behavior of Turk, played by Patterson, again with muscles on display, and Marie, played by Elless. It seems out of sync with the play's period. 
But in the end, Sheba like Picnic registers as a drama taking us somewhat surprisingly into the souls of unexceptional people, uncovering and celebrating the sparks of humanity that inform and should link us all.
Off-Broadway plays
Playing at The Gym at Judson
243 Thompson Street
212-564-0333
Playing until April 23