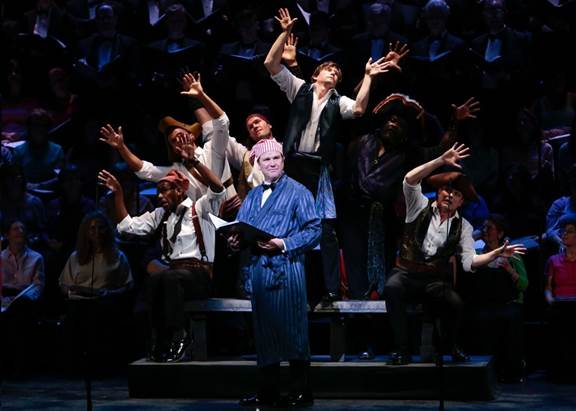 Photos by Erin Baiano
                                       by Deirdre Donovan
Piracy lived again, as MasterVoices (formerly the Collegiate Chorale) launched their new season with a semi-staged presentation of Arthur Sullivan and W. S. Gilbert's Pirates of Penzance (or The Slave of Duty) at New York City Center.  Gilbert and Sullivan's popular operetta lighted down for two evenings in mid-October, they wowed the audience with this charming work.
Directed by Ted Sperling with The Orchestra of St. Luke's, and featuring Metropolitan Opera and Broadway stars, including Deborah Voigt, Phillip Boykin, Douglas Hodge, Hunter Parrish, Julia Udine, David Garrison, Betsy Wolfe, Montego Glover, and Zachary James, it was an evening that Gilbert and Sullivan themselves would have enjoyed.
The Pirates of Penzance (1880) has its own special niche in the Gilbert and Sullivan canon.  It followed on the heels of their international mega-hit H.M.S Pinafore and cemented the duo's reputation as a major force in the music world.
The plot is deliciously silly.  It centers on Frederic, who as a lad of 8, was apprenticed to pirates (his nurse was slightly hard-of-hearing and confused the words "pilot" and "pirate").  When the nurse realized her blunder, she decided it was better to stay with the pirates than confront parental blame. As the lights go up, Frederic is a young adult, turning 21, and completing his apprenticeship. There's a glitch, however.  It is discovered he was born in Leap Year on February 29th,, 1856 and won't actually be 21 for many years.  As a man with a high sense of duty, Frederic remains with his nurse and pirates to serve out his apprenticeship.  Romance, of course, enters when Major General Stanley arrives on the Cornish coast with his many daughters.  Frederic falls head over heels with Mabel, who loves him with a true love.  The pirate gang seizes the other daughters for brides, which naturally outrages the Major General.  The police arrive on the scene, which creates more topsy-turvy situations.  But everyone does eventually live happily ever after, as is always the case in Gilbert and Sullivan operas.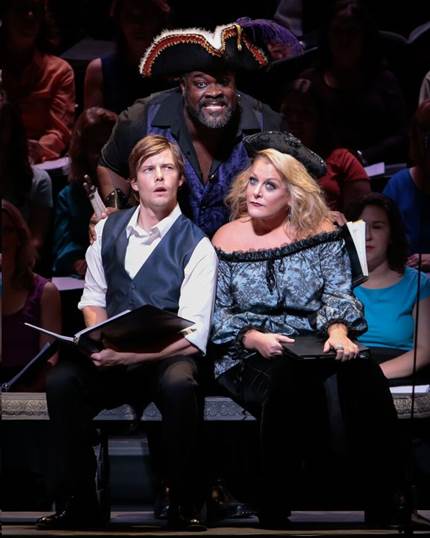 Hunter Parrish, Philip Boykin and Deborh Voight
Enough of the plot.  The audience came for the live stage performance.  And the impressive line-up of stars was what really kept things humming in this 2 hour-plus show.  The stars weren't resting on their laurels either.  The singing and acting were terrific.  Deborah Voigt was superb as the devoted nurse Ruth and Phillip Boykin, as the Pirate King, had plenty of twinkle. Douglas Hodge cut a fine figure as the Major General Stanley, Julia Udine as Mabel was well-cast, and Hunter Parrish as Frederic was spot-on.  Other plaudits go to David Garrison as The Sergeant of Police, Zachary James as Samuel, Betsy Wolfe as Edith, and Montego Glover as Kate. 
While this was not a fully-staged production of the operetta, the production values were all in place.  David Korins' scenic design, in collaboration with Frances Aronson's lighting, conjured up the wild and wooly Cornish coast.  And I would be remiss if I didn't mention Tracey Christensen's costumes that outfitted all the characters from the pirates, to the Major General and his daughters, to nurse Ruth, the police crew and more.  Christensen didn't over or underdo anything here.
Favorite moments during the show?  I leaned in for Voight's delivery of the charming number "When Frederic Was a Little Lad," which detailed Frederic's strange childhood from his nurse's vantage.  Udine's singing of "Poor Wandering One" was smooth as satin, and Hodge's  "I Am The Very Model of a Major Modern General" was simply tops.  Yes, these three songs have been pattered, crooned, or parodied countless times before by distinguished artists.  But the trio at City Center gave them a fresh operatic polish and Broadway panache.
While I have seen many Pirates of Penzances over the years, what made this scaled-down version a standout was not only the star-studded cast, but the astonishing craft of conductor-director Sperling with the Orchestra of St. Luke's.  If you haven't seen The Collegiate Chorale—I mean MasterVoices--you should consider seeing one of their upcoming shows this season.  They recently did The Mikado at Carnegie Hall to fine effect.  But whether it's a Gilbert and Sullivan operetta or a contemporary piece like Not the Messiah, Sperling and MasterVoices always measure up and give a sublime performance.
Pirates of Penzance, performed on October 15th and 16th.
New York City Center, 131 West 55th Street, Manhattan
For more information on upcoming productions, visit www. NYCityCityCenter.org or www.mastervoices.org
Running time:  2 hours; 30 minutes with one intermission.