photos by Joan Marcus
Plaza Suite
by Julia Polinsky
Neil Simon's superb book may lightly touch the heart, but Plaza Suite deals with things that hurt, too. He leavens the heartbreak of breakup, mocks the push-pull of seduction, and pokes hilarious holes in a portrait of a marriage. Really, Neil Simon's note-perfect writing makes it look easy to make characters sound natural, like people you know. Easy, that is not, and he is a master at it.
Plaza Suite takes place over three acts, each act a separate story. In Act 1, "Visitor from Mamaroneck," a middle-aged wife has booked Suite 719 at the Plaza, to celebrate her twenty-somethingth wedding anniversary, with unintended consequences. Act 2, "Visitor from Hollywood," showcases an aging movie producer trying hard to be in touch with the sweet girlfriend he remembers from high school; they each discover their illusions and the reality behind them. In Act 3, "Visitor from Forest Hills," it's zero hour of that most classic Plaza Hotel event -- the wedding -- but the bride has locked herself in the bathroom, and her parents and her fiancé (Eric Wiegand) have to cope.
Broderick's wooden affect in Act 1, serves his character, Sam, well. Sam has left his best self in the office, a trope that has become all too familiar. In 1968, women had not yet entered the workforce in any numbers, so having an affair with a cute young secretary (Molly Ranson as Miss McCormack) was simply normal, as was having a lonely, frustrated wife. Kudos to Parker as the long-suffering Karen, for making sure we feel the pain under the wisecracks.
Photo by Joan Marcus
In Act 2, Broderick is simply wonderful, hilarious in his portrayal of a Hollywood producer slightly past his prime, and Parker truly shines as the girl he left behind – as she is now. Who knew Broderick could be this funny? The timing is perfect; the bits of business are wonderful; the shtick is smashing.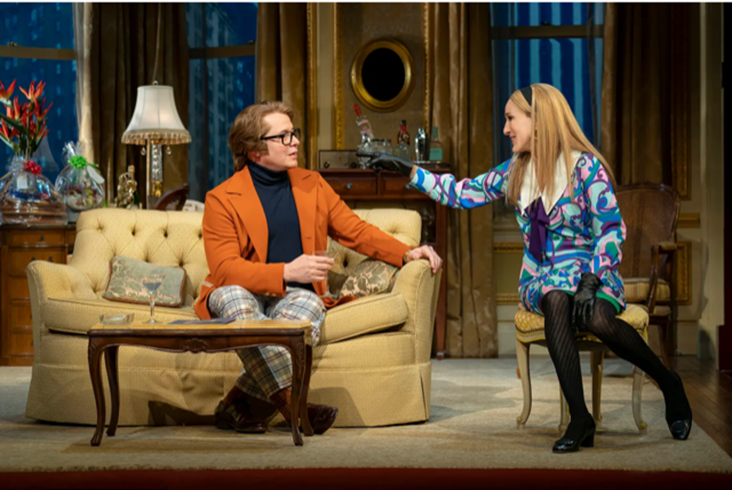 Photo by Joan Marcus
Act 3 lays on the broadest humor. Broderick and Parker do it proud, obviously enjoying themselves enormously as they play out verbal and physical comedy, bordering on slapstick.
Photo by Joan Marcus
Thank God for Matthew Broderick and Sarah Jessica Parker; huge Hollywood stars who are old hands onstage, they appeal to the eye, the ear, the heart, and the funnybone. Without this cast, it's a question if the show might have been produced, in this day of intentionally challenging theater that wrenches the emotions, asks huge questions, provokes controversy.
Plaza Suite takes place in a New York City before the huge social changes of the late 20th Century. Written in 1968, the play holds up a mirror to an America in the middle of the Viet Nam War, before the Civil Rights Act, before the assassinations of Dr. King and Bobby Kennedy, before Richard Nixon was elected President. "2001: A Space Odyssey" was in movie theaters; "Hey Jude" was the biggest hit of the year. It's before Stonewall; before Woodstock; before the Mets won the series; before ATM machines.
The characters in Plaza Suite's three acts are people of their time; how could they not be? Thankfully, director John Benjamin Hickey and everyone involved in the production has viewed them with affection and respect, regardless of 50+ years of knowledge and change in the rearview mirror.
One of the real stars of the show is the set, the living room and bedroom of Suite 719 at the Plaza Hotel – elegant and beautiful, it gets a well-deserved round of applause at curtain up. John Lee Beatty's superb scenic design makes the show work; it's hard to imagine what this Plaza Suite would be without his deft touches.
Jane Greenwood's costuming and Tom Watson's hair design evoke time, place, and personality, and still make gentle fun of the characters. Broderick's Jesse in the second act gets a laugh just being onstage, with his ill-fitting plaid pants, his too-tight turtleneck, his laughably-long hair. Parker, one of the great clothes horses of pop culture, sports a hideously unflattering suit in Act 1, a period perfect Pucci-style sheath in Act 2, and a hilariously over the top mother-of-the-bride outfit in Act 3.
All the elements together create a preserved picture of a New York City that's gone, and they do it with care and style. For two and a half hours, Neil Simon's Plaza Suite will wrap you in the pleasures of the past; let it, enjoy it.
Neil Simon's Plaza Suite
At the Hudson Theatre
141 W. 44th Street between Broadway and 6th Avenue, New York (855) 801-5876
Seats available through June 26; Tickets, $99-$699 https://plazasuitebroadway.com/tickets/