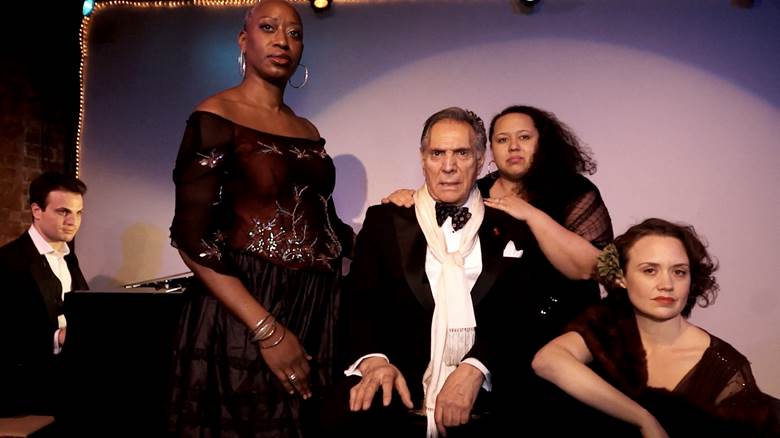 Left to right: Ehud Asherie, Lezlie Harrison, Arthur Pomposello, Brianna Thomas, Hilary Gardner. 
Photo by Michael Stever.
                                                by Barry Bassis
Arthur Pomposello aka Pompie, spent 18 years as the host and booker at the Algonquin's Oak Room. While there, he presented such fabled singers as Julie Wilson and Andrea Marcovicci. He also promoted up and coming stars Diana Krall, Jane Monheit, John Pizzarelli, Eric Comstock and others. Now, he's back with "Pompie's Place," a series of blues-based shows that include a three-course dinner at Don't Tell Mama.
Judging by the opening show, he hasn't lost his ear for talent. The performance stars three female singers, in solo numbers and in various combinations: Lezlie Harrison, Brianna Thomas and Hilary Gardner.  The last is the only one I had heard before, when she sang with Duchess (a terrific female jazz vocal trio) and her own excellent solo CD, "The Great City" (a Valentine to New York).
The opening number was an instrumental by the quartet, "Wild Man Blues." While I expected a competent backup musicians, I was pleasantly surprised to discover a world class combo: Ehud Asherie, music director and piano; Jackie Williams on drums; David Wong on bass and the wonderful Ken Peplowski, on clarinet and occasionally saxophone.  Incidentally, Asherie is the pianist on Gardner's CD.
Lezlie Harrison's rich alto soared in W.C. Handy's "St Louis Blues," which she turned into an upbeat song. Changing the lyrics from "I hate to see that evening sun go down" to "I can't wait to see that evening sun go down," she gave the impression that she was the seductress in the title rather than the dumped spouse back home.  She later returned for a rocking rendition of Leiber & Stoller's "Kansas City."
Brianna Thomas started with a lyrical rendition of "Darkness in the Delta" but showed that she was a red hot mama in Lil Johnson's saucy "I Keep My Stove in Good Condition." The song is a series of double-entendres (much like Bessie Smith's "Empty Bed Blues"), highlighting the fact that the blues can be as joyous as gloomy.
Hilary Gardner began with a reminder that the jazz world knows how to have a good time as much as the blues folks, with Chick Webb's swinging "When I Get Low I Get High," an early hit for Ella Fitzgerald.
She later gave a heartrending rendition of Rodgers & Hart's "Ten Cents a Dance," about a "lady teacher" trying to make ends meet and looking for romance at her workplace, a dance hall where she is, in current parlance, sexually harassed.
Hilary and Lezlie joined for the vaudeville favorite "After You've Gone" from 1918, a song that has been done by an incredible array of artists from Sophie Tucker to Fiona Apple. This was followed by "Willow Tree" by Brianna and Lezlie.
The band was again given a chance to shine with Duke Ellington's "Creole Love Call," featuring a clarinet solo by Peplowski. The three women sang a mellow version of Ellington's "Mood Indigo" and ended with a rousing rendition of the Arlen-Mercer classic, "Blues in the Night."
The only problem with the show was the intrusive presence of Pompie. Yes, he deserves praise for assembling this talent, but is it really necessary for him to introduce every number and engage in patter with the singers?  Just welcome the audience in the beginning and say good bye at the end and maybe there will be time for one or two more numbers.
The evening also includes a three-course dinner. Though not bad, it's certainly not on a par with the music. (The ads say the food is Cajun, but the description on the menu itself of "New American Cuisine" is more apt.) Of the appetizers, the chili had some kick but was quite soupy. The salad was a hit with fresh baby greens, candied walnuts, orange supreme, chevre and red wine vinaigrette.
Of the main courses, the pan roasted Atlantic salmon was tasty, albeit a rather small portion. The baby back ribs were tender, but drenched in gravy. They were well complemented by garlic mashed potatoes.
For dessert, my companion and I both had the rocky road brownie, which was rather sweet. She found it excessively so. There is also an option for lemon meringue pie.
Considering the whole package (dinner and show but not drinks; there is a 2-drink minimum) is $65, it's a good deal, especially for the amount of talent on display.
"Pompie's Place" will be at Don't Tell Mama (343 W 46th St., 866-811-4111,  http://www.pompiesplace.com), on Sunday May 10 (Mother's Day) at 1pm, Monday May 11 at 7pm, and Thursday May 28 at 7pm.  The club should make his shows a permanent fixture.