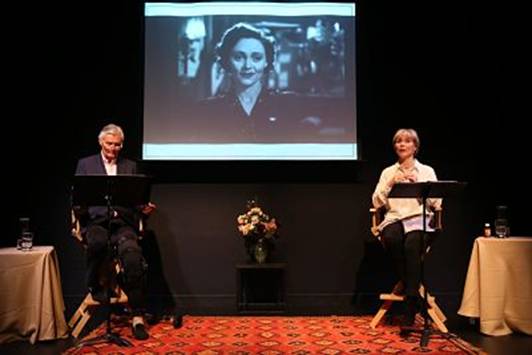 Simon Williams, Lucy Fleming.  Photo: Carol Rosegg
Postings To The Moon
                     By Fern Siegel
Sometimes, the simplest presentation is the most effective.
Postings To The Moon is a true story, set during World War II. It is tender, occasionally funny and quietly hypnotic. And it's all told via letters.
Now at 59E59 Theaters, Postings To The Moon is an intimate love story between two remarkable Brits: celebrated actress Celia Johnson and her writer/explorer husband Peter Fleming. Separated during wartime, their marriage was sustained by a treasure trove of extraordinary letters, written between 1942-1945.
The letters, beautifully read by their daughter Lucy Fleming and her husband Simon Williams, are carefully curated for maximum emotional punch. The duo has a chemistry all their own, which makes this family affair even more touching.
They cover a wide range of topics, from Peter's intelligence work in India and Burma to Celia's film career. (Johnson is best known for her Oscar-nominated performance in the movie Brief Encounter. Peter Fleming, brother of James Bond creator Ian Fleming, was a renowned travel writer. His Brazilian Adventures are still in print.)
Times are tough. Rationing is a fact of British life. The Nazis are decimating Europe. No one knows what the future holds.
What binds the couple in this vortex of uncertainty is their correspondence, meticulously saved so their children could appreciate a singular and personal moment in history.
Peter, an officer in the Grenadier Guards, stays in various European cities until a permanent post arises in India, where he oversees military deception operations in Southeast Asia. He battles the heat, difficult superiors and dangerous missions.
Celia details life on the home front — sharing a house with a sister, sister-in-law and eight children, while enduring rationing and bomb scares. Celia is not only pursuing a career as an actress on stage, radio and film, she's also involved with the Women's Auxiliary Police at her Oxfordshire home.
Yet she peppers her prose with joyful moments — surfing in Cornwall, working with David Lean and Noel Coward. Credit her dry wit for supplying delightful back-stage glimpses into British theater and films.
Most telling, despite perilous times, their literary exchange is devoid of any self-pity or entitlement. Instead, it is punctuated with self-deprecating remarks that are slyly humorous and endearing. Peter often refers to his wife as "Mrs. Flem," and both write about "the little sausage," their pet name for son Nicolas.
What makes Postings To The Moon so memorable is their deep love for each other. It shines through on every page. Letters can take weeks to arrive. Never has the British stiff upper lip been tested with such unwavering resolve.
Friends die on the battlefield; the blitzkrieg attacks London. Yet these two people, in a time fraught with peril, soldier on. For 75 minutes, audiences are caught up in their lives. And, by proxy, experience a time when a letter meant everything.  
The Postings' tone is self-aware and hopeful. This slyly humorous and genuinely compelling story has us cheering for the Flemings.
Postings To The Moon, 59E59 Theaters, 59 E 59 St. New York, NY
Through June 2. Running Time: 75 Minutes
Tickets: www.59e59.org/shows/show-detail/posting-letters-to-the-moon/#schedule-and-tickets