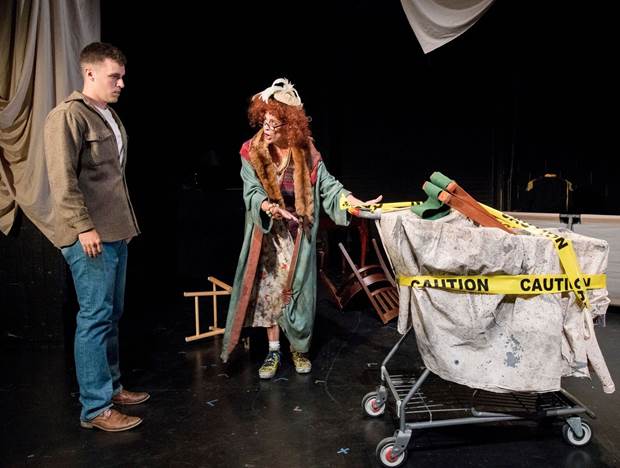 Adam Milano (MAN) Marianne Tatum (Bookseller)
                      By Dierdre Donovan
Who said New York theater snoozes during the summer months?  With the Potomac Theatre Project/NYC returning to the Atlantic Theatre Company for its 32nd season with three provocative works--George Tabori's Brecht on Brecht, a quartet from Howard Barker's Possibilities, and Caryl Churchill's BBC teleplay The After-Dinner Joke—theater in the Big Apple is alive and kicking.
If you have never seen Tabori's Brecht on Brecht performed on stage, seize the day and go to this new outing.  It is PTP's first attempt at staging the classic and the company performs it with panache.  This Brechtian collage draws from a wide swath of the master's poetry, public utterances, written prose, and is peppered with his writings for musical theater.  We also get to listen to fragments of recorded transcripts of Brecht's appearances before the House of Un-American Activities Committee, which cue in certain scenes.  Yes, it adds authentic political edge to the performance and effectively contextualizes the play in a specific historical time period.
Brecht on Brecht's chief theme is human oppression, colored by the horrific events of World War II and its aftermath.  Is the piece dated?  Well, yes and no.  The work points to a specific historical era but also can speak to our own political times, with you-know-who in the Oval office. 
In Brecht on Brecht, the company arrives on stage in a grocery cart, with clownish red noses affixed to their faces.  A beat later, they shed their red noses and step into other personas, meeting the dramatic demands of the moment.  The piece is more playful than pedantic, and more effective for being so.  Brecht, who often referred to theater as a laboratory, believed his epic theater could be employed as an agent for change.  And with this current iteration of Brecht on Brecht on the boards, it can invite you to ponder, once again, the purpose and reach of theater.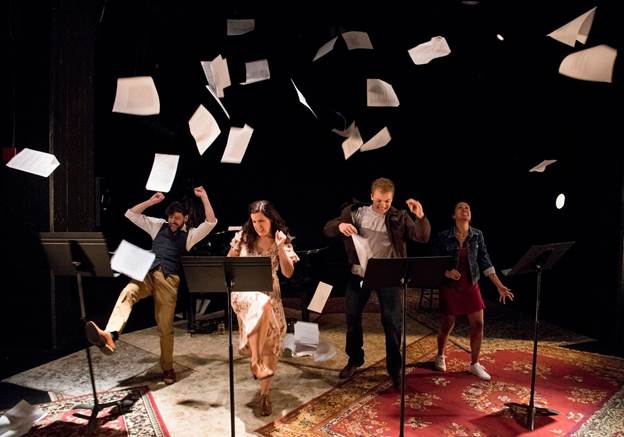 photographer  Stan  Barouh 
While theatergoers will easily recognize the "Ballad of Mack the Knife" and "Surabaya Johnny" (and perhaps sing along with performers Harrison Bryan and Carla Martinez as each croons their respective song), they also will find food for thought in the less-familiar prose of "Questions from a Son" and an excerpt from "Cantata from Lenin's Death," which employ satire and a major political figure to get their message across.
In a program note, director Jim Petosa borrows Brecht's own words to illuminate the artistic impulse behind his epic theater:  "Art is not a mirror held up to reality/but a hammer with which to shape it."  True, Brecht on Brecht doesn't have the dramatic heft of Cabaret with it gender-bending Emcee and the backdrop of the Kit Kat Klub.  But in its own free-wheelin' manner, it does alert us to the slippery slopes of politics and how to keep our eyes open to the dangers of our political times.
Possibilities & The After-Dinner Joke
In repertory with Brecht on Brecht on a second evening are four parables from Howard Barker's decalogue of short plays The Possibilities and Caryl Churchill's BBC teleplay The After-Dinner Joke. What is particularly delicious about this double-bill is how the plays become a virtual house of mirrors for each other, with Barker and Churchill's works both trafficking in irony, satire, and subversiveness.
 Directed by Richard Romagnoli, the Barker quartet is a good sampling of the playwright's "Theater of Catastrophe," a term the author coined to describe his jagged-edged drama. Romagnoli frames the playlets with snippets of Barker's poems, which serve as prologue, bridge, or epilogue to the work in question.  The Prologue proper seemed to paste some harmony into the air with the line: "Art brings chaos into order."  But after watching the first Barker sketch The Unforeseen Consequences of a Patriotic Act, one might have serious doubts about a happily-ever-after ending.  In this piece, we meet the Biblical Judith (Kathleen Wise) who decapitates the head of Holofernes and subsequently saves the Israelites from the Assyrians.  Unlike the Biblical tale, however, Judith acts with such sangfroid as she murders Holofernes that one can only wonder about her emotional and spiritual life.  Go figure.  The second skit Reasons for the Fall of Emperors is equally blood-chilling in its depiction of Czar Alexander of Russia (Jonathan Tindle).  Here the whimpering Russian ruler must be stripped naked by his underlings before he can discover his true authority.  Is this some new-fangled form of sado-masochism?  Who knows.  But if this selection leaves you cold, the next offering Only Some Can Take the Strain might replenish your faith (sort of) in humankind.  It's a peculiar yarn about an old woman bookseller (Marianne Tatum) who's hawking government banned books but harbors deep misgivings on whether she should let the knowledge imparted in their pages be passed on to just anybody.  This tale comes with a twist and some comic relief on the serious issue of censorship.  The last sketch She Sees the Argument But is a hilarious spoof on fashion, the female form, and the supposed immorality of a slightly-raised hemline. Among other things, this piece points to the entrenched double standard in our culture, with the world mostly viewed through a testosterone-tinged lens.
Selby (Tara Giordano) Passenger (Adam Milano)
The evening wraps up with Churchill's The After-Dinner Joke, directed by Cheryl Faraone.  In it, we meet a young corporate secretary Selby (Tara Giordano) who decides to resign from her job and start investing her time in charitable works.  Her naïveté comes to the fore, however, when her boss Mr. Price (Jonathan Tindle) points out to her how philanthropy and politics are closely intertwined in the real world.  The piece offers more than a few belly laughs, lessons on capitalism, and more.  Yes, it's a trifle compared to other weightier Churchill dramas.  But I must add that it was a treat after watching the leaden Off-Broadway production of her Light Shining in Buckinghamshire earlier this season.
The Potomac Theater Project/NYC, in association with Middlebury College, are always cooking up something to pique the interest of New York theatergoers.  Although the staging of all three works is Spartan, the ensemble acting is impressive, with actors flexing their thespian muscles in all sorts of mind-boggling directions.  This is a rich bouillabaisse of Brecht, Barker, and Churchill, with a generous dash of political truths tossed in.
Through August 5th.
At the Atlantic Theater, Stage 2, 330 West 16th Street, Chelsea.
For more information, visit www.PTPNYC.org or phone 866-811-4111.
Running time of Brecht on Brecht: approximately 1 hour and 40 minutes with no intermission.
Running time of Possibilities:  45 minutes
Running time of After-Dinner Joke:  60 minutes
(The double-bill of Possibilities & After-Dinner Joke is a two-hour evening with a 15-minute intermission.)