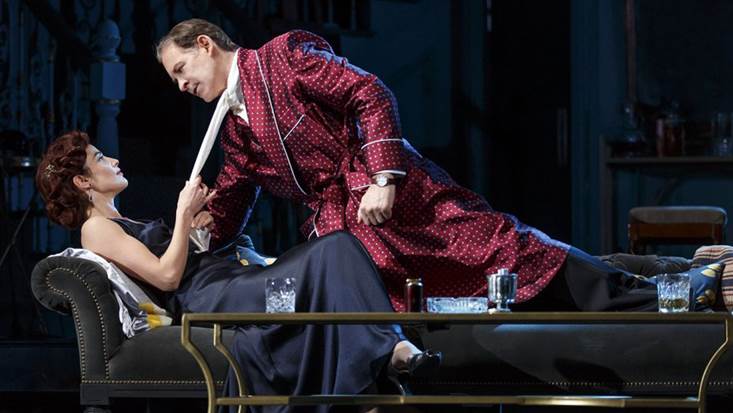 Joan Marcus                                                Cobie Smulders and Kevin Kline
                                                               By Ron Cohen
Everybody loves Garry Essendine. Ladies say they have lost their "latch keys" as a pretense to spend the night in his posh apartment. His longtime secretary, Monica, and even his estranged wife, Liz, watch over him like a pair of guardian angels. A novice playwright, Roland Maule, grows hysterically giddy in his presence. Oh, and of course, Essendine loves Essendine; no mirror has ever failed to catch his attention.  
Essendine, an enduring star of the London stage, is the central character in Noël Coward's Present Laughter. And judging by the response at a recent performance of the play's current Broadway revival, audiences love him as well, particularly as played by Kevin Kline, who further spices up Coward's tangy wit with his own genius for physical comedy. It makes for an irresistible cocktail of a show.
When the show was first produced in 1942, Coward himself played the role; he later reprised it in 1958. It has also attracted a long string of marquee names from Peter O'Toole to George C. Scott and Frank Langella.
The plot is hardly going to win prizes for originality or even great credibility, as it frolics quite happily into bedroom farce. While attempting to get ready for a months-long tour of Africa, Essendine finds himself caught up in a maze of romantic complications. Most formidable is his being seduced by the alluringly aggressive Joanna (the very alluring Cobie Smulders). Joanna is not only the wife of Essendine's manager (Peter Francis James), she is having an affair with Essendine's producer Morris (Reg Rogers).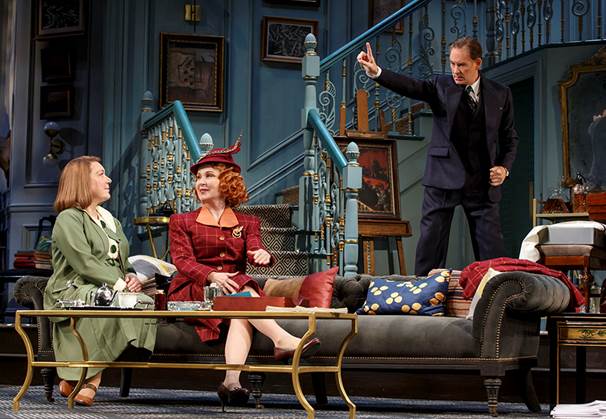 Joan Marcus            Kristine Nielsen, Kate Burton and Kevin Kline in Present Laughter
Come the morning after, and Joanna must stay impatiently sequestered behind the door of Essendine's spare bedroom, when both Henry and Morris appear on the scene. Additionally, the ditzy debutante (Tedra Millan), who has also enjoyed a recent overnighter in the Essendine domicile, turns up in the company of her aunt (Sandra Shipley), an important donor to the London's theatrical charities. Finally adding to the confusion is the persistence of the playwright wannabe Roland (Bhavesh Patel) in expressing his idolatry of Essendine.
What gives the play its appeal is Coward's unabashed self-critiquing of actorly peccadilloes: the unstoppable narcissism and the bursts of flamboyance that can be both magnetic and annoying. Brightening the scene is his affection for the milieu, the sense of family it can inspire in its practitioners. At the same time, deepening the portrait just a bit is the threat of diminution of power to come with age. It's a melancholy note sounded in the quote from Shakespeare's Twelfth Night that gives the play its title: "Present mirth hath present laughter;/What's to come is still unsure."
Kline embodies all these qualities, mixing the tartness of Coward delivery with the histrionics of a John Barrymore at his most delicious hammiest. Furthermore, Kline's better looking than both of them. He exudes the essence of 'matinee idol" in its most affable sense. You know that somewhere there's a real guy lurking behind the poseur.
Director Moritz Von Stuelpnagel has guided the company into an infectious appreciation of Coward's agility with language and whipsaw repartee, plus the facility, for the most part, to find the fun in the play's people without making fun of them. Especially important are the warmth and intelligence Kate Burton brings to her portrayal of Essendine's live-apart wife, Liz. Her boundless affection is enticingly flavored with a smart dollop of reserve. Equally significant is the endless ability of Kristine Nielsen as secretary Monica, to turn almost any routine exchange of dialogue into a laugh. Moreover, with Monica's morning discovery of the pajamaed Joanna in the apartment, Nielsen delivers a double-take for the ages. Rounding out the first-rate cast are Matt Bittner and Ellen Harvey, each with their own comic take on Essendine's house staff. 
Finally, set designer David Zinn's eye-filling depiction of the Essendine flat and Susan Hilferty's pitch-perfect costumes – from Essendine's assorted dressing gowns to the seductress draping of Smulder's Joanna – further help to fulfill the aura of retro glamour that's so strongly promised by two words:  Noël Coward.
Broadway play
Playing at the St. James Theatre
246 West 44th Street
877 250-2929
Ticketmaster.com
Playing until July 2